Cute Maltese Puppy - Kobe
by Anna
(Indio, CA, USA)
Kobe is a very cute Maltese puppy. He is 14 weeks old and have had him for 2 weeks now. He is so cute that looking into his eyes just melts your heart! He loves to play and run most of the day. He takes a little power nap and ready to go again. This is the first Maltese I have ever owned and I have to say he is awesome! I love him.
Join in and write your own page! It's easy to do. How? Simply click here to return to Tell Us About Your Maltese Puppy!.
Adorable Maltese Puppy - Lolo
by Sheila
(Puerto Rico)
He is 4 month old adorable Maltese puppy. He gets along with everybody and is a joy to have. We love our little Lolo!
Sweet Maltese Puppy - Coco Chanel
by JoAnn Caban
(Bronx, NY)
My Maltese puppy Coco Chanel is the sweetest dog I have ever had. She is a very happy dog. She loves to play, loves all people and shows her sincere love by licking you forever.
Adopted Maltese Puppy - Charlotte
by Julia
(Colorado)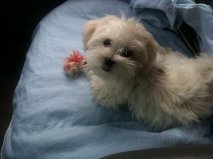 Riding in the car
I adopted my Maltese puppy Charlotte when she was nine weeks old and two pounds. She is my first dog and I am in love with her. Charlotte is now 6 months old and six and a half pounds. She loves to play fetch, go on walks, lick my ankles when I get out of the shower and ride in the car. She is very friendly and loves people and dogs. She follows me around the house and hates to be alone. I take her everywhere. Everyone comments on how cute she is. I originally went with this breed because she's hypoallergenic and doesn't shed and now I love so many more things about Maltese puppies. No matter how early she wakes up in the morning I'm always happy to see her sweet face.
Maltese Pound Puppy - Jojo
by Lily Sullivan
My Adorable Dog, Jojo
Jojo is my Maltese puppy. I get him for my 12th birthday. He is the best dog ever!

Jojo is very loyal, too. One day I took him to the library and he waited outside of the library, being such a good boy! After 20 mins. or so, my mother came in the car and then she put Jojo in the car with all the windows open just enough for air & coolness. When she came out of the library, Jojo was not there! We all raced around calling "Jojo". After awhile we decided we should head back to our house and call The pound.

When we got back to our house my Mom went inside to call the pound. I felt like crying. I had only recently gotten him in February (it was july) and already I knew he was the best dog EVER! Then my Grand-pa started saying that he just saw the dog a minute ago. We all corrected him, saying that he must have seen our big labador, Molly. "No, no" he said "This was the little white dog". I don't think anyone really believed him but my Mom sent us outside to look anyway. "Jojo" we all shouted. "where are you"? I was starting to cry, and was praying non-stop. Ugh! This was horrible! The pound hadn't found anything and he wasn't out here! :( Suddenly I heard a bark. ''Could it be"? I spun around and there was... JOJO ... running towards me with a smile on his snout! I dropped to my knees and he jumped into my arms licking me all over, I was so happy and just filled with live for Jojo!

Turned out my Maltese had walked home from the library! That was a half hour walk! I don't know how he managed it I am just thankful that he is safe!
-Thank the Lord!
Adorable Maltese Puppy - Bentley
by Cindy Dennis
(Lincoln Nebraska)
Bentley is an adorable Maltese puppy. He is very playful and loves to be the center of attention. When I am doing homework he wants to sit between me and my books. Bentley plays with his stuffed animal, balls, and ropes. He will play fetch but after a while he want to change the game to keep-away! Bentley loves children and plays well with them. Bentley likes to sleep at the foot of the bed or under it! Bentley does not like getting baths, being brushed,or getting his nails trimmed. I love him and he is the best puppy in the Universe!
Join in and write your own page! It's easy to do. How? Simply click here to return to Tell Us About Your Maltese Puppy!.
Are you a Maltese Maniac?

Join other Maltese Maniacs and get:
Our exclusive monthly newsletter
Discounts on great Maltese dog products
Notifications of contests and giveaways