Lady Bug Dog Costume - LuLu Belle
by Linda Kibsey
(Brooks, Alberta, Canada)
LuLu is a tiny Maltese and suits being a little lady bug. All the kids on Halloween night adored her and she made lots of friends in her cute dog Halloween costume.
Pretty Pirate Dog Costume - Lily
by Sharon Sheehan
(Williamstown,NJ)
Our "Lily" is a 2 year old 6 1/2 lb Malshi (Maltese Shih Tzu) dog.

My boyfriend & I took our granddaughter, Martina, out to look for a dog Halloween costume with Lily. We spent alot of time trying on many things when we came across the pirate like dress. My boyfriend, her daddy found the hat and Pretty "Lily" Pirate was born.

Lily lets us put on dresses, shirts, jackets and never complains. We got her costume at Petsmart. We would absolutely recommend this Halloween pet costume to other Maltese dog lovers.
Pet Dog Costumes - Witch
by Melissa Higgins
(Albion, ME USA)
I used a witch as my pet dog costumes. This is Baylee, my 9 week old Maltese Chihuahua mix. She has the most loving personality. She is great with my daughters 9 and 5 and with our 90lb black lab. She recently went camping with us and was the highlight of the weekend. This dog costume picture was taken by the breeder and was the picture that I fell in love with online!!!
Poodle Skirt Dog Costume - Lacy
by Marianne Blazowich
(Bradenton, FL USA)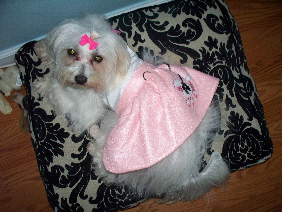 Lacy in a poodle skirt
Lacy is one of my 6 Maltese, she is wearing a poodle skirt dog costume that I made. It is pink with black and white detailing. She loves to get dressed up because she knows that means we're going for a ride.
Cute Dog Costumes - Tinkerbell
by Linda Kibsey
(Brooks, AB, Canada)
LuLu is a little girl Maltese and loves to be Tinkerbell. She goes to neighbour's houses and gets treats. The kids who come to the dog, love to see her in her cute dog costume and fuss all over her. LuLu Belle loves halloween.
Return to Maltese Dogs Halloween Costumes.
Ruby the Maltese Princess
by Jillian Knowles
(Canada)
This elegant Maltese princess dress is absolutely beautiful on Ruby. The red white and gold dress really complimented her white hair.

She is a 9 week old Maltese puppy in this photo and she weighs about 4 pounds. She was so cute prancing around the house with this on, and her brother Shadow (a Cockapoo) also wore a matching tuxedo.
Angel Dog Costume - Marley
by Katie
(Atlanta, GA)
My dog Marley get's dressed up every year for Halloween. She has been a wizard, an angel, and a sunflower. The prettiest and funniest was the angel dog costume.

It was perfect because Marley is such an angel. The little halo on her head didn't stay there for too long, but she loved wearing the white dress around. She got alot of attention from everyone.

I would recommend someone with a small dog to get a costume that your dog is comfortable moving around it. Be aware that hats are hard to keep on little dogs. You may get in a few good pictures, but they'll usually want to take it off as quickly as possible.
Lady Bug Costume - Holly
by Aoife Lowry
(Dublin, Ireland )
Holly was a lady bug last year for Halloween :) As you can see from the smile on her face, she loves getting dresses up!
Chiara as a Princess :)
by Nicole
(Kosice, Slovakia)
The costume was made for Halloween, when we went to a party to my friend´s house.
Return to Maltese Dogs Halloween Costumes.
Are you a Maltese Maniac?

Join other Maltese Maniacs and get:
Our exclusive monthly newsletter
Discounts on great Maltese dog products
Notifications of contests and giveaways