Female Malchi - Lelo
by Ashleigh & Callum
(UK, Manchester)
Lelo is a female Malchi, she is one and a half. She is the most loving dog you could ever meet, but does have a personality to go with it! She loves constanst attention, walks and HATES being left alone. She has no fear of anything which is a nightmare as she will do a runner if the door is open! She is extremely quick and you have no chance of getting hold of her until she gets tired. She also has a thing with wheels (including cars) which as you can imagine is a huge problem as we love her to much to see her hurt. If you have any advice on how to solve this please do get in touch :) Ashleigh x
Female Malchi Puppy - Strawberry
by Anabel Hernandez
(Dallas Texas)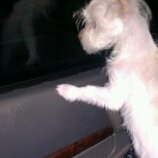 Going for a car ride
Strawberry is a 6 month old female Malchi puppy and she is spoiled rotten! Shes a cat inside a dogs body. She loves to play with mice toys, cuddle, and dance. She walks on her hind legs and when my daughters toys are missing we know exactly who took it. She loves to be the center of attention and if she gets angry with you she will let you know! My Maltese Chihuahua puppy is not too comfortable around strangers and she is always looking after the house. She's a great dog even though she thinks she is a human.
Return to Tell Us About Your Malchi!.
Malchi Girl - Samantha
by Ceci
(Denver, CO)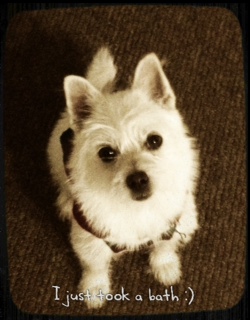 Samantha is the most adorable little Malci girl ever!!! her personality is sooo cute. We have a Pomeranian that just turned 10 and my daughter bought me Sammeee because she was worried that something would happen to Nike (pom) and I would be devestated. I wasn't looking to have more than one dog, but OMG, she stole my heart. She bounces around like a bunny, loves to be outside, loves loves loves to be bathed and loves to be dressed up. Love her!!
Return to Tell Us About Your Malchi!.
Female Malchi - Angie
by Sally
(California)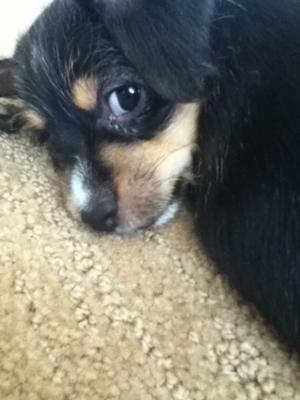 When we first got our female Malchi Angie, her fur was all in place and she looked like a Beagle. Now, she's often mistaken for a scrappy looking terrier. She was separated from her mother at a young age and grew inseparable from adopted family. Dislikes my sister who is very aggressive and tends to snap at her, but loves her in an "aggressive" way. She use to be shy around strangers but got use to them and wants belly-rubs every time she meets someone new. Our Maltese Chihuahua mix doesn't have a tail but a little nub that she shakes along with her little bottom. She's cute and tiny and attracts everyone around her.
Return to Tell Us About Your Malchi!.
Female Malchi - Nellie
by Susie
(Gibraltar Europe)
My female Malchi is black & white and scruffy. She is naughty, although she is so cute that I easily forgive her. Very faithful, clever and funny. A year and six months old and just looking at her makes me smile. She loves playing be it with a stick, toy or anything else she can get her small teeth into My Maltese Chihuahua mix runs very fast considering how short her legs are and I am positive she understands what I tell her however she chooses to ignore me when it's not convenient for her. I love her lots and she is a great companion. She loves a little male Scottish Terrier that lives across the road and when she sees him she goes crazy! Working hard at disciplining my Malchi, however it's no easy job as she is quite hyper.
Return to Tell Us About Your Malchi!.
Female Maltese Chihuahua - Sophie
by Alicia
(Rome NY)
Sophie is a year and a half old female Maltese Chihuahua and about 2lbs. She is gorgeous all around. Very well mannered and behaved and always lifts her front left paw as if she is little miss priss someone called it. I got her by going on craigslist and drove about an hour to pick her up then had second thoughts. I was gonna call my friend and ask her if everything I saw was normal. But didn't and gave them 100 bucks without even tryin to negotiate a lower price just to get her out of there. I guess her original owner died and had 3 dogs and 2 cats. So they were all split up between siblings homes and ironically I was going to check out her mom that was posted on cl and the 2 sisters didn't even know the other had posted. Anyway I believe we have saved each other, even though she is really my daughters now and is VERY VERY protective of her. She does have Chihuaha ears. But smaller. But we don't call them ears, we call them wings as she is just such an angel. My Maltese Chihuahua is very docile and loves being groomed as we did A LOT of that for a few weeks just to get her "normal" and her tail waggin. When I bought her, I thought her legs were broke as her hiney was toward the floor and her tail tucked under up to her tummy. My Malchi also had a bright red open sore on her front knee that they didn't notice. Even though they had just given her a flea bath. Yeah and they gave her a flea bath 1x a week. NOT!! She was infested. Anyway back to her leg. By them licking a wound for whatever reason the wound was from to begin with, licking releases good feeling endorphins but we healed her wound very quickly and after a week or so she no longer licks. Which is VERY rare, I've read anyway. So that's Sophie. Wish I could have named her. Her name would be Fancy and I want a big female dog someday named Krissy. Can't name a little one Krissy, but that will be after we own our own place with a yard. Oh and when I got her, her nails were an inch and a half long. See I don't know much about dogs but I knew something wasn't right. So we got her home I clipped 1 lil piece of hair going over each eye so she could actually see and spruced her up lil by lil. Very happy now and so content.
Return to Tell Us About Your Malchi!.
Malchi Girl - Callie Marie
by Jess and Mark
(River Falls, Wisconsin)
Callie is the best dog that we have ever had. She has so much character and is a hit with all of our family. Our Malchi girl has won the heart of the neighbor dog and is always the highlight of our day.
She is 1 year and 8 months old and gets a long with all dogs and people alike. I would recommend a Malchi to anyone!
Return to Tell Us About Your Malchi!.
Female Maltese Chihuahua - Yoda
by Dawnelle
(Goodyear, AZ, US)
We found our female Maltese Chihuahua dog Yoda along the railroad tracks in downtown Phoenix. She was very skittish and easily frightened at first, it took us about an hour for her to come near us. She looked like she may have been abandoned there and abused. She looked like she hadn't eaten in a week. Her hair was filthy and matted down. Once we were finally able to coerce her over to us with water and bits of hot dog, we took her home. We gave her a bath and she began to perk up. She has loads of energy and loves to be held. She has a very lively and friendly attitude. We have two dogs at home and she got along great with them! She has cream colored fur and big "Yoda-like" ears (hence her name). Hopefully we will be able to keep her and give her a great home!
Return to Tell Us About Your Malchi!.
Malchi Dog - Princess
by Dee
(Cocoa, FL)
Princess is a very loyal Malchi dog. She loves to play and loves lots of attention. She is also very smart. She knows here name when called and she usually follows directions well. She was kind of hard to house train as she had lots of accidents at first, but now she is fully house trained. She lets us know she has to go outside by standing by the front door.

Her name fits her well as we believe she thinks she really is a princess. She loves to lie in my daughters bed and usually perches or naps there throughout the day. She has her own bed, and pillow, but prefers the bed. She also knows how to open the bedroom doors if they are not shut all the way, by standing up on her back legs while using the front legs/paws to push the door open. If the door is shut, she will scratch the door with her paw to let whomever know she wants to come in. She has her own language too, as she cries like a little baby when she is unhappy or wants something she knows she can't have. She seems to know when she is all dolled up with her cute outfits as she prances around for all to see. She is very particular about being outside because if it rains or the grass is wet, she doesn't move off the sidewalk, but instead stands there with one paw raised and looks at us like "do you really expect me to go out on the wet grass?"

She is so adorable and the kids love her. She has been with us since she was 5 weeks old and has really become a real part of our family.
Female Chihuahua Maltese - Zoey
by Sharon
(Mississippi)
Zoey our Malchi princess
Our female Chihuahua Maltese Zoey is the princess of our house! She truly does not believe that she is a dog at all. She is extremely attached to me and my family. She does not like strange places or people and likes to be close to you at all times. our Malchi is the perfect dog for us.
Return to Tell Us About Your Malchi!.
Female Malchi - Solitaire
by bernadette dixon
(blackpool lancashire)
Solitaire has a 4lb Maltese daddy (American)& a 2LB 5oz Chihuahua Mummy, so she is a Malchi. I got her when she was 7 weeks old she is a pampered pet won't walk very far in the rain or wind, which we get a lot of in Britain, so I bought her very own pink pushchair and she has her own wardrobe of clothes, she is now 6 months old and she was pad trained in 4 hours the day I got her, she is very clever just won 2x 2nds a 3rd and a 4th in the local dog show, I have arthritis in my back, so the pushchair takes place of my mobility trolley, I have never tought her to stop at roads, but she does and looks up at me to tell her to walk, she will sit by my side at home if I am unwell, hardly ever barks unless somebody rings the doorbell, I think god has sent her to me to help and look after me through my pains in the daytime, even though she is only 2lb 7oz at 6 months old she is like a guide dog to me, I love and adore my Maltese Chihuahua, she is my forever furbaby.
Return to Tell Us About Your Malchi!.
Malchi Dog - Kisses
by Melani
(Kea'au, Hawai'i)
Kisses is a 1 year old Malchi dog, who lives in Hawaii. She is the most energetic and exciting little girl i have even been friends with. She loves to go on walks, and get treats. She loves her bed and is very dog friendly. She loves my 1 year old son. She loves playing out doors and meeting new people. My Malchi kisses gets so excited to meet new people that she can't help but kiss them.
Return to Tell Us About Your Malchi!.
Chihuahua Mixes - Sally
by Nancy
(Santa Barbara, CA)
Sally is one of the most adorable and unique Maltese Chihuahua mixes. She has short honey and white colored hair, she's 2 years old now and she looks like a Labrador puppy.My Malchi has a very lively personality, and she shows her love a lot, she jumps every time we get home, we didn't train her but she would never pee inside the house, she's adorable. But I must say that she is a brat, and gets jealous with visitors and is very territorial, she barks a lot! She is obedient and veeery loyal. Before having her I didn't like small dogs, but I am in love with my little Maltese Chihuahua Sally.
Chihuahua Maltese Mix - Lily

(El Sobrante, CA)
I've had my Lily for a year, she is a 1 1/2 year old, 1/2 Chihuahua 1/2 Maltese mix. She is really timid most of the time but can get real excited and extremely playful. She had no idea how small she is when interacting with other dogs I'm guessing it's the Chihuahua in her. Create training was easy and she goes outside when the door is open. The cutest thing about her personality is that she knows when she has done something she shouldn't have because she will go in her cage and turn her back to you, and sneak a peak when she thinks your not looking.
Return to Tell Us About Your Malchi!.
Malchi with Attitude - Muffy
Muffy is 10-12 week old Malchi and has the same attitude as a grown dog of much larger size. She goes outside and always stands at the stoop and over looks her kingdom. Then she goes and does her business. She knows no stranger but is always on the look out for trouble. She yaps, hops and bounces sideways when she is excited. Her growl is suspose to ward off the most vicious of intruders. She loves to cuddle and nibble fingers. Her favorite napping spot is up behind my head. Recently, like yesterday, she discovered the full effect of what a belly rub can do for a girl like herself. We are learning to play fetch, she has learned what NO means and she is slowly becoming house broke with only an accident or two a day. Never have I had a dog of this size, most dogs I have had have been medium to oversize mutts. They say size matters, no to a Malchi.
Female Malchi - Ella
by Casie
(Saint Peters, MO)
We got our beautiful female Malchi when she was 8 weeks. We named her Ella, now she is 3 1/2 years old. She has been a blessing for us since We don't have kids at home. Ella is under 4 pounds, very playful, loving and cuddling. Ella loves to sleep with us under the covers. If anybody ask me which one is the best breed I will answer Malchi is the one. They are the most faithful and protective dogs. We love our Ella.
Are you a Maltese Maniac?

Join other Maltese Maniacs and get our exclusive monthly newsletter, discounts on great Maltese dog products, and notifications of contests and giveaways.