Free Dog Obedience Training Course
Learn dog obedience basics in 6 days
I'm happy to offer you a wonderful and completely FREE dog obedience training course, created by the #1 best selling dog training experts in the world.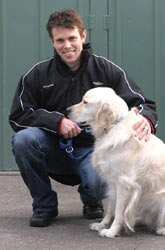 Daniel Stevens of
Kingdom of Pets
This 6 day e-course by expert dog trainer, Daniel Stevens of Kingdom of Pets, contains valuable advice to quickly correct bad dog behaviors like:
Unnecessary Barking
Jumping
Ignoring Commands
Pulling on a Lead
Digging
Dog Aggression
This course has even helped me stop the annoying problem of my dog Disco constantly barking at any sound he heard outside. Now I can get him to stop without saying a word!
To get instant access to this excellent free dog training course, just fill in your name and email address below. It's a private email list and you can unsubscribe at any time. Enjoy!


Return to Maltese Maniac Home