Jatese - Pheobe Marie
by Anonymous
(Anonymous)
I have a two year old Jatese. She is very lovable and trainable. She is very good at agility and is very energetic. She takes my breath away when she jumps over a foot when she is only about twelve inches tall.She loves chasing my cat and lives with two very large Boxers.


This is our first time owning a Jatese and we already love them to death. She is amazing at obedience and knows over 15 tricks. I know it is insane, but I love her. She is very beautiful and is so cute. She loves to sleep on my lap and play ball whenever she gets the chance.
She is crate trained and it didn't take long only about three nights until she learned that this is where she sleeps. She was a breeze at training. I love my Jatese.
Jatese - Cooper
by Christie
(Washington, MI, USA)
My Jatese is the most loving, affectionate dog I've ever had. Before I got him I had no idea what a Jatese was, now I would recommend this mixed breed of dog to anyone! he is awesome! Very playful & always full of energy.
Jatese - Sookie
by Tonya
(California)
I got a Jatese recently. I had to research about Maltese Japanese Chin mixes before I got her and I am happy I did. she is adorable and does not shed at all! All u have to do is maintain her coat. she was easy to train and is lovable. She weighs just 5 pounds and is excellent with children of all ages and people (strangers). I will definately get a Jatese again!
Jatese - Nelly
by Holly
(ND)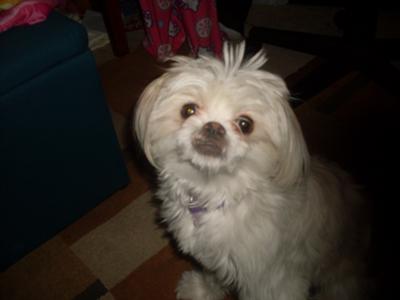 My Jatese or Maltese Japanese Chin mix, Nellz, is the most loving, naughty little creature. She is the most loyal little dog and I consider her my child. She is a little naughty but waits for commands and likes to do tricks. She is soo fun and fun to watch and can jump amazing feats. My Jatese loves other dogs and everyone for that matter. She has a little bit of a bad haircut in this picture.
Join in and write your own page! It's easy to do. How? Simply click here to return to Tell Us About Your Jatese!.
Jatese - Lulu
by Lela Killion
(Valley Center, CA)
My Jatese or Japanese Chin Maltese mix Lulu is a great dog. She loves to play with our cats and especially the boy, Sebastian. They bite each other and roll around. It is so funny to watch. Lulu has a mind of her own and doesn't like to be held on her back.

It has been hard to potty train her and she still doesn't let us know when she needs to go out, but I just take her out every few hours. In the beginning though I was constantly cleaning my run with all the accidents! My Jatese is going to be 2 years old December 27th and we just love her!
Jateses - Emma and Gia
by Sommer Weyhrauch
(Orlando, FL)
Emma and Gia are both Jateses. Emma is half Maltese Chin and Gia was born from two Jateses (Emma is her mom).

Both of these dogs are so sweet, trusting, cuddly, easy to train, well-behaved, and everything I could ever want in a dog. It really is the best mixed breed of dog I've ever had.
Jatese Puppy - Verdell McClane
by Linda
(Chicago, IL)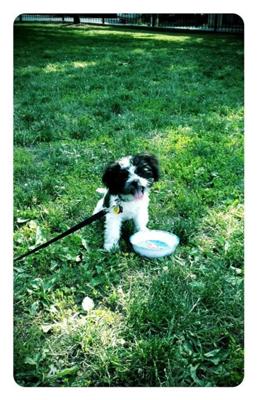 Verdell is a lovely 5 month old Jatese puppy with the best personality. He is smart, a quick learner and a kind puppy that loves to socialize. I couldn't ask for a better puppy. Look him up on facebook!


Jatese Boy - Kalo (Bubba)
by Alexandra Shea
(Norwood NJ USA)
Just got this little 3 month old boy Jatese and he is so intelligent warm and vibrant. Delighted that we chose this breed/hybrid rather than "bread-out" pure breed with all the "issues" associated with over breeding. He took to the pee pad right away is already starting to walk on the leash, won't cross the threashold to the deck without a human yet and best of all he not yet barked! He is very gentle with my 3 cats and they are curious but not afraid of him which was one of my greatest fears. We have had him literally 3 days and already the cats will stay still while he walks up and sniffs them... if he wants to play they just walk away! This breed is very playful; he already returns the toy to me in the garden. He loves the fenced in backyard; lying in the grass and chewing dandelion heads! For a cat lover this dog is a great mixed breed!
Join in and write your own page! It's easy to do. How? Simply click here to return to Tell Us About Your Jatese!.
Jatese Puppies - Java
by GMerz
(Foothill Ranch, CA USA)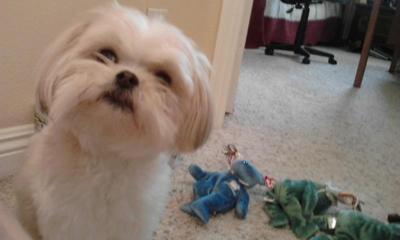 Always ready to help
Always there for us. Java has been a part of our family since we were lucky enough to find him Dec 2010. One of four Jatese puppies, Java was the smallest, yet very tender and loving... It was love at first sight for myself, daughter and even my 6'2" husband. Recently finding out that I was facing another health challenge and always an animal lover, the reason for my search and a dog was to have a compassionate companion to hug and cuddle as I faced potential and ongoing cancer treatments. After two years now, I have to say that we have not been dissapointed. Our Japanese Chin Maltese mix Java has given me and our family countless days of snuggles, laughs and smiles. He is always there when I need to get my mind of other and unpleasant things. He loves to play chase with our cat, bury his "toy bones" and howl with my husband and daughter as we bond at the end of a day. I recommend this mixed breed to great families that want a great addition to their lives.

Jatese - Oreo
by Margaret-Ann Malara
(Geneva Florida)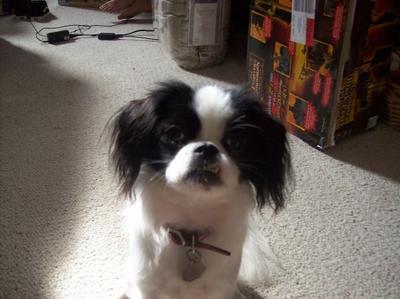 My Jatese is 6 years old. He weighs 7 pds. He is a lap dog. He loves to do tricks. He can sit, give paw. Roll over, Lay down. He is adorable with his under bite.
Join in and write your own page! It's easy to do. How? Simply click here to return to Tell Us About Your Jatese!.
Are you a Maltese Maniac?

Join other Maltese Maniacs and get:
Our exclusive monthly newsletter
Discounts on great Maltese dog products
Notifications of contests and giveaways