Maltese Memorial - Pepe
by Ron Caruana
(Palm Harbor, Florida)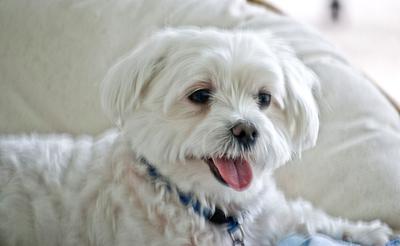 Pepe - my wonderful maltese who is now waiting for me at the Rainbow Bridge
"Pepe" Caruana


March 15, 2001 - April 16, 2013
You came into our lives as a 10 week old bundle of white fur. It didn't take long for your Mom to come up with your name... that happened on the ride home. Mom said, "Boy he sure is a peppy little thing". And so you were named, before we even got you home.
What magnificent beauty and joy you brought to our family. You were our little tough guy! Not afraid to go after a Great Dane, if he was clumsy enough to walk on our lawn. To say that you were a perfect watchdog is an understatement. No one could get near our home without your radar going off, along with the Pepe bark alarm.
You loved sitting with your Daddy, no matter where he was in the house. At work in his home office, there is a little bed for you, where you spent days keeping Daddy company while he worked. You provided him the joy of relief from the monotony of the business day, simply by being there, and jumping up for attention if too much time went by without a good pat. After work - to the favorite spot.. the recliner in the living room where you curled up on Daddy's lap and watched TV.
Your Mommy knew how to make you look your prettiest. You were her baby, and you loved when she called you that. She would work her magic
every month after you came back from the groomers. Her finishing touches made you absolutely beautiful. Mommy was always there for you when Daddy wasn't home, and sometimes you preferred her. Too much of Daddy can be a lot for anyone.
Your Sissy always had a magical relationship with you. You enjoyed making Daddy jealous by paying attention to Sissy. You loved it when she took you on long walks in the neighborhood. That was your very special time together, and you frequently asked her to take you.
You were the heart of our family. You always knew how to get us to do what you wanted. You trained US! You had little daily rituals, like when we would give you a dog biscuit (bone), you expected us to try and take it back from you. You wanted us to do this so you could growl at us, and then go hide it behind a pillow on the sofa. We never tired of playing this game with you.
Our lives have an empty space now. One that we can feel. We miss you welcoming us home. Even if we were just gone for a few minutes, you were so happy to see us, and we were just as excited to see you. We could not possibly have loved anything more than you.
Thank you for 12 years of your love and precious gifts. Our little guy! We will see you again.
Love Mommy, Daddy and Sissy.
Beli's Lymphoma
by Andrea
(Clermont, FL)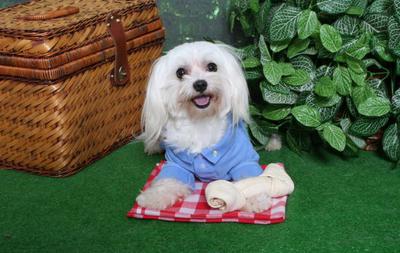 Beli (Pronounced Bailey) 01-19-2005 - 09-13-13
My son Ryan and I picked Beli out on Valentine's Day 2005 when he was 3 weeks old. When he was 6 weeks old we went to visit him and take pictures of him. I was able to finally bring him home on March 16th, I chose the name Beli because in the baby book I was looking in it said it was Welch and meant "white" and being as he was a Maltese and white. We all fell madly in love with Beli!!! He was the smartest dog I ever met. He understood almost every word we said. He anticipated our next moves and was my precious baby boy!!! He was so funny too. He would see another dog do something and notice they got attention for it then he would start doing it. Last Sept. 29th we got a new dog a 3 year old rescue Maltese girl named Molly. Beli and Molly loved each other very much. They would run and play and watch out for each other.

On June 10th of this year I noticed a knot on his neck, but I was on my way out the door to go to work so I didn't think to much about it. The next day I had scheduled him and our other Maltese Molly an appointment at the groomer. Beli had real long hair and being as we live in Florida I had decided to cut both of their hair short for the summer. When I went to pick them up after 6pm that night the groomer told me he had swollen lymph nodes all over his body. I felt them and decided I would take him to the vet the next morning. That next morning the vet told me she thought it might be lymphoma. I went for a second opinion on Saturday and the next vet suspected the same thing, so he sent me to a vet oncologist. I called the oncologist office first thing Monday morning and they had me bring him right in. They tested him and confirmed my worst nightmare that my baby had lymphoma.

Beli had his first chemo treatment that day June 17th. He had chemo scheduled every Monday for the next 7 weeks after that first treatment. On July 1st Beli was in remission and we were thrilled!!! He had his 8th chemo treatment August 5th. We were told to come back in 2 weeks. We took him back on August 19th and were told he was no longer in remission. My heart sank, but the oncologist seemed optimistic that he could reach remission again and she changed his chemo and he started going back weekly. When we went back on August 26th she told us she thought maybe he was still in remission and he didn't have chemo that day he was given an antibiotic and we were told to come back on Sept. 2nd. She decided he was not in remission and she started him on a new chemo. His next appt. was Sept. 9th and she gave him a stronger chemo treatment.

On Wednesday night Beli started throwing up and I called the oncologist the next morning and she said bring him in. I did and he was put on an IV and he started feeling much better. That evening he started having diarrhea I stayed up most of the night with him and took him to the oncologist first thing the next morning September 13th. They put him on an IV again and gave him plasma. He was up walking around and felt so much better. I stayed there all day and at 3 pm she told me she would be keeping him overnight and for me to go get our other dog and bring her there that she thought it would do him good to see her. I left to go home and as I got home the oncologist called to tell me Beli had taken a turn for the worse and his kidney's were shutting down.

I called a neighbor and she drove me back to the office as I held my baby and she gave him the shot for him to pass on and be out of the pain he was in. My baby boy crossed over the Rainbow Bridge around 5 pm that day.

My life has changed so much in the last nine months. I lost my 27 year old human son Grant on 12/7/12 and now my precious furbaby Beli on 9/13/13. Beli was like a son to me in every way. I am beyond devastated to lose him. He was what got me through losing Grant. His unconditional love was so great!!! He was a Mama's Boy!!!!
Tribute to Maltese - Shannon
by Darlene Barefoot
(Windber,Pa.)
This is a tribute to my Maltese Shannon. Shannon was more than just a dog, she was a very special member of the family. Over the 15 years, not long enough, we were lucky enough to have her Shannon formed a special bond with every one in our home.Just her presence in the house made life a little easier to handle. The void she left can never be filled. Not a day goes by that I don't think of her. I'm thankful that when it was her time to leave us God let go quietly and in no pain. I told I loved her very much and one day I know I will see her again.
Join in and write your own page! It's easy to do. How? Simply click here to return to Maltese Dog Memorial.
Maltese Memorial - Rocky
by Lori
(NJ)
I had the greatest Maltese Rocky who was 7 years old. He shared a wonderful life with his 5 year old sister Adrian and his people family. I had gone out to dinner and left the two of them in their crate- When we returned, Rocky was unable to use his hind legs and was panting like crazy. I rushed him to the nearest and best hospital in the state and informed me that he was paralyzed with no feeling in his hind legs and no sensation of pain. I was hysterical and completely lost it. The dr. did not give him any good chances of living a normal life or even surviving surgery. We had to put him to sleep. I was inconsolable for days and continue to cry daily. My whole family is devastated. The worst part is my surviving Maltese is looking everywhere for her best friend- it kills me to see her sniffing all over the house. I loved Rocky with all my heart. He was my first dog ever.
Missing George
by Margaret
(San Diego, CA)
My best friend "George" was a bundle of pure joy. He meant the world to me. He carried me through the toughest time in my life and I couldn't have made it without him. He taught me that the whole world was a potential friend. He always had me laughing and entertained any one who gave him a chance. We went everywhere together, and he would have crowds around him in stores as he would pretend he was dying just to get attention gagging and choking like the end was near. He would have 20 woman surrounding him and one would walk by and not notice and he would reach out and touch her to come and see his show. He was the most beautiful dog I have ever seen and he knew it. He even knew what I was dreaming. One night I dreamed that my arm was bleeding and he came over and licked the very spot. The most wonderful companion anyone could ever ask for.

I lost him 10 years ago. Amazingly enough I saw him materialize in my living room just a few months ago, there he was all fluffy and adorable looking at me just like the old days. Then he went grainy and was gone. I share this to all who suffer the loss of their pet. This tells me they are there waiting for us on the other side. They are still with us and we will be together again.
Join in and write your own page! It's easy to do. How? Simply click here to return to Maltese Dog Memorial.
Maltese Passed Away - Pebbles
by Judy Gilbert
(North Babylon, NY)
Our sweet Pebbles passed away suddenly on Sunday April 14, 2013 she had no symptoms of anything, she was in heat and she was tired a lot, the vet told me that was normal when she was in heat, other than that she was always a normal, healthy, energetic little puppy. Her passing has left us confused, angry, devastated.

She was the life of our house, so full of life. We only had her for 6 yrs and I feel cheated that she was taken away from me so soon. We have her little mate Bambam he is the quiet one, I'm so afraid now that something will happen to him, it hurt soooo much not having her home playing, been the princess that she was. The pain is so immense. My husband and I miss our baby so much.
Missing My Maltese Mix Twinkle
by Jackie Bolden
(North Carolina )
Twinkle was brought home when she was just 6 weeks old. I loved her from day one. She was a gorgeous Maltese and Pekingese mix. She was pure white and had a liter of puppies with a male dog of the same breed. They were so adorable! She was a good mom aswell. She would follow me around my house and it didn't bother me one bit. She loved to cuddle and was a lap dog. Even though she was older she still loved to play. when I lost her she was five years old. She ran away from home which she had before but had always made it back home and this time she didn't. I miss my baby :(
Join in and write your own page! It's easy to do. How? Simply click here to return to Maltese Dog Memorial.
Memories of Brutus
by Stephanie
(Brooklyn, NY USA)
My Sweet Baby Boy Brutus
Memories of My Maltese Dog Brutus
April 19, 2000 - December 01, 2012

Brutus was the greatest little Maltese dog in the world to me, it's like his personality was made for me. Brutus bit everyone who entered my home he never wanted anyone near me. He was spoiled rotten and he knew it. Brutus was kind enough to let me live in my home, it was his castle not mine and that was okay.

Brutus was one of a kind, Discipline wasn't his thing. My Maltese did what he wanted to do, whenever he wanted to. I use to love to call him and he would look at me, look away and look at me again as if to say I heard you but Ill come when I'm ready :)

When we would go for a walk I always laughed when all these other dogs would get all excited and want Brutus's attention but he would just ignore them as if they didn't exist, when walking with Brutus he always acted as if only him and I existed in this world and no one else.

Brutus would always snuggle next to me never leaving my side. I can take Brutus anywhere with me and he would just sit in my lap and observe his surroundings. People would always comment how disciplined he was and I use to reply if only you knew lol. I love him and miss him so much. He was my confidant, companion and best friend! My heart is broken :*(

I miss you so much, my four-legged friend
I ask myself each day, if the pain will ever end
Your loss is so hard, for one person to bear
Because we were a team, an inseparable pair

You were by my side, when I got up each day
You were there each night, when I got home
Waiting so patiently, for hugs and play

You always knew, if I was having a bad day
So you'd snuggle up close, and try to get me to play. If that didn't work, you'd put your head in my lap. Then make yourself comfortable, and take a nap

One way or another, you would brighten my day
Like only you could, you had a special way
You gave me a lifetime, of memories to hold
Through all the years ahead, till I am gray and old.

I promise I'll see you, again one day
When we'll be together again, to go run and play
Your loss is a cross, I will just have to bear
Because you and I know, we were an inseparable pair.
Maltese Memorial - Harley
by Susie
(Ft.Laud.,Fl)
I got my her Sweet Harley Girl Maltese puppy when she was 14 week old in Dec. 1998 and she has been by my side ever since. She crossed the rainbow bridge Dec. 30 2012.

She was the sweetest, smartest and cutest baby girl. I taught her to roll over and shake hands at 10 years old to prove to my husband you can teach old dogs new tricks. We traveled at least 2 times a year together she loved to fly as long as mommy was close by. Came to work with me for over 10 years the official greeter.

She out lasted 2 husbands and never left my side. When I was diagnosed with stage 3b cancer she became my emotional support and nurse. Traveling with me to MDAnderson for tests and treatment.
How lucky I was to know such unconditional love. I miss her every minute of evry day. The hole in my heart is as big as she was. I know the only way to fill it is with some more Maltese puppy love. No dog can ever take her place but I am capable of experiencing a new kind of love. I know with the sweet nature of a Maltese and humor that comes with it I will mend in time. She would want me to get another puppy and if I can rescue even better. Contact me if you can help fill this void in my heart. Namaste`,
Lost Maltese Dog - Angel
by Jackie Britton
(Indiana)
My Angel
I lost my Maltese Shihtzu mix a month ago to Intervertebral Disc Disease she would have been 4 years old on July 23 2013. Her name is Angel and everyday is hard we miss her so much. Angel was my best friend. She was pure white looked like a full blooded Maltese except for her spotted pot belly. She was so smart loved everyone especially the grandkids.

Angel was jumping around playing like she always had and she just stopped and looked at me like mommy help me... all of a sudden she could not move she was paralyzed from the head down. It broke my heart I took her to our vet and after a week in the hospital going there every couple of hours to hand feed her and give her water through an eye dropper. VOM treatments, lazer treatments a couple thousand dollars later we had to put her down she was in pain and suffering. That was the hardest thing I had to do and she just looked at me as I lied my head on the table next to her because she couldn't pick her head up she licked my face and begged me to let her go she cried we cried together. She only weighed 9 pounds.

Angel was a gift from my husband 4 years ago for my birthday and I had just lost my mom to lung cancer that's where she got the name Angel for my mom. My birthday was July 28th and my husband brought home our new puppy hoping it would help my pain and help me heal faster. She could never take Angels place she was on in a million. My daughter wanted to name her Bella and I started calling her Bella Boo then I had to register her and wanted Angel to be remembered so she got the name Bella Boo's Guardian Angel. Angel is now watching over Bella and Me :)
Goodbye to Kodie
by Robin
(Youngsville, NC)
KODIE was my middle child, all of my dogs are my children since my daughter is grown and no longer at home. Kodie had never had any health issues and during his checkup last year the vet told us he had a slight heart murmur.

On March 7, 2014 he was being groomed like he always does every 5 weeks by groomer that comes to our home and when the groomer brought him in the house and sat him down as usual I noticed he was looking straight up in air and acting like it was hard to breathe.

I immediately to him to vet and the swooped him up put him on oxygen when the doctor met with me he said he was critical, congestive heart failure. I was devastated so after an hour doctor said I could take and leave him in pet hospital overnight or carry him home. I did not want him to be with strangers and if it was his time then I definitely wanted him with those that loved him.

So I left the vet at 5:00 pm drove almost 15 minutes home picked him, up carried him in the house he looked up at me and took his last breathe. Did I mention he was only 8 years old.

I held him in my arms and both my husband and I cried for what seemed like hours.

We buried him in the backyard under a flowering bush and my grandsons participated in making a memorial as well as planting flowers in his honor.

Nothing can prepare you for this I have another Maltese that will be 16 this year and it won't be easy when the time comes for him either.

Thank you for listening!

Robin
Are you a Maltese Maniac?

Join other Maltese Maniacs and get:
Our exclusive monthly newsletter
Discounts on great Maltese dog products
Notifications of contests and giveaways