Maltese Papillon Mix - Bentley
by Jennifer
(USA)
Bentley is a Maltese Papillon mix and is just 4 months old! He weighs about 3.5 pounds. He is playful loving and a bundle of energy. He is very loyal and all you have to do is feed him once and he will follow you wherever you go.


Getting this dog was one of the best choices i have ever made. He has an all white tummy and legs a black top and head, and a little brown on the top. He also has two extremely cute white stripes near his upper back. he has a Maltese tail, but Papillon ears.
I could not imagine a more perfect pet.
Maltese Papillon Mix - SUKI
I just purchased a Papitese after searching for another breed. Something just grabbed me with her personality and looks.

Suki loves to play, naps often (she is a puppy), and gives loving kisses. It may sound as though I've had her for a while, but only 2 days.

She has not wet or doodied outside of her litter box. Smart seems to go with her winning personality.
Join in and write your own page! It's easy to do. How? Simply click here to return to Tell Us About Your Papitese!.
Maltese Papillion Mix - Mickey Dean
by Grace Dean
(San Angelo TX)
I adopted my Maltese Papillion mix dog last January, and he is the tiny and furry love of my life! Abandoned by his previous owners after 6 years, he arrived from the Rescue agency with "abandonment issues", but things improve daily. He is loving and intelligent, and as cute as can be.

He has ivory colored fur that is just a bit coarser than a Maltese, with the occasional dark hair thrown in for accent. He is also a bit leggier than a Maltese. His ears are pure Papillion.... they are long, like bunny ears, and stand straight out from his head like flags, the hair draping gracefully towards the floor. One ear stands up just a tad higher than the other, giving him a charming rakish air.

I have to say that Mickey, or Mr. Mouse as I sometimes call him, is the smartest and best behaved dog I've ever had. He is also the first dog I didn't purchase as a purebred puppy, and I'm so glad I have him! I wouldn't change a thing. I've had two Maltese in my life, and while they were sweet and loving, they were both as dumb as a bowl of mice, and the coat matted like crazy.

Here's to my Maltese Papillion mix Mr. Mouse, may he live a long and happy life!
Intelligent Maltese Mix - Lexa
by Karen
(Waldron, IN)
Our Papitese Lexa is a fantastic little dog. Very intelligent,very opinionated and the happiest little soul ever!
Our Papitese Lexa is a fantastic little dog. Very intelligent,very opinionated and the happiest little soul ever! Her name is our grandsons name spelled backwards. Her and Axel are inseparable.
Join in and write your own page! It's easy to do. How? Simply click here to return to Tell Us About Your Papitese!.
Maltese Papillon Dog - Gus Gus
by Whitney
Gus Gus has grown into a Lazy Boy but he Is Sweet and Smart. My Maltese Papillon dog knows a ton of tricks and is VERY obedient. However he doesn't like other dogs, he is not aggressive, but not playful at all. He prefers to ignore them and to have them ignore him lol. Here are more pictures of my Maltese Papillon dog when he was younger.
Join in and write your own page! It's easy to do. How? Simply click here to return to Tell Us About Your Papitese!.
Nico Suave - Ladies Dog
by Danielle
(PSL, Florida US)
I thought getting another dog was a bad idea considering I have a red nose pitbull ,two cats and recently just had my first born child but I couldn't resist by adding a 6 week old Papitese to the famliy. He loves to cuddle and he is full of energy Nico suave sure has his way with the ladies.
Join in and write your own page! It's easy to do. How? Simply click here to return to Tell Us About Your Papitese!.
Maltese Papillon Mix - Max
by Roberta Wrobel
(Andover, MN)
We just adopted our special guy one week ago. Our 9 year old daughter named him Max. He is just adorable! He is 1/2 Maltese, 1/2 Papillon. He was the last of a liter of six. Why he still available was a mystery to the broker. We had called her while on a camping vacation after seeing a flyer at a local pizza restaurant to see her 1/2 Maltese, 1/2 Pomeranians for sale. She said she also had a bigger pup 5 months old with similar mixes and could bring him to show as well.

I instantly fell in love with our Maltese Papillon mix Max. He had the face of my childhood Maltese Poodle mix. He immediately snuggled into my shoulder and began wagging his cute curly tail. The other white puff balls were nervous shaking pups with big white fluffy heads. not big enough for us. I was SO GLAD she had brought MAX! We have been crating him at night. This has not been easy. He was living in a hay lined kennel area with the other two smaller pups, so he does have some anxiety at night.

He has movie star qualities. He stays, goes to the door the relief himself, and only occasionally barks when he sees my sons toy guns or stuffed animals. We didn't even know he knew how to bark until we crated him that first night. Our Maltese Papillon also walks like a gentlemen and even stops when you stop. he follows us from room to room and nestles under your feet to be near you. He chews his new toys, loves paper towel rolls, and has begun to fetch with a frisbee!

Crating is still hard, but it's getting better. We do feel we rescued Max. The vet needed to give him his first puppies shots, medicine for his ear nodules, and treat his hook worm. He will make so many memories for our two children, ages 9 and 12.
Maltese Papillon Dogs - Bentley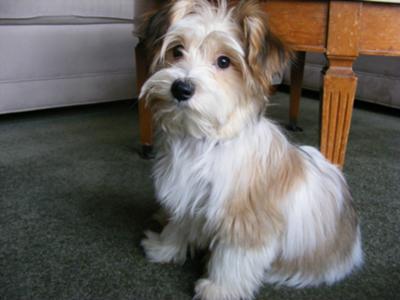 Bentley's name fits him perfectly because he is very distinguished! Our Maltese Papillon dogs so lovable and absolutely adorable to look at. He is only 5 months old and has been so easy to train. He loves to play and is very good at entertaining himself when we are busy. He likes to be right by our side and is very loyal. I'm so happy we have our Maltese Papillon dog in our lives.
Join in and write your own page! It's easy to do. How? Simply click here to return to Tell Us About Your Papitese!.
Maltese Mix - Poppy
by Maria Scott
(South Australia )
Our 5 month old Papillon Maltese mix Poppy is full of life... that's for sure! but she is very intelligent and easy going.

From the first night she has slept in the laundry and considers it her room and goes in there readily if we go out without her, she has a very secure and happy nature.

Poppy has the long legs and tail of the Papillon and a combination coat that is quite thick but does not get too long, she had her first clip for the summer this week and she has gone from being a dark colour to a tri colour that is quite greyish with dark and light brown. We just love her !!!
Papillon Maltese Mix - Cesar
by Rita
(Orlando, FL, USA)
I purchased Cesar, a Papillon Maltese mix from a pet store in September of this year. Out of all the dogs there, he caught my eye and once I picked him up I couldn't put him down. I'm not sure why he was at the Pet Shop for three long weeks, but I'm glad he stuck around. He was 3 1/2 months old at the time and barely weighed 3 lbs. He is all black, but has some white strands of hair throughout his coat which seems to be getting lighter as he gets older. I'm really not sure what color his adult coat will be. I named him Cesar because I am an avid fan of The Dog Whisperer.

Today he is nearly 6 months old and weighs in at 5.2 lbs. My sister lives with me and between the two of us, we spoil him rotten. He can do no wrong. All it takes is one look at his adorable face, and my heart just melts. He probably has more toys than he needs laid out in a path from the bedroom to the living room. He also keeps a couple of toys on the Patio so that he has something to do when he's out there with me. He is learning how to jump on the furniture, but doesn't have any luck getting on anything besides the chaise. We live in a 2nd floor apartment and he can't walk up and down the stairs because the steps are higher than he is. (poor guy!)

He loves to go for car rides and he loves people, but isn't able to tolerate young children because he gets hurt easily. He is the most aggressive out of the dogs owned by those in my immediate family, but I think it's because he's the most spoiled and smallest. We have a Shiba Inu, Yorkie and Schnauzer/Poodle Mix. They are all males so it's important that they are all neutered.

His worst habits have to do with walking him. When he doesn't want to walk he just stops in his tracks and sits. When he does walk, he's like an anteater with his nose in the ground the whole time. I'm not sure what he's looking for, but it totally distracts him. I have learned over time to feed him and put him in his kennel for 15 minutes and then take him out just so that he could be focused on doing his business first. That seems to be working.
Papillon Maltese - Gizmo
by Celeste
(Hutchinson MN USA)
My Papillon Maltese mix Gizmo is a great companion. He is calm and sweet which is the Maltese temperament. Weighing in at 6.5lbs he is the ideal lap dog. We are currently in Therapy Dog Training and even though he is 10 years old, he is proving that you CAN teach an old dog new tricks.
Kaia - Maltese Papillon
by Jessica
(Wilsonville, Oregon)
This is our Maltese Papillon mix Kaia bear! Full of fun, energy, and love. When she is not bouncing around or running in circles, she is the most cuddly little thing. She is definitely as loyal as they come. She she falls asleep in the same room you are in and you get up to leave, she will wake up and follow you to wherever you are going. Coming home to this bouncy ball of fluff is the highlight of our day.
Are you a Maltese Maniac?

Join other Maltese Maniacs and get:
Our exclusive monthly newsletter
Discounts on great Maltese dog products
Notifications of contests and giveaways