Maltese Papillon - Roxie Love
by Courtney
(Wichita, KS)
Roxie is the most amazing Maltese Papillon dog! She is so loyal and wonderful and full of energy all of the time. She will be 4 on the 22nd of February. I got her when she was 6 weeks old and have loved every second.


The only problem I have with this breed is the mixture between the Maltese coat and the Papillon coat. I owned a Papillon for 14 years and never had a matting issue but with Roxie it is horrible. I brush her all the time but it doesn't seem to help.
Any ideas? I wouldn't trade her for the world though!
Maltese Papillon - Sofie
Sofie is an almost four year old Maltese Papillon and the most wonderful dog. She loves to play and chew up her toys. She will line them all up on the bed and when I get home stand on her hind legs and present me with her toy. She is very loyal and just a little cuddle bug. She has the Maltese fur but the ears and face of a Papillon. She gets groomed in a puppy cut and then she really looks more like a pap except her ear hair is not as long as a pap. Her mother was the Maltese and her father was the Papillion. I have included a picture of my girl.
Papillion Maltese Mix - Bunny
by Sarah
(Arizona)
Bunny got her name not only for her oversized ears, but she bounces a lot. Whether she is running or she is dancing on her hinds, she has the most adorable bounce. Bunny is my heart and I am guilty of spoiling her a lot. She is just so cute!

Her mother was the Papillion and her father was a Maltese. She approximately 14 weeks and weighs 2lbs. She is a spunky, bouncy, cuddly dog that loves to run around the house playing with the other pets; a 7 year old Blue Pit Bull named Leylah and a Maine Coon Mix we call Joe.

Bunny is very smart, and often stubborn, and is doing very well in paper training, but does still have the occasional accident. Due to her size and the fact that there are a lot of predators, including birds of prey, where I live, we are just now venturing on the back patio. She has always been a very clean pup, which is good because she hates baths. She is bold and doesn't shy away from exploring. She loves shoes and socks, and is often found running through the house with someone's sock. She wakes me up each morning by pawing and licking my face, or if she fell asleep in the dog bed, she will whine until I wake up. Once in the bed, she loves to be cuddled up around my neck or in the crook of my arm. She loves toys, and even has her own toy box, which she empties regularly.

We just started to work on commands, but she gets so excited with treats that it is often hard to get her calm enough to pay attention.

As you can tell, she is loved. I don't think I ever want another breed!
Join in and write your own page! It's easy to do. How? Simply click here to return to Tell Us About Your Papitese!.
Maltese Papillons - Tinkerbelle and Teddy Bear
by Sandra Osterby
(Hermon, ME)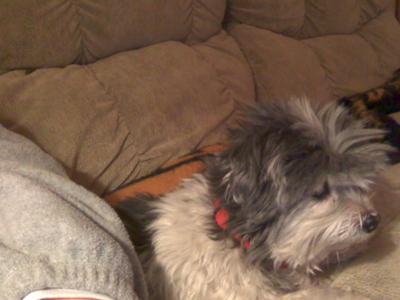 Tink and Teddy are 12-year-old Maltese Papillions. My sister and her friend thought they would start a new breed. But she didn't count on the chaos 3 little pups would bring, so I took 2 of them and they have been with me ever since. Very different personalities. Tinkerbelle (pictured) is very possessive of me and jealous of other dogs including her brother. She is VERY smart - and very exuberant. Teddy is very shy and quiet - loving and adorable. He loves all people and all dogs but is kind of leery of his sister. They have been faithful companions through a lot over the last 12 years. My Maltese Papillions are my babies. I love them to pieces.
Join in and write your own page! It's easy to do. How? Simply click here to return to Tell Us About Your Papitese!.
Moe
by Faith
(St Louis Missouri)
Hello, I'd like to tell you about Moe...his daddy is a Maltese, his mommy is a Papillon. He was born Nov 16, 2011 and I have had him for a week now. Previously I had a Maltese who recently passed away at the ripe age of almost 15 years old. I missed him so much that I went looking and fell in love with Moe. He has the markings of the Papillon and the hair of a Maltese so he doesn't bother my extreme allergies at all.

Moe has pretty much learned our home routine, every morning when I put my coat on to go to work he runs to one of my spare bedrooms..it is decorated with a lot of Elvis stuff. I had placed him in there the first morning he was to be left alone..and somehow he adopted that room to his. He sits in the middle of the floor and waits for me to give him his liver treat and stays in there all day. He has only messed in his room a couple of times. I put a puppy pee pad in there and he ripped it up, squished it into a rumpled ball and hid it behind the oak rocking chair...as if to say..."I don't pee in my room"...lol.

He is so much fun and a ball of energy. He hates a leash...he does however like the collar!!! Hopefully soon he will get the knack of going for a walk...

His favourite passtime is to be in the shower...yep he loves it...so we shower at night, because he doesn't seem to realize I don't have time to blow dry him in the mornings..yep he loves that also....he is such a good boy!!!
Maltese Papillon Cross - Benji
by Helen
(East Geelong, Victoria, Australia)
My Maltese Papillon cross is the most loving, adoring dog you could ever imagine. I had never heard of a Papillon until this little man was given to me. I also have a Spoodle pup. I am amazed daily at how they are so happy to lie close to each other, in bliss.
Join in and write your own page! It's easy to do. How? Simply click here to return to Tell Us About Your Papitese!.
Maltese x Papillon - Khloe
by Louise Barbaro
(Griffith, NSW, Australia)
Khloe is a Maltese x Papillon. She was born on the 6.8.12. She was brown as a pup but has lightened to a cream colour now. She is beautiful and loves cuddles and kisses. Loves her treats and comfy bedding. She hates rain and fire crackers. She loves to be groomed and is well behaved.
Join in and write your own page! It's easy to do. How? Simply click here to return to Tell Us About Your Papitese!.
Maltese Papillon Cross - Bella
by Darlene
(Tucson, AZ)
Bella is a 4 month old Maltese Papillon cross. Her mother was a akc Maltese and father a akc Papillon. After 1 month she is almost fully potty trained. She loves to play fetch and drive her feline sister crazy! She is the best puppy ever, she never cries or whines!
Papillon Maltese Hybrid - Jack
by Cathie Goodwin
(Cooma )
I got Jack as a present from my daughters he is a loving little guy. My Papillon Maltese hybrid dog loves to go with me everywhere I go. I absolutely love him, his playful and affectionate.
Join in and write your own page! It's easy to do. How? Simply click here to return to Tell Us About Your Papitese!.
Maltese Papillon - Daisy
by Rain
(Savannah, GA, USA)
I love my Maltese Papillon baby, Daisy! She sleeps next to my bed each night and she loves to play a lot AND cuddle, so it's the best of both worlds! She tends to be a little shy towards strangers, but she is very sweet. Her favorite treat is lettuce and she knows how to sit, speak, twirl, touch, and give me nuzzles! I would suggest this dog breed for anyone! She also is very patient with children and rarely ever snips! My Papitese has kind of long fur that is a vanilla color with sable-color patches. Her coat is soft and I rarely have to deep vacuum due to fur(:
Join in and write your own page! It's easy to do. How? Simply click here to return to Tell Us About Your Papitese!.
Are you a Maltese Maniac?

Join other Maltese Maniacs and get:
Our exclusive monthly newsletter
Discounts on great Maltese dog products
Notifications of contests and giveaways