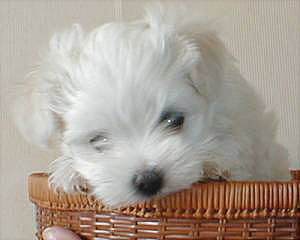 There are several options for you when you are searching for a new Maltese puppy.

You can go to a pet shop, but I DO NOT recommend this as these puppies usually come from "puppy mills" and are often raised in inhumane conditions. 

A much better option is going to your local humane society, Maltese dog rescue, or finding a reputable breeder who has several years of experience breeding Maltese pups. This will help ensure you get a well-bred, well-socialized, and healthy pup. 

Many reputable Maltese puppy breeders and rescue groups have their own websites, so have a look around online, but be cautious and always get several good references before you actually purchase your Maltese puppy. 

I have created a online Maltese dog breeder directory to give you good start on finding the best Maltese puppy for your family that gives you love and joy for years to come!

When it comes to actually choosing a puppy, it's a good idea to ask to see the dam (mother dog) when you visit. "Back yard breeders" or "puppy mills" will often refuse such a request, because they don't want you to see a dam in a state of poor health. 

Good breeders will keep the dam and pups in healthy and clean conditions, and will have no problem letting you see her.

You should not pick your puppy up until after she's 8 weeks old. Any breeder who asks you to pick up the pup before then is not a reputable breeder. Good Maltese puppy breeders will wean pups off their mother's milk and begin the socialization process, and this takes at least 8 weeks to do well.

Note that it's not unusual for young Maltese pups to have a yellowish tinge to their ears, so don't worry if you see that – it's not a sign of mixed breeding or bad health.

Now that you are armed with the knowledge of what to look for in choosing the best Maltese puppy breeder, here are some resources for finding the right dog for you and your family:
Maltese Dog Rescues - find a Maltese rescue near you with this comprehensive list.
Maltese Dogs for Adoption -  help save a life by adopting a Maltese dog in need.
Maltese Dog Breeders Directory - a complete list of all the local Maltese dog breeders near you.