Maltese Schnauzer Mix - Baxter
by Ashley
(Corpus Christi, TX, USA)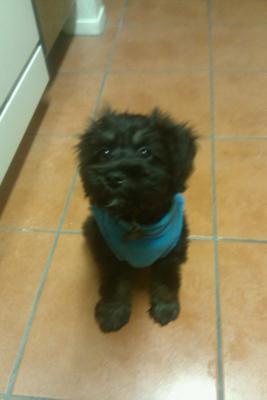 Baxter after it took us 2 days to teach him the command
We adopted Baxter, our Maltese Mini Schnauzer mix, when he was 8 weeks old--He weighed less than 3lbs and was the CUTEST puppy... Of course he had all the typical puppy behaviors but we were in awe of how SMART he was. He was pee-pad trained, he understood "no" and within 2 days he recognized his name when it was called! Baxter is now 15 weeks old and we are still in awe of how smart he is... but he is VERY nippy---I have tried to stop this behavior but I learned after talking to multiple Schnauzer owners that this is his way of wanting attention and playtime. Now that he has received all his shots and is getting regular OUTSIDE exercise, he is definitely getting better at the nipping. Another thing to note: Baxter is FEARLESS, he isn't afraid to jump from heights and lovesssss his toys that have hidden treats. We have a beautiful park near by with a duck pond and Baxter loves to just sit and watch all the ducks/geese---never trying to taunt them. I, also, leave him at home alone all day... since Day 1, and he's never torn up our apartment or done potty where it shouldn't go. :) I love our Mauzer and recommend them to anyone interested... they are adorable with their fluffy Maltese bodies and cute bearded Schnauzer faces!
Join in and write your own page! It's easy to do. How? Simply click here to return to Tell Us About Your Mauzer!.
Maltese Schnauzer Mix - Atticus
by Douglas Edwards
(Orem, UT)
We've always had outside dogs until the arrival of our Maltese Schnauzer mix Atticus. Our house is very busy with older children coming and going and Atticus is everyone's little buddy. He loves car rides and runs to wait by the door if you offer to take him. He is always anxious to please and loves to be around the family.

He loves to sit underneath the grand piano and "sings" if the tune is to his liking. Our Schnauzer mix is particularly fond of Mozart.

We had two house cats prior to Atticus' arrival, and worried about them all getting along. It was good that the cats have no front claws when Atticus first came home, but they all get along well now and often sit together when the family gathers for the evening.

Atticus is very intelligent, like they boast the Mauzer being, and recognizes many words, including what each of his toys are, bone, bear, dog, monkey, etc. When you tell him to get a particular toy, he comes back with it for a game of tug-o-war.

Great mixed breed!!
Maltese Schnauzer Mix - Pritzi
We had our Maltese Schnauzer mix Pritzi for 14 years old. She was my buddy. She died today. I will miss her. She was a great Dog..
Maltese Schnauzer Mix - biscuit
by Fran
(Houston, TX)
Biscuit is really playful. I adopted our Maltese Schnauzer mix from the animal shelter about 1 1\2 wks. ago.

He is the perfect dog (3yrs old) for my little family & I have a 3 month old baby and am glad to have him grow up with our Mauzer Biscuit!!!!!

Although I have not been able to train him it takes time especially with all he has been through.
Maltese Schnauzer Mix - Brownie
by April
(My princess)
My Maltese Schnauzer mix is a very playful pup that loves to play ball, go for walks and spend the day taking her toys form inside to outside. She came to us a few years ago form a reuse after being in an abusive home and after a long time of being patient and letting her understand she won't be hurt anymore she sits on my lap and sleeps with us. She has learned she is the princess of the house. My Maltese Schnauzer lives to give lots of kisses and if you can't find her she's outside making sure no one is in her yard. She is the best dog and her and her Yorkie brother get along great.
Maltese Schnauzer Mix - Pixie
by Fannie
(Illinois)
We rescued our Maltese Schnauzer mix Pixie just two days ago from Animal Rescue Foundation in Illinois. She is eleven weeks old and so far is the sweetest little girl ever! She loves to cuddle and curl herself in the smallest ball possible. She gets along great with my kids and my Shih Tzu. Yes, it has only been a few days but our Maltese Schnauzer mix is so perfect!
Join in and write your own page! It's easy to do. How? Simply click here to return to Tell Us About Your Mauzer!.
Maltese Schnauzer Mix - LULU
by Jennifer
(Louisville KY)
My Maltese Schnauzer mix is the best dog ever, smart, sweet and gets along with all dogs. Lulu goes to doggy daycare 3 days a week and is the most loved dog enrolled! I would highly recommend the Maltese Schnauzer mix hybrid breed.
Join in and write your own page! It's easy to do. How? Simply click here to return to Tell Us About Your Mauzer!.
Are you a Maltese Maniac?

Join other Maltese Maniacs and get:
Our exclusive monthly newsletter
Discounts on great Maltese dog products
Notifications of contests and giveaways