Papillon Maltese - Diva
by Marlietta
(Indianapolis, IN)
We got our Papillon Maltese dog Diva from an older woman who's health was in decline and she was not able to keep up with a new puppy. She had been well taken care of and had such a sweet disposition.


The first time we met her, she kissed us like we were already family. She loves to cuddle and adores the energy of children and loves to play. She tends to be a little nervous around strangers when we're outside to potty. She runs for "homebase" when an adult approaches her she doesn't recognize, but hopefully with a little more socialization, she'll do just fine.
Everyone who sees her raves about how cute she is. She loves the attention too, that's why she's our little Diva!
Papillon Maltese - LIBBY
by kt
(canada)
MY PAPILLON MALTESE IS A CUDDLE BUG. AFFECTIONATE. AND SOMETIMES BARKS TOO MUCH. SHE OFTEN CHASES FLIES AND BARKS AT HERSELF WHEN SHE FARTS OR HEARS A NOISE. SHE LOVES ICE CUBES AND PLAYING WITH HER BUDDY, SCOTTIE (SHIH TZU MALTESE MIX)
Papillon Maltese - Tikka
by Brenda shepherd
(Edmonton, alberta, Canada )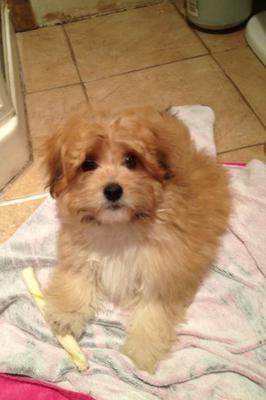 Tikka is one of three of his litter. He is one years old. Mom is a purebred Maltese and dad was a purebred black Papillon. He is absolutely lovable,loyal and loves to cuddle with you and sleep on his back like a baby, he is very gentle and very vocal. Not to sure if others are vocal but he had this characteristic about himself that he talks to you from small. He loves his squeaky toys and will play with every one of them until he breaks the squeaky. He doesn't shed hair which is great due to family allergies.

He is so loyal, great with children and would have another Papillon Maltese any day.
Join in and write your own page! It's easy to do. How? Simply click here to return to Tell Us About Your Papitese!.
Maltese Papillon Mix - Lulu
by Brenda Glauner
(Fl)
My Maltese Papillon mix is very happy and loves to play with her toys and anything that move even Cala pillars we have to take them from her. We have taken her to puppy class and she loved it she got to play with the big puppy's we did not have any small ones in the class . She is 5 lb and she is 4 1/2 mouths old she lives with a Papillon who is 7 years old named Izzie we love her so much she brings all kinds of excitement into are live we are having problems potty.
Join in and write your own page! It's easy to do. How? Simply click here to return to Tell Us About Your Papitese!.
Female Papillon Mix - Paris
by Cissy
(Park City, Utah)
Our beautiful female Papillon Maltese mix, Paris is 7 years old. She is truly the most loving, loyal dog I have ever been around. I had never heard of this mix prior to my Daughter finding her at a pet store in Sunset, Utah at a few weeks old.
Words do not describe her beauty. Sweet, beyond belief. She is very affectionate. She must have human companionship continuously and does not like to be alone. A big part of our family, loved by everyone who meets her, our Papitese is like a baby in some ways. She sleeps with us, always sits on my lap as soon as I walk in the door, licks everyone and insists on attention from everyone who enters our home. The minute my husband stirs in the morning she is up with him, no matter what time. Even though she was my dog and I got her for myself, I have to admit she loves my husband more and is incredibly loyal to him. The first time she begged at the table (around 3 months old), my husband said to her "get in your bed". She immediately ran to her little settee and ever since when she wants a treat she jumps in her bed and looks at you until she gets what she wants. She is hilarious. At Christmas we have to wrap her toys or she sulks. Our Maltese Papillon wants to be part of the celebration. I really have never been around a dog this smart, it is as if she understands English and always knows what we are saying. She tries so hard to talk to us. We love our little Paris so much. She is such an amazing dog! Everyone who meets her asks the same question, "What is that breed?" Now we all know!
Maltese Papillon Mix - Kingsley
by Grace Rodriguez
(Spicewood, TX)
Kingsley's previous owner was an elderly woman who was ill and the family had to find a new home for him. He is a Maltese and Papillon mix. When I first saw him I told my daughter that he looked like a "Kingsley". We were getting him for my daughter, but it turned out she could not keep him in the apartment complex she was in so we took him after one week and renamed him "Kingsley", he does have a regal look about him. He was already house broken, and quickly fit right in.

He has a Christmas toy that he drags around with him. He actually takes his toy to bed with him the way a small child sleeps with a stuffed animal. Every morning you'll find him asleep beside our bed. He's actually waiting for me to wake up, and he gets so excited when I get up, his world is complete. Yet at night, you'll find him asleep with my husband on the recliner, so he's loyal to us both, at different times of the day.

Our Maltese Papillon mix loves to run outdoors, and chase squirrels or go 'rabbit hunting' as we call it. He does chase after the rabbits, yet he never runs off, he minds and stays nearby. You will usually find him tagging along after my husband outdoors. We just love him to pieces - we could not imagine being without him. He is a true companion not just a pet. As I like to put it, "a day without Kingsley is like a day without sunshine".
Join in and write your own page! It's easy to do. How? Simply click here to return to Tell Us About Your Papitese!.
Jaxson
by Lisa
(Houghton, MI)
Jax is a 6 month old Paptise. He is super smart, cute and has a wonderful disposition. He is very playful and like to have human interaction when he plays. If not he will "talk" to you until he gets your attention. Lots of energy Jax only takes a nap for about an hour late in the afternoon, He does sleep through the nigh without complaint. If you want a super cute, smart, highly active non shedding family pet than the Paptise is the one!
Join in and write your own page! It's easy to do. How? Simply click here to return to Tell Us About Your Papitese!.
Papillon Maltese Mix - Bella
by Lori Ronayne
(Wyoming, Mn USA)
I got Bella when she was about 7 Wks old she is now 4 yrs. She was suppose to be my daughters dig but somehow turned into mine! She's very adorable! She has the Papillon ears, and her coat is thicker than a Maltese. She's always been a bit whiny, but love her all the same. She definitely knows how to get her way! She's very smart! She loves to fetch her toy & will bring it back to you! She loves people & loves to be petted. She also gets along with other dogs & cats. But she let's them know she's the boss! We have 2 other Sm dogs, but she was here
1st & is female so she pretty much let's them know it... she is definitely my dog, she follows me everywhere! She only wants me to walk her! Which makes my husband a little mad(jealous) she sleeps on my pillow every night right by my head! Love my little Bella, oh I almost forgot she hates the vacuum & barks @ it & tries to attack it every time we vacuum. You would think she would get used to it, but not Bella!
Join in and write your own page! It's easy to do. How? Simply click here to return to Tell Us About Your Papitese!.
Papillon Maltese - CoCo
by Rob Fearnside
(Sydney, Australia)
CoCo is a wonderful little Papillon Maltese gal who has changed the whole climate into our household by bringing lots of love at every contact. Our grumpy teenage daughter walks in the door to be greeted by CoCo, who acts like she has just won Lotto going absolutely troppo at seeing our daughter and greeting her, lavishing her with kisses and lots of licks, which I call her 'Car Wash'.

She makes us all laugh often and we all carry much happier hearts in our home because of CoCo. We love her to bits as you can tell. We spent about $900 on purchase and have since spent about $1000+ on maintenance but it has been worth every dollar due to the joy she has brought to our home. We live in a 3 level apartment on the top floor and our Papillon Maltese just loves to play games of chasing her favourite toys down and up the stairs after I throw them to her. She is totally nimble and quick and runs rings around larger dogs.

She's totally smart and easily manipulates us all to get her way, although she is the easiest dog to train we've ever owned, even easier than the German Shephard we adored.

She's the perfect pet and unit/apartment dog. I would recommend a Maltese Papillon mixed breed to anyone living in small apartments who want a dog who will give you endless love.
What Mix is Pebbles
by Melody
(Grapevine, Texas)
We rescued Pebbles from our local animal shelter. We have always wondered what breed she is! I think she definitely may be a Maltese Papillon mix???
Maltese Papillon - Bella Toph
by Christine
(Warrenton, VA)
At just a little over 8 years old, Bella Toph has been an amazing addition to our family. She came to us in 2007 as a 2.5 pound fluff ball. She is affectionate, smart, gets her point across, loves to cuddle. She is the most perfect baby girl. She's about 8 pounds. She is very sociable and active. She's getting up there in age, but she still runs around like she's a puppy.
Papillon Maltese Mix - Ripley
by Sandy
(Iowa)
Sweetness wrapped in fluff
I adopted this sweet little Papillon Maltese mix dog whom I named Ripley, from a local animal shelter. He has been the sweetest addition to my home. He is smart, somewhat sassy, was very easy to housebreak, and quickly learned the rules of the house. I couldn't ask for a sweeter, gentler dog. He is wonderful with my grandchildren, and simply loves people.
Are you a Maltese Maniac?

Join other Maltese Maniacs and get:
Our exclusive monthly newsletter
Discounts on great Maltese dog products
Notifications of contests and giveaways