Silky Cocker Puppy - Come Boy
by Katy
(Malaga Spain)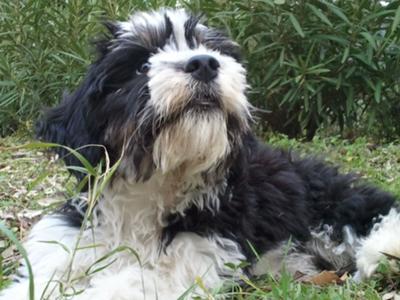 He was found next to a bin. My Silky Cocker puppy was about 3 weeks old. Now he is 4 months old. He has a friendly love personality, very active and obedient.
Join in and write your own page! It's easy to do. How? Simply click here to return to Tell Us About Your Silky Cocker!.
Silky Cocker - Virgil
by Kristin
(Minnesota)
Virgil has a very curious personality. My Silky Cocker or Maltese Cocker Spaniel mix is VERY smart and can figure things out easily. You can almost see when he sits and thinks things through. Since he is such a smart dog, he often gets himself in to trouble. He figures out exactly what he can get away with. But with proper training he has become a great companion. He is very affectionate and loves to cuddle. He doesn't like to be alone and will occasionally whine when he feels lonely. Virgil has a lot of energy and has to be played with at least once a day. He loves tug, and playing under the blankets. He is also learning fetch. Vigil weighs about 20 lbs and is short and stocky. He is overall a lovable lap dog that loves people and getting attention. :)

There are lots of pictures of Virgil on his facebook page:

http://www.facebook.com/profile.php?id=100002227574439
Maltese Cocker Spaniel - Benson
He is 3 months, very energetic and sweet. My Maltese Cocker Spaniel gets along well with everyone and everything. However, he is a little protective of the house when something strange is approaching. He is extremely active, he has so much energy. I took him on a light jog and he didn't tire at all. I was the one tired! Potty training has been VERY difficult. We are still trying. My Cocker Spaniel Maltese mix is very attached to me. I come first for him. He likes to on everything. But he's still a puppy. He's the sweetest thing in the world! Best personality.
Join in and write your own page! It's easy to do. How? Simply click here to return to Tell Us About Your Silky Cocker!.
Silky Cockers - Riley and Princess
by Bob
(San Juan Capistrano )
It's been a couple years since the last update about my two Silky Cockers. Riley and Princes are doing great. Riley is now about 6 1/2 and Princes is 5 1/2. We've been together for about 5 years now. Both are totally loveable and very well behaved. Riley is very much a one person dog - while Princes loves everyone.

They play together and are really best buddies. Riley is still about 19 pounds while Princes is now about 32 pounds. We've moved to San Juan Capistrano and they love looking out the patio door off the dining room. They still love going to doggy beach! Many weekends we all go to breakfast together - and they get pets from other dinners and maybe a few treats from our plates.

We were joined about a year and 1/2 ago by a fantastic Gal - Janell and she is home most of the day with Riley and Princes. They love her, and really enjoy being with her. Riley is a little more playful than Princes - Princes would rather cuddle than play - and Riley has become a real "talker". He has many many sounds and will attempt to communicate with you with squeaks, growls, whines, huffs, etc He is very expressive.

A few months ago suddenly Riley discovered how much fun chasing balls are and now that's his favorite play, but because he really likes being inside at home, that's where he wants to play - in the house!

Silky Cockers - There is no better breed!
Join in and write your own page! It's easy to do. How? Simply click here to return to Tell Us About Your Silky Cocker!.
Silky Cocker Cross - JoJo
by Betty
(Illinois)
I got my Silky Cocker cross JoJo back in 2008. He will be 6 years old this May. He has been the best companion and has helped me through many hard times like the lost of my sister and brother to cancer. He is very cuddly and loyal and follows me everywhere and does not like to be alone. He also helps me with my anxiety depression and Fibromyalgia issues I have. I love him very much and he is the best dog I have ever had.

When he was a puppy he did like to chew on everything but he he is much calmer and loves his toys I get him. He will carry them around everywhere and I have find them and put them back in his toy basket and he knows where that is all I have to do is ask where his toy is and he will get one of his toys. He is a smart dog. It is so cute when he needs to go out to potty he will sit on his back feet and raise his front paws up he looks like a prairie dog when he does this it is so cute.

He had big brown eyes that just tug at my heart and I hate the look he gives me when I have to go to work he just looks so sad. He doesn't like it when I not with him. I have to rest a lot because of the pain I have and he is always right there cuddled up next to me.
Join in and write your own page! It's easy to do. How? Simply click here to return to Tell Us About Your Silky Cocker!.
Silk Coker Puppy - LUNA🌙
by R.A.
(Los Angeles, ca. U.S.A.)
My silky cocker is a puppy she only have 7 weeks old, her name is Luna🌙 She is very obedient, friendly, smart, she is the best..!!! I love her so much.. 💕
Are you a Maltese Maniac?

Join other Maltese Maniacs and get:
Our exclusive monthly newsletter
Discounts on great Maltese dog products
Notifications of contests and giveaways