White and Tan Malchi - Lulu
by Tina Lopez
(Summit, IL, USA)
This is Lulu and her baby sister Daisy. Both have the same parents; chihuahua mommy and maltese daddy
Lulu is a 1 and a half year old Malchi. She weighs 6.8 lbs and is white with some tan. She is an energetic and happy little girl who loves to give kisses and cuddle! My Malchi is very playful and loves to play with her sisters Peanut and Daisy.
White Malchi - Lola
Well my white Malchi Lola got her name from our 5 year old little daughter. When my family and I seen her for the first time we fell in love with her right away.

I would most describe her personality being very curious at times. But also can be calm. Lola also likes to tease my male Chihuahua which is kind of cute she means no harm when she does this she is just very playful with him. I would also say that she is very snugly and loves to cuddle. My pure bred Chihuahua does not like car rides, but Lola loves car rides.

And what I also love about my Malchi is she barely sheds any hair which is great. And she is a white pup with two very light brown spots on her back. Lola is also very scarred of my brothers big dog and runs away but when I pick her up then she starts to act in charge haha very cute.

If are deciding on getting a Malchi you will not regret it especially if you have young children. My Malchi is very good with our young daughter. Thank-you for reading and may you find a great Malchi.
White Malchi - Miette
by Susannab
(Calgary)
Miiette is a 4 year old Malchi. She is all white with brown and black ears and brown freckles all over her. Her hair is soft and grows long and silky like a Maltese but sheds like a Chihuahua.

She is very quiet (ie rarely barks) and very very affectionate. My Malchi is a real joy to have around.
Join in and write your own page! It's easy to do. How? Simply click here to return to Tell Us About Your Malchi!.
Chihuahua Maltese Mix - Eddy
by Ryan
(Chicago)
Eddy is very energetic, loves people, loves dogs, very quiet, extremely friendly Chihuahua Maltese mix. He has more energy then I do when we go for walks. Now that he is getting older he has become more independent but when he goes to sleep its usually in my lap or his dog bed. He has been very easy to teach tricks. He currently knows sit, roll over, jump,down, high-five, play dead, and shake.
Join in and write your own page! It's easy to do. How? Simply click here to return to Tell Us About Your Malchi!.
Maltese Chi Mix - Molly
by Mandy Sherriff
(Hobart, Tasmania, Australia)
Molly is 7 weeks old, she has fluffy white Maltese fur and short haired Chi face... she is just gorgeous!

We have only had her almost 2 weeks but already her personality is showing strong... she is a very gentle little soul and extremely loyal, she follows me everywhere!

She is very intelligent... one very beautiful smart puppy!

She is wary but friendly to people but she seems cautious of small children, hopefully this will improve as she gets older.
Join in and write your own page! It's easy to do. How? Simply click here to return to Tell Us About Your Malchi!.
Missing Maltese Chihuahua - Vanna White
by Debra philpotts
(San Jose Ca)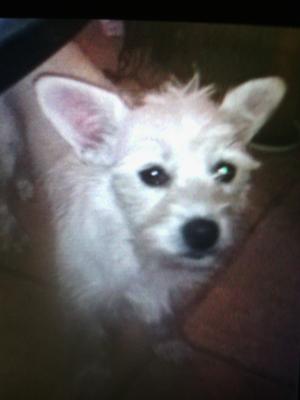 Give me a V
My Maltese was the highlight of my day and my other dogs best friend. April 7 2013 on sunday there was a guy friend of my boy friend of my boyfriends over whom left our house at the same time she vanished. I was told this guy Sammy Arena is a thief and dose steal what ever he can sell. I'm putting this out there like this to warn people about him and also post if anyone may have heard or found my doggy Vanna. She is only Nine months old and she is so loved and missed. The other dog is just so sick I'm worried for her she misses her more than ever. And they never had been apart. They are a pair.

We live in San Jose this is near Camden Avenue. In between Bascom ave and Union ave. If anyone may have found her or knows about her we would live to get her home. Please call me 408 759 9437. I go to pound several times a week and check out craigslist and I did post signs but have had no luck yet.
Maltese Chihuahua Girl - Bella
Bella is 5 months old now, and she is in good health apart from a slight heart murmur. My Maltese Chihuahua girl is really playful, loves people but not little kids and she really does not like other dogs at all. I've noticed lately that she's quite possessive of her toys.
Join in and write your own page! It's easy to do. How? Simply click here to return to Tell Us About Your Malchi!.
Malchi Pup - Little Bear
Just got this pup and they told us he is a Malchi. He is so cute a precious. He is 6 weeks old and I am very new to small dogs. I'm just curious about his hair type and what he will look like when he is older. I've gone thru so many pics and haven't seen one that looks like my Malchi pup... He's such a cuddler .
Maltese Chihuahua - Sporty Diesel
by Sean
(Queens, NY USA)
My Maltese Chihuahua was born October 6, 2007 and he's cream colored prince who prances around as he walks with a confident air. He goes to bed every night at 11:30 pm although he will get up to check on things. He makes a "pillow" out of nearly anything soft, sock, shirt, etc..

He loves the snow but hates the rain and is a finicky eater. He will run up to any dog playfully and loves to be chased. I spent a lot of time with my Maltese Chihuahua training him as a pup and I can walk him off the leash anywhere. He is a furry bundle of joy and love.
Male Malchi - JJ
by Trea
(Sierra Vista, AZ, USA)
JJ is a 6.5 pound male Malchi! He loves to cuddle just as much as he loves to run and play. He is a very smart and playful dog. He loves car rides and long walks. His favorite activity is to play fetch in the backyard. When he is tired, he will snuggle up to you on the couch. What makes JJ so special is his overwhelming personality! He is a very sweet, loyal, and loving dog. He craves attention and loves the spotlight. He doesn't have much of a temper and is warm with everyone.
Albino Maltese Mix - Rudy
by By:Amanda
((Miami))
Rudy is a male albino Maltese mixed with a long haired Chihuahua. He is a very fun and playful little dog. He weighs nine pounds,he is a cute 1 year old dog,has a pink nose,white fur,pink skin and a heart full of love!! Rudy is a very intelligent dog. He cuddles with you when your sad, tired,bored etc. Rudy is a lovable dog and I love him!!

Rudy the Albino Malchi!

Join in and write your own page! It's easy to do. How? Simply click here to return to Tell Us About Your Malchi!.
Obi Needs a Malchi Friend
by Diana
(Orlando, FL )
Obi is 3 years old. He is so unbelievably awesome!!! I would recommend a Malchi to anyone. He's great w/ Kids too!

I am looking to get him a friend with no luck... If anyone knows of any Malchi's in Florida that need a LOVING home Please Please contact me!!!
Malchi Dog - Cloud
by Joyce McCann
(St Louis)
Our Malchi dog Cloud loves it when his Daddy takes him for walks. Or when his Mommy gives him lovin. He knows how to do several tricks, including roll over and play dead!

He looks so cute in all his sweaters. And loves to go for car rides so he can stick his head out of the window. He has a sister named Bella who is just as cute. I love Malchi dogs!
Muppet - Maltese Long Hair Chihuahua Mix
by J9
(WV)
Muppet is a 6 month old Maltese long hair Chihuahua mix. I got her when she was 3 months She is small, but does not act like it! Muppet has the biggest personalty and the biggest heart!

I have always been a huge Muppets Fan and a Fan of Creator Jim Henson and when I got her. The first thing that came to my mind was "OH MY GOSH! She looks like a Muppet!" I didn't intend to call her that. I thought of every possible name but, nothing suited her Better.

My Maltese Chihuahua mix def Looks and acts like something Jim Henson would have created himself. I love her so very much. She can be a bit crazy... barking at the wind at times and we're still working on potty training... all in all she is Wonderful !
Are you a Maltese Maniac?

Join other Maltese Maniacs and get:
Our exclusive monthly newsletter
Discounts on great Maltese dog products
Notifications of contests and giveaways