Beagle Mix - Woody
by Amanda
(Vinton, VA)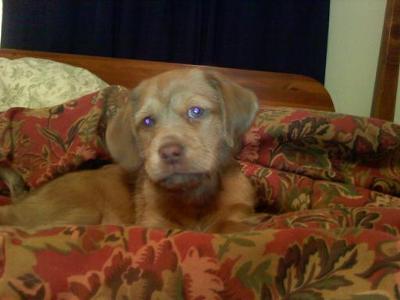 8 weeks old
Our Maltese Beagle mix Woody has been with us about a week now. He was in a local animal shelter, being fostered out of a ladies home. His mom is a Maltese and the Father is a Beagle. I saw his pic online and FELL IN LOVE istantly. Contacted the foster mom and made a visit to meet him. I LOVE this dog! My family loves him. He is very very sweet, very smart. Day 2 at home, we taught him to sit on command! Our Beagle mix is VERY cuddly. He wants to snuggle all the time. LOVES to be outside. He "pounces" on everything like a cat when he is playing! It is the cutest thing to see! I have never seen a dog's tail wag so fast as Woody's when my son is around. We are crate training him and he has been GREAT! Loves his bed and the crate. we leave the crate open when we are home and he goes in and takes a nap all by himself. He does not potty in his crate. Has not gone to the bathroom in the house, whines a little and "dances" around to let us know he needs to go out! This dog has so much personality and we just love him so much! Best puppy I have ever been around! LOVE LOVE LOVE HIM!!
Beagle Mix - Tiber
by Megan
(Jacksonville, Fl)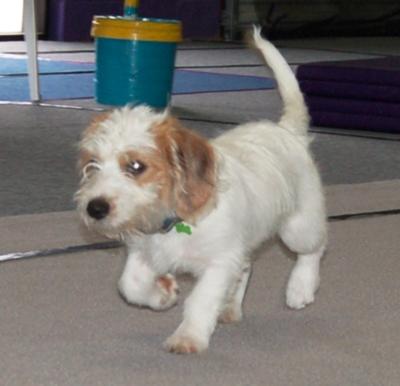 Tiber age 1
My Maltese Beagle mix Tiber will be turning 2 years old in a matter of days! I have been with him since his birth. Tiber's mother is a Blue Beagle and his father is a Maltese. The total liter size was 7. Out of those 7, Tiber was the only puppy who had an all white body. Now he is all white with tan ears and weighs between 20 and 25 lbs.

The past 2 years have flown by so quickly. He was easily potty trained and leash trained. He has the thin pink skin of a Maltese, the long fur of a Maltese (but it is wiry), the muscular build of a beagle, the typical beagle tail, and the beagle floppy ears (but they have long fur hanging off of them). He'd rather make me happy than be stubborn. His personality is great. My Maltese Beagle mix loves kids of all ages, dogs of all sizes. I'm not sure about cats (I don't have any), but I do know that he chases squirrels and other small prey animals. He is quite playful, but still very lazy. He can be a picky eater at times, but he loves to play with his food.

Tiber is and will always be a great addition to my pack. From the beginning my pack of Huskies took him in and showed him how to act inside the house and out. If you are looking for a unique looking dog with a great temperament and love of people a Malteagle would be a great option. But of course, there could be bad apples in any litter.
Maltese Beagle Cross - Teal Anne
by Marlene
(Canada)
Hi everyone, found this website when I was looking up info on the Malteagle. I will soon be going to pick my Maltese Beagle cross up and can't wait to meet her. Judging by her picture she took on more of the Beagle coloring, but has the longer hair of the Maltese. All I can say is she looks adorable! I'm glad this website is out there so we can all compare notes. See new pictures of my Maltese Beagle mix here.
Join in and write your own page! It's easy to do. How? Simply click here to return to Tell Us About Your Malteagle!.
Beagle Mix Update - Teal Anne
by Marlene
(Canada)
My Maltese Beagle mix Teal Anne is now three months old so I thought it was time to update my site. Well, she's quite the beauty! And very smart.She started sleeping right through the night second night home. She weighs 8lb now and loves to play I might add she is quite the runner lol. Takes after the Beagle side! lol. She loves children and is getting along quite well with other dogs. She knows a few commands and executes them quite well. Her structure is more Maltese as well as her fur, very soft and cuddly. She loves her bully sticks! I would have to say she's at least 95% house trained,she was quick to learn. She's a treasure! Everyone who meets her falls in love with her. She's a very special little girl. See pictures of my Maltese Beagle cross when she was a tiny puppy.

Take care all
Marlene & Teal
Join in and write your own page! It's easy to do. How? Simply click here to return to Tell Us About Your Malteagle!.
Rascus - Miniature Beagle Maltese Mix
by Isaac
(Beulaville, NC, USA)
Rascus is a Miniature Beagle Maltese mix. He has predominantly white hair with Beagle brown and black markings on his neck and back. His hair is about 3 inches long (not continuously growing like a Maltese - THANK YOU Beagle!) and looks kind of like Einstein in the poof that it does.

He is beyond cute and cuddly, and is happiest when well established in someone's lap. He sleeps with a small teddy bear, which he can not decide whether he should chew it, lick it, or just snuggle with it.
Beagle Mix - Sammie
by Stella
(San Jose)
My Maltese Beagle mix is a little sleepyhead! When we put ehr to sleep, while her mom is in the backyard, she sleeps like a human and sleeps with hers paws up and head hanging. She is very calm and gentle. Sammie is also a very trained little Malteagle. She has tanish -brownish floppy ears and some tan spot son her body. Mostly her fur is white.
Join in and write your own page! It's easy to do. How? Simply click here to return to Tell Us About Your Malteagle!.
Are you a Maltese Maniac?

Join other Maltese Maniacs and get:
Our exclusive monthly newsletter
Discounts on great Maltese dog products
Notifications of contests and giveaways