Black and White Maltipom - Gio
by Becky
(Castro valley california)
I got my Maltipom when he was 3 months old, he will be a year old on june 13th 2011. He is the sweetest little guy and smart as well. He is black & white although I was told he would only be 8 pounds he was 12 pounds when weighed in February.


Black and White Maltipom - Dolce
by Mandy Johnson
(Panama City, FL)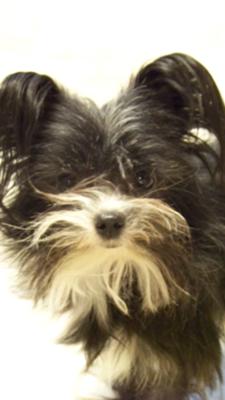 just being me
Dolce is a very small black and white Maltipom, about 4 1/2 pounds very active and very smart, she lives with two parents myself and my husband two kids, my grandchildren a sister, my daughter and two pixie bobtail cat brothers. Our Maltipom is a happy little dog and loves to play with her toys and her family,
Maltese Pom Mix - Mia
by Angela Gurzi
(La Habra)
Mia is a Maltipom (Maltese Pom mix). She is rare because she's all black. She has short hair and doesn't shed. However, she resebles more of the Pom breed in her face and ears. Mia gets love and attention everywhere she goes. She is very smart and has a good memory of words and different names for her toys. I can tell her, "Gi get Oscar" ans she'll run and pick him up. She is a teacup and only weighs less than 4 lbs.
Return to Tell Us About Your Maltipom!.
Black and White Maltipom - Savannah
by Rosa
(Miami Springs, Florida )
We just got our black and white Maltipom. She has the face of a Maltese but is short and shubby looks like her hair is mostly the texture of the Pomeranian. Her dad was a Maltese and her mom is a Pomeranian. She is too cute. Trying to train her now she just came home yesterday. She seems to be doing well.
Return to Tell Us About Your Maltipom!.