Cairmal - Florrie
by Amy
(England)
Our Cairmal is now a year old. She is a fantastic little dog and we love her to bits. She loves her walks and lots of human company. Not a great guard dog as anyone who visits the house gets licked non stop.


She loves seeing other dogs and will stand on her back legs for for long periods just watching them. She looks like a mere cat when she does this. She also loves to dance for a treat. She is so nosey and inquisitive.
How do others groom their Cairmals? We bathe her once a week as she gets very greasy and smelly. We had her groomed and they practically shaved her. She looked like she was ready to join the army! Not keen to get this done again. Her coat is very woolly and we groom her daily. How do others groom their dog?
Charming Cairmal - Penny
by Victoria
(Tampa, FL USA)
She is a great dog to have! She is a faithful companion.

She is active in the outdoors but also loves relaxing in our apartment.

She is cute and small and weighs about 7 pounds. We love our Cairmal!
Cairmal - Sidney
by Sherri Das
(Rochester, NY)
Sidney was born on 4/9/07 and she is a Maltese Cairn Terrier mix. Her mother was a 10lb. Cairn Terrier and father was a 7lb Maltese. She is always lively and happy and follows her owners around everywhere.
Black Cairmal - Cooper
by Cindy
(Portland, Oregon)
Our black Cairmal Cooper is a great family pet with a happy and loving personality. We have a large dog as well and they are the best of friends.
Cairmal - Katie Star
by Nancy
(Prince Frederick, Maryland, USA)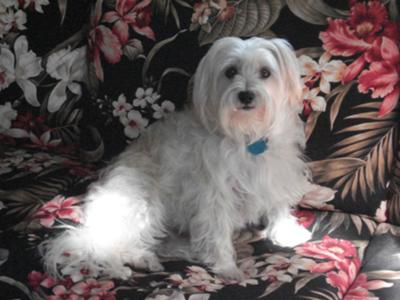 Katie at 2 years
Katie Star is our miracle Cairmal!

Katie was born on July 5, 2008 to our Wheaten Cairn Terrier, Annie, and my nephew's Maltese, Skooter. Annie whelped a week early as a result of a terrible thunderstorm the night before. She ran around hysterically barking for several hours, and her litter was born the next day. Right after her four beautiful puppies were born she inexplicably turned on them and killed two of them before we could stop her. My husband was able to save the remaining two little girls. (First Miracle)

Having no idea how to raise newborn pups, I contacted a friend, Sandy, who is our groomer. She stayed up all night on her computer getting information on how to care for newborn puppies. As a result of her dedicated searching, she was able to share information with me which literally saved my puppies.

She told me that puppies usually die because they are not kept warm enough and that they needed to be kept in a 90-95-degree environment. We kept them in the hottest room of the house under a heat lamp where they stayed nice and toasty. For their safety, we muzzled Annie, and let them nurse several times for the crucial first two-three days so that they could get the colostrum they needed for important immunities. I started them on warm puppy formula every 1 1/2 hours from an eye dropper and then switched to goat's milk from tiny bottles I found at the pet store. She also told me that I needed to massage their little bottoms with cotton balls after every feeding to help them to pee and poo (who knew?). They continued to grow and thrive into two healthy, happy, playful little Maltese Cairn Terrier balls of fun! (Second Miracle)

They were kept separated from Annie for several months and reintroduced very gradually and carefully. Katie's sister, Gracie, went to her new home at 10 weeks, and now Katie and Annie are living in peaceful harmony.

In May of 2009, we rescued an eight-month-old yorkie-poo, who was to be euthanized that night. ?Max? is now Katie's best friend and playmate.

Katie is the best of both breeds Maltese and Cairn Terrier. She is beautiful, sweet, intelligent, and playful. We hoped that she would favor her Maltese father; and, as you can see, she definitely does.

Her original name was Star, because she had a five-pointed white star on her chest when she was born. At 2 ½ years, she weighs in at around 16 lbs. (mother, Annie is much larger than normal for her cairn-terrier breed at around 18 lb.).

We are not Cairmal breeders. We simply wanted a pal for Annie, and thought it would be great for her to have her own pup as a companion. So we bred her with Skooter before they were spayed/neutered.

We love Katie to pieces, and are thankful every day for our little "miracle."
Join in and write your own page! It's easy to do. How? Simply click here to return to Tell Us About Your Cairmal!.
Rylee the Cairmal
by Christine Cepek
(South Fork, PA)
I love my Cairmal (Cairn Terrier Maltese mix). We're family of 6 including two dogs, one a Puggle and our newest addition is our Cairmal.

First off we choose her because we all have allergies and these wonderful dogs really don't shed and if they do it's very minimal. They are very playful we have a small yard and she's wonderful with it although I would highly recommend a fence because they bounce alot. Oh they are very bouncy and hop like a rabbit when they run.

She has been very easy to train. She is 6 months old now and listens very well. They are filled with energy, however they would easily adjust to a apartment with just a walk a day. They love to play and run around the house or outside but ours likes to wonder if not watched every second. She loves the kids but you may want to consider that they jump alot. She's in training now with a great trainer who says we just spoiled her a little and her jumping has slowed down now that she's getting older.

Our dog is 85% of the way full grown and she weighs 6 lbs very small and petite. Very friendly but on alert and guard when someone pulls into our driveway or walks up to our front or back doors. I wish I knew more about these wonderful dogs my parents are looking for one now and were hoping to breed them. They are wonderful...
Cairmal Dog - Barnaby
by Mar
(Spokane, WA)
Barnaby is a WONDERFUL Cairmal dog!!!! I wasn't in the market for a dog until this little guy choose me and it has been the best relationship ever.

Potty training was a breeze as we taught Barnaby to respond when needing to go to the restroom. Basically, asking if he needs to "pee potty" with a response of two barks means that he wants to go outside. When finished, we reinforce by praising him. Training my Maltese Cairn terrier mix Barnaby to do tricks was a lot of fun! It took several tries to walk on his hind legs, the "Happy dance" (dancing in circles on hind legs), as well as shake, roll-over, etc, etc., as he likes to show off to family, friends, and guests when they come over for a visit.

He is very alert to any noises outside and when he does hear something, he will investigate it and inform the household by barking. Being hard of hearing myself--I praise him for that as I don't hear what is going on outside.

The other thing is that Cairmal is also a BIG, BIG lap dogs! They love to cuddle. When sitting watching television, he would like to cuddle, laying on your chest with his head on one's shoulders. Also likes to lay on your lap as well.

Myself--I highly recommend a Cairmal if one is looking for a handsome, lively, energetic dog that would complete one's house. I know I am in the market for another Cairmal to add to this household......
Cairmal - Archie
by Kristin
(Aurora IL)
Archie the Cairmal at 10 months
Archie the Cairmal is the happiest-go-lucky dog you could ever meet. He is everybody's best friend, including our cat's. He always wants to be where the action is but at night he roams from room to room making sure everyone has settled down and then comes to sleep at the foot of the master bed. Our Cairn terrier Maltese mix responds very well to praise but not so much to food treats - he can take them or leave them.

He is a terrific snuggler especially in the late afternoon before he gets his second wind. He is the epitome of the optimist, always able to find something to be happy about and wanting to share his happiness with you. Our Maltese Cairn terrier mix loves to chew so we have plenty of dog toys. He has been smart about learning what's okay to chew on and what's not. One of his toys has become his favorite and he carries it around everywhere with him.

I have two kids with special needs and he has shown great empathetic abilities with them. One likes to rough house and the other needs a quiet, gentle approach. It's hard to believe it's the same dog interacting with each of them when you see how differently he treats them, but it's exactly what they need.

He was in a bad accident recently but he made an amazing recovery. He has a strong will to live and by the time he left the animal hospital he had made close friends of all the staff. Our Cairmal dog is an important and much loved member of our family.
Are you a Maltese Maniac?

Join other Maltese Maniacs and get:
Our exclusive monthly newsletter
Discounts on great Maltese dog products
Notifications of contests and giveaways