Dachshund Mix - Callie
by Kay
(OK)
My Maltese Dachshund mix Callie was born 4/24/08. She is the best thing that has ever happened to us. My husband said he has NEVER gotten attached to a dog as quickly as her.


Her name mean "most beautiful". I thought she was the most beautiful pup I had ever seen, but as she has gotten older, she has just gotten more beautiful. And talk about good... she has been so easy to train... and such a spunky personality. Everyone who sees her, loves her.
She is great with our grandkids. When they visit on week-ends, it is a constant battle over possession of her. She loves to play "chase" with her tennis ball or her stuffed bunny. Her picture won me a blue ribbon at the county fair, so now we call her our "blue ribbon pup".
Dachshund Mix - Yoohoo
Yoohoo is a very playful, adorable 1 1/2 year old Maltese Dachshund mix. He is full of personality and affection. He is great with kids.

I had Dachshunds growing up and they always ended up with back problems. Being a hybrid, he will probably won't have a problem.

He is 10 lbs. and has a very bold personality. He barks alot. He is constantly all over, playing with our 6 year old Basset Hound.
Dachshund Mix - Lilly
by Karen
(La Jolla California)
Lilly is just about the sweetest Dachshund mix dog in the world. Super smart, super loyal, like walking around with a mystery shadow.

Easy to train, housebroken in 2 days, barks when door is closed. Just an awesome loving dog.
Dachshund Mix - Snoopy
by Mike
(Orlando, FL)
My daughter dropped off her Maltese Dachshund mix dog, for me to watch about 2 years ago. I did not want a dog but this long haired, short legged little guy has turned into the best dog, I could not ask for more.

He is great inside the house, was easy to house break (even after daughter did a really bad job with the house training), loves riding with me on trips. We just moved to Orlando and he endured all 12 hours right by me and never slept. LOL He is great with kids, and all people... just a little shy with some people at first, and some dogs.

His coat color Silver/Tan and black. He does require a lot of brushing which he does not care for so we do the best we can!
Join in and write your own page! It's easy to do. How? Simply click here to return to Tell Us About Your Mauxie!.
Dachshund Mix - Kibbee
by Jill L Wilson
(Guthrie, OK)
Kibbee is an adorable 1yr old female Maltese Dachshund mix that is as cute as she is smart! She is very loving and cuddly and loves to give it her all chasing her toys... curious enough she loves to shred any kind of paper into tiny pieces, and likes to bring me a white plastic shopping bag if she needs to go out and do her business... she loves to eat anything (which we are very watchful of) and she loves to play in our hair..??? We're not sure why... she is our precious baby and I don't know what we'd do w/out her! Maltese Dachshunds are teh best mixed breed in the world!!!

Her mommy is a piebald Dachshund and her daddie is Maltese. She has medium white fluffy coat with splotches of tan and a long fan tail...cute! She is about 8#. Cutest dark beady eyes and sleeps on her back like people!!! She is a clown, too! She respond very well to "treats" for rewards...she attacks my computer mouse when she wants my attention!! Great watchdog and also very loving towards strangers when she thinks they're OK to her. She's just great!
Dachshund Mix - Wrigley
by Robbie
(Illinois)
We love my Maltese Dachshund mix Wrigley sooo much already. He turns 8 weeks tomorrow and he has brought so much happiness to our family.

He is so cuddly, but fun and playful when he wants to be! He's already doing great with house training and is loved by everyone!!
Dachshund Mix - Skeeter
by Jayme
(Kansas City)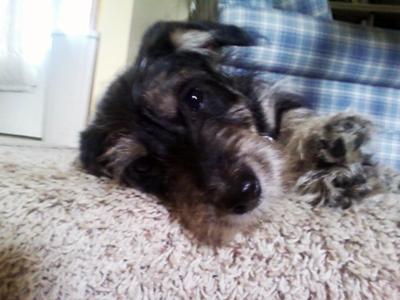 Skeeter
Skeeter is 6 months old and is a very energetic, loveable dog. We were told he was a Dorkie (Yorkie Dachshund mix) but have always questioned this. By looking at this website he looks more like a Mauxie (Maltese Dachshund mix). Tell me what you think by the photo.
Dachshund Mix - Slim Jim
by Porsche
(Tennessee)
My Maltese Dachshund mix is the craziest dog. She loves to dig, and she loves to play. She sleeps with me every night, and loves to cuddle. I am living with my friend and she has Slim Jim's sister. Her name is Zoey and she loves to pick on Slim Jim because she is like twice her size.

The day I got my Maltese Dachshund Slim Jim, I introduced her to my boyfriends Boxer. She ran at him barking like she was going to eat his face off. She always loves to taunt the dog outside on the leash. She would run up to her and bark and run away then run back and do that for hours. My Mauxie is a great dog, and very loving.
Join in and write your own page! It's easy to do. How? Simply click here to return to Tell Us About Your Mauxie!.
Dachshund Mix - Teddy Williams
by Alicia Williams
(Melbourne, Australia)
Teddy is the most beautiful kindest little Maltese Dachshund mix. He is full of attitude, love and happiness! His short legs never stop him from doing anything he wants! He is an amazing watch dog. He is truly a part of our family.
Join in and write your own page! It's easy to do. How? Simply click here to return to Tell Us About Your Mauxie!.
Dachshund Mix - Dodi
by Meagan Ross
(Lafayette, IN)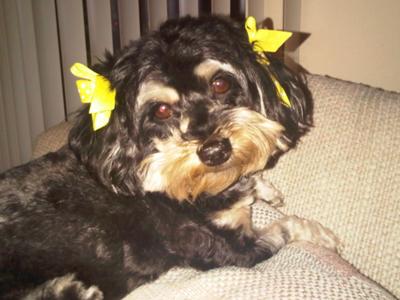 Dodi Ross - 3 years old
Dodi is a sweet, sweet Maltese Dachshund mix. She is so loving, loyal, and cuddly. She is the epitome of a lap dog, as she always wants to be right next to you, helping you with whatever you are doing. She is super smart, and not too difficult to train (we adopted her at 3 years old). She has her tricks, and is very good at walking/standing up on her hind legs. Our Maltese Dachshund mix loves to give kisses, and gives you the warmest and happiest greeting every time you return home, even if you were gone for 10 minutes. She has a strong, gutteral bark that she only releases when she is trying to be a good guard dog. Though if anyone were to break in, she'd greet them, and then roll over for them to rub her belly. She does have a slight stubbornness about her, and sometimes gets an attitude, but overall - Dodi is sweet and absolutely loyal. We are blessed to have our sweet Mauxie, Dodi.
Join in and write your own page! It's easy to do. How? Simply click here to return to Tell Us About Your Mauxie!.
Dachshund Mix Rescue - Pelos
by Tabbitha
(Sherwood, Arkansas)
I have a Maltese Dachshund mix rescue dog who is quite crazy! He is very much enjoyed though and we are very glad to have been able to get him. My Mauxie is very sneaky and loves to talk to everyone! He loves to play with toys and chew on his friend Chica! He is a lovable and just great puppy, but he has his days. (:
Join in and write your own page! It's easy to do. How? Simply click here to return to Tell Us About Your Mauxie!.
Are you a Maltese Maniac?

Join other Maltese Maniacs and get:
Our exclusive monthly newsletter
Discounts on great Maltese dog products
Notifications of contests and giveaways