Doxie Mix - Bailey
by Robert Lima
(Hudson, Florida)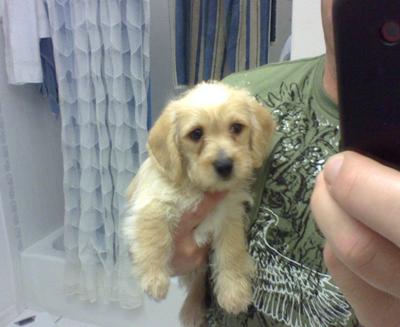 I just got our Maltese Doxie mix Bailey. He is 9weeks and is precious. He is so smart for his age. He follows me when I call him, he is super affectionate and attentive. I am so happy with our Maltese Dachschund mix.
Doxie Mix Puppy - Bentley
Bentley was the cutest Doxie mix puppy I've ever seen. We got him last year. He is adorable. He's funny, clever, sweet and alert. I got him as my anniversary present. We will have had our Doxie mix for a whole year this month!
Doxie Mix - Wii Wii
by Bud Pagitt
(Holiday Florida)
My Maltese Doxie mix is a lively mischievous little darling. She steals the heart of anyone who sees her. The two older (6 yr and 10 month old Dachshunds she runs with) are being trained by her at this point. She is more fun to watch as she rules the house.

She is still a pup so we are not sure how big she will be however she appears to take after the Maltese more than the Dachshund breed.
Doxie Mix - Bentley
by Christine
(Ohio)
Bentley is the best Maltese Doxie mix on the planet. I never wanted a dog my whole life and we ended up buying Bentley on impulse. He is by far the best thing that has ever happened to me and my family.

I never imagined I could love something so much... but my Doxie mix Bentley has completely stolen my heart (not to mention he is a total stud).
Maltese Doxie - ShuShu
by Shu's Parents
(South Dakota)
Our Shu's mom is a Maltese and her daddy was the naughty Doxie next door.

Shu is constantly amazing us with her intellect as she knows many commands and picks them up quite easily. She has begun to hunt pheasants and needless to say, she can show the big dogs how it's done!

Our Maltese Doxie does exhibit traits from both sides of her family tree and as she gets older more and more are emerging. She, like other Maltese, loves to be near humans and must be touching you, not just lying in close proximity. Her Doxie hunting skills continue to amaze us as she is quite adept at tracking and flushing birds.

As you can surmise by looking at her photo, she is the spitting image of her father. Her mother contributed a few white hairs that you have to know are there in order to see them.

We could not imagine our lives without our Maltese Doxie mix Shu...
Join in and write your own page! It's easy to do. How? Simply click here to return to Tell Us About Your Mauxie!.
Doxie Mix - Penny
by Mary Kaufman
(Bloomfield, NJ)
We purchased our Maltese Doxie mix Penny when she was 4 months old. She was so small -- about 2 lbs. She was an active pup with the cutest little bard. I remember the first time she heard the doorbell, she barked and was so confused that she ran into the bedroom instead of to the front door. She caught on quickly though and now can hear a car door close a block away and will bark and run to the front window or door. She is so smart, she was trained within the first few days of getting her. She has had only one accident, which is unheard of for a pup.

Penny turns a year in November. Our Mauxie had grown a lot in the seven months we had her -- she is about 8 lbs. now. She is a real spitfire. She cases are cats through the rooms. She chews and eats anything on the floor she can find. We overlook all of this bad behavior because she is such a lovable dog. She wags her tail at the slightest mention of her name. She give hundreds of kisses and is always in a good mood.

We love our Penny and could not imagine a moment without her.
Join in and write your own page! It's easy to do. How? Simply click here to return to Tell Us About Your Mauxie!.
Maltese Doxie Rescue - Crystal
by Joe Kalisak
(Glendale, Arizona USA)
Crystal is a "Rescue" dog and we believe she is a Maltese mixed with Doxie that is about 8 - 10 months old. We adopted her less than three weeks ago and she acts like we have had her a year or longer. You could not order a better dog, period! A very easy going mellow dog that just loves to be with you and is a very fast learner and adapted to her new surroundings quickly. She loves riding around in the Golf cart in the neighborhood, as well as in the car or truck. Crystal likes to play with our other Two rescue dogs, a female Dobie and a male Silky Terrier. This is a wonderful Mix breed dog that has all the behavior of a Maltese and possibly a "Doxie" (Moxie)
Join in and write your own page! It's easy to do. How? Simply click here to return to Tell Us About Your Mauxie!.
Doxie Mix - Brutus
Brutus thetese Doxie mix was rescued from the Westbrook Animal Refuge League and is a well loved member of the family.

He is now five years old and loves to be with people, especially sitting on someone's lap. He has a high pitched, non stop bark for anyone who comes near the house but quickly changes his volume and pitch if the visitor is a friend.
Are you a Maltese Maniac?

Join other Maltese Maniacs and get:
Our exclusive monthly newsletter
Discounts on great Maltese dog products
Notifications of contests and giveaways