Lhasa Apso Mix - Chloe
by Shirley
(Des Moines, IA USA)
Our Maltese Lhasa Apso mix is 5 months old. When I answered the ad for a teddy bear dog, I thought I was getting a Shishon like the one I already have. I did not realize they bred different kinds to make a teddy bear dog. When I realized she was not what I expected, it was too late... we were in love. My husband said she is here to stay cause she loves her "dad"! When we first got her, she tried grabbing one of his nipples to "nurse", talk about funny!


Our Lhatese was no problem to train. Potty trained first week, sitting up pretty within 2 weeks. We have a Shishon that will be a year old in April, and they love each other.
Lhasa Apso Mix - Sophie
by Misti
(Texas)
Sophie is a bundle of joy! My Maltese Lhasa Apso mix is so loving and attentive. She has potty trained fairly easily.

She is already playing fetch and knows where her bed is at night-night! I couldn't imagine life without my Maltese Lhasa Apso puppy now!
Lhasa Apso Mix - Poochie
Our Maltese Lhasa Apso mix Poochie has a cheeky nature, loves long walks, usually obedient with occasional mad moments :) he's great with children but can growl if being protective, he's a real character and very funny! Very cuddly till he gets too warm then seeks cool spots. Our Lhasa Apso mix follows me everywhere especially the kitchen hoping for snacks! Will try to make you feel guilty with his puppy dog eyes... he's our first dog and we love him to bits.
Join in and write your own page! It's easy to do. How? Simply click here to return to Tell Us About Your Lhatese!.
Lhasa Apso Mix - Pippa
by Sarah
(Solihull UK)
Pippa is our beautiful Maltese x Lhasa Apso puppy. She is a very happy little Lhatese pup who loves chasing other dogs for fun but is very quick to submit when she remembers so cant out run a big dog.

She is very gentle when she takes food from our hands and loves licking our face. She loves most people and other dogs, but is nervous around children.

I would describe her as a cross between a cat, a hamster, and a dog.

She is an absolute delight, but it takes twice as long to get anywhere as everyone who sees her wants to fuss her hehe.
Lhasa Apso Mix - Oreo
by Keke
(San Bernardino)
My Maltese Lhasa Apso mix Oreo is a very devoted dog and it helps that hes small enough to carry. my only issue is he is very skittish and its been hard to house train him. he is hardheaded but has amazing hearing lol but for the most part he loves me and it shows. hes pretty overprotective and doesn't really like to see me with other dogs. He's a very excited dog.

Some things all owners of Lhatese or Maltese Lhasa Apso mixes should know are:
#1 this mixed breed can be antisocial if raised wrong.
#2 these dogs can develop separation anxiety (like Oreo) and
#3 they can be very bossy/ dominant and hard to house train. I have read that this mixed breed likes to be boss and will take over your home if you let them so be careful and beware.

Lhatese are wonderful dogs but you gotta take the downs with the ups!!!!
Lhasa Apso Mix - Cotton
by laina
(ARIZONA)
I got my Maltese Lhasa Apso mix Cotton from the pound. I took her to the vet and right away the vet said she was a Lhatese. i got so lucky with her.. shes very friendly with younger children and the eldery. i often take her to a retirement home or the park and everyone loves her. Her favorite game is fetch and she is very intelligent. I just got her a kong toy and she figured it out in 5 mins. I taught her, sit and all basic commands such as in your crate... drop it .. paw... and it did not take her very long to figure everything out. My Maltese Lhasa Apso mix is such a joy!
lhasa Apso Mix - Jerry Mace
by Angelina Mace
(Upper Darby PA)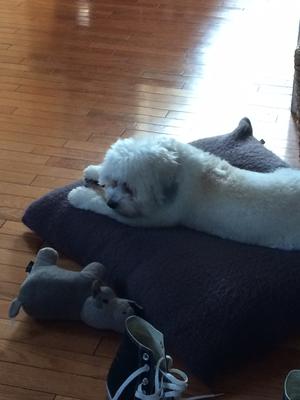 Playing with his toys
He is fun loving Maltese lhasa Apso mix. My dog enjoys playing with my son Jarrod. He also loves his treats and is very protective. He was born March 8th 2013. He is light brown with fluffy fur.
Join in and write your own page! It's easy to do. How? Simply click here to return to Tell Us About Your Lhatese!.
Lhasa Apso Maltese Mix - Mindy
by Gail Stott
(Largo, FL)
Mindy is the sweetest girl we just love her. Our Lhasa Apso Maltese mix is six months old and weighs about 7 lbs. She will get approximately 10-12lbs when fully grown. Mindy loves people and other dogs. She is good on a leash and loves to go on walks. She is definitely a lap dog and loves to have her back scratched. We are so happy that Mindy came into our lives.
Join in and write your own page! It's easy to do. How? Simply click here to return to Tell Us About Your Lhatese!.
Maltese Lhasa Apso Mix - Oliver
by Lisa Tohey
(Ham Lake, MN. USA)
My dog's name is Oliver. He is a Maltese Lhasa Apso mix. The minute I saw his big round eyes with those long lashes, I knew he was going home with me. I already have a nine year old dog named Ozzy that I love with all my heart, but I thought maybe he was lonely and needs a companion!

I saw Oliver in the window of a pet store. I know, I know. I am such an advocate for animals and against puppy mills, but, he really needed to go home with me. The people at the pet store assured me that he was not a puppy from a mill.

The thing about Oliver was that as I looked around at the other dogs, he was the one that caught my eye. The lady told me that he had been at this pet shop for almost 2 months???? Why? how? I thought, with this adorable face. I guess because he was meant to be MINE!

I went to a private area with him, he stayed right at my feet and would look up at me occasionally with those big round eyes!

Oliver! That's what I will name you. .I thought about how my other boy at home would think of his new brother, or vise versa. I started to get a little skeptical, and unsure if we really needed a new dog. I sent a picture via my phone of this handsome guy to my husband. I said, "you need to meet this cute puppy. He would probably make or brake the deal.

I knew deep in my heart though, that he was soon going home to a new family. our family! My husband arrived, but Oliver stayed close to my feet the whole time. We sat around and played with him for another good half hour, that was when I knew we had to make a decision soon! I told the lady that worked there. "okay, if he looks at me when I call him Oliver he will be coming home with us, if not, I guess he stays. .here goes, I looked down at this small little white puppy, and called out his name. "Oliver". within seconds he looked up at me with those big, round eyes. I said, lets go home, Oliver!

Today my Lhasa Apso Maltese mix is one years old, and we love him dearly, he is a very playful and passionate and dedicated little dog, and yes, my Ozzy loves him like a brother!
Maltese Lhasa Apso - Oscar
by sam fryer
(norwich,norfolk,uk)
Oscar is a great lil Maltese Lhasa Apso dog, though very mischievous. He loves getting muddy and swimming in what ever he can, which means regular brushes and baths. He loves to be brushed but hates having a bath, he will ignore me for about an hour after or tell me off! He is very pampered pet and loves going to the groomers but hated dressing up.

He is a very social lil doggy as he plays with everyone possible including my nan's cats,but they aren't to keen. He loves making friends with humans more than other dogs though he has a liking for my sisters Westie, Olly. He is my first dog of my own and is very intelligent. We started training like agility and gets really excited when it includes a tunnel! When we go out for a walk it takes us twice as long because we have to say hello to everyone and everyone wants to say hello to him.

Oscar is my little boy and I don't know what I did without him. My Lhasa Apso mix is very special to me as he is like my best friend, I am a student at uni and I can tell him all my worries and stresses and he doesn't judge. He know when I am feeling down and comes for a cuddle or tries to make me laugh but showing me what tricks he can do. Without him I don't think I would be at uni if it wasn't for Oscar.
Join in and write your own page! It's easy to do. How? Simply click here to return to Tell Us About Your Lhatese!.
Lhasa Apso Mix - Bailey
by Diane
(Upstate New York)
We have adopted our Maltese Lhasa Apso mix Bailey from an owner who became suddenly sick and unable to care for him. Although he was a bit skidish the first 3 days, he has been a wonderful companion. He is 1 year old, and house trained and there was no transition time needed for that. He is amazing with my 3 kids ages 3,10, and 12. They cuddle him, rough house, and loves all of the attention. We noticed he growls and were worried at first, but quickly found that he is just playing vocally.

All in all, we couldn't ask for a better dog. Our Lhasa Apso mix doesn't shed, gets along with my other little dog,and immediately became a member if our family.
Join in and write your own page! It's easy to do. How? Simply click here to return to Tell Us About Your Lhatese!.
Lhasa Apso Cross - Drone Francis
by Alstan
(Ne York)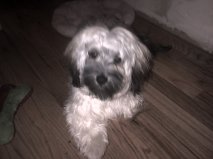 Drone is a adorable Maltese Lhasa Apso cross. He was born on 20th February,2013. He likes to stand on his back feet, and he likes to sprint a lot. he is very playful, and enjoy being pampered. He is very friendly and playful with little kids. when I go to work and leave him he cries a lot. He plays with his sister Pecosha who is a cat and is very protective of her.

I love Drone a lot because he is so sensible and intelligent. He listens and understands very well and obeys my instructions. Drone shreds all the papers and toys all over the house but still I still love my drone because he is so cuddly and attractive.

He sleeps in my bed and he protects me a lot. he eats very healthy and likes for his exercise early in the morning and in the nights. he is potty trained and knows when he needs to the bathroom. He likes to shower he is beige in colour.
Join in and write your own page! It's easy to do. How? Simply click here to return to Tell Us About Your Lhatese!.
Lhasa Apso Maltese - Luna
by Natalie
(Houston, TX)
Luna's is my Lhasa Apso Maltese mix with a one of a kind personality--my aunt had found her wandering on the streets right after the hurricane Ike was reduced to a rainstorm.

I just turned sixteen on that day, few days when my family and I got back to my house; we got lucky because our house didn't get damaged. However, my aunt's house was completely different- it was on that fateful day that we would be a match for Luna. Luna was bought to us, she was hesitant at first but she warmed up to us quickly!

The reason why she is different from most of the dogs are the scars she bears from her previous owners. She has this deep, long scar that looked like someone burned on her back. We nursed our Lhasa Apso Maltese mix back to health, she is in great condition! Over time, the scar she had started to fade, and her hair is growing it out. She is healthy as ever. Now, I'm in college for my third year, I still think about her time to time. I always look forward to having the time with my Luna. Luna's story was incredible, we shall never know what happened to her before she was bought to us.

At this point, I really wanted to have Luna--when I graduate with a degree from college, I plan to have her live with me so I can take care of her always. I could never replace a dog with Luna's personality and her love. No dog will ever match the happiness I see in her eyes. She knew she belonged to us.

Note:
Oddly, I wasn't able to find the picture of Luna--perhaps it was stored in another laptop--presumably my sister's.
Join in and write your own page! It's easy to do. How? Simply click here to return to Tell Us About Your Lhatese!.
Lhasa Apso Mix - Bella
by Lily
(Auckland, New Zealand)
Bella is a very energetic and playful Maltese Lhasa Apso mix dog, she loves going for walks outside and chasing toys and balls. She loves people but can chase after them quite quickly. Bella is a very well-mannered and peaceful dog. She absolutely loves toys, treats, people, paper and exploring. Although she steals everyone's socks and will lick you as much as she can. We love family and are so glad we got her.
Are you a Maltese Maniac?

Join other Maltese Maniacs and get:
Our exclusive monthly newsletter
Discounts on great Maltese dog products
Notifications of contests and giveaways