Lhatese Mix - Cindie
by Lillian
(Maricopa, AZ)
Cindie is a Lhatese mix or Maltese Lhasa mix dog. She is spunky and full of personality. She is black with white markings. We love her.


Join in and write your own page! It's easy to do. How? Simply click here to return to Tell Us About Your Lhatese!.
Lhatese Mix - Brando
by YJ
(Chicago, IL)
While we are not positive about the origins of our dog Brando, since he was a rescue, it was noted on his adoption card that he is a Lhapso Apso Mix and clearly that mix includes Maltese for his look and characteristics.

The groomer thinks there is some Bichon there as well because of his hair texture. He has a great laid back temperament and is very healthy. He has consumed a good amount of chocolate, by accident, on more then one occasion with no effect whatsover. I think he actually loves chocolate.

He is happy to go for walks or just snuggle up on your lap and nap like most Maltese. He loves kids and always stops to get pet by them whether or not the child is interested. He is also eager to let us know if someone is at the door - a nod to his Lhapso ancestry. He is very clever in his tactics to get treats or food, but that's probably typical of a dog. He is great company and gentle in nature.
Maltese Lhasa Mix - Henry "Mo" Barton
by Johnna Barton
(McAlester, OK)
Our little Maltese Lhasa mix dog Mo is 21/2 hrs old. He is white with a couple of very light off white spots. He has such a cute personality. My daughter brought him with her when she came to stay with us. He was about 11 weeks old. My husband and I are Mema and papa to him. My daughter had to travel some so we ended up with Mo. We love him so much and he loves us.

He is the most loyal dog I have ever seen. He is very protective of me. I have taught him to say mama and I love you. When he sleeps beside us he absolutely has to be touching one of us and gets as close as he can. My daughter (his mom) can be gone for months, but when she gets home ..he just goes nuts with excitement to see her. My Maltese Lhasa Apso will sleep with her and follow her while she is here. In the morning time she had taught him not to wake her if she was sleeping, so he will patiently wait until she says "it's a morning Mo" and his little pom pom tail starts wiggling and he hops like a bunny right on top of her and stars licking like crazy!!

He loves to lick my bare legs and feet all the time. Also my husband goes to bed early, so we go into the bedroom to tell Papa goodnight and Mo has to get into bed with him and rough house. You would think it was two dogs wrestling around growling and nipping at each other. It is so cute and funny to watch. He loves to eat crushed ice and will even bark at me when he wants me to get him some. We also eat Ben and Jerrys Brownie Cheescake ice cream. I don't like to give him to many bites... but he will cry or bark at me if I am not fast enough. He loves the groomer and hates the vet.

We are always having people stop us and ask how we keep him so white. He is very pretty and we are lucky that his eyes do not stain much. All and all we are so blessed to have this little guy in our life. My husband was in Afghanistan for a while and Mo was my little buddy and kept me company. He was so excited when his Papa got home. I would recommend a Maltese Lhasa mix dog like Mo to anyone.
Join in and write your own page! It's easy to do. How? Simply click here to return to Tell Us About Your Lhatese!.
Lhasa Maltese - Darcy
by Sharon
(United Kingdom )
My 6 month old girl is adorable, she is so well behaved and has such a happy, cheeky, sweet loving personality!. I have 4 cats also and they all get on brilliant!. I love my little Darcy,I cannot imagine our home without her!. I would deffo deffo recommend a Lhasa Maltese as a family pet!.
Join in and write your own page! It's easy to do. How? Simply click here to return to Tell Us About Your Lhatese!.
Female Lhatese - Tikvah
by Emily
(Sacramento, CA)
Our female Lhatese is so smart and can learned basic tricks in 5 to 10 minutes. Tikvah is pure white and takes 2-4 mile walks each day with her daddy. She has a spunky personality when she wants to play, but she is 4 now, so she likes to chill too. She keeps us entertained and we are in love with her.

Tikvah loves people and has canine and feline friends she looks forward to seeing on her walks. She weighs just over 16 pounds. Here is a video of her on youtube.
http://www.youtube.com/watch?v=zELys-mJ3Ws
Join in and write your own page! It's easy to do. How? Simply click here to return to Tell Us About Your Lhatese!.
Lhasa Maltese Mix - Bandit
by Patricia
(Queensland Australia)
Bandit is a one of a kind Lhasa Maltese mix. He is very loving, and when he wants something he sits at your feet and cries. He is such a scallywag, loves playing in his toy box, and chasing a ball. He gets jealous when I pat other dogs, and lets them know. He likes to curl up next to me in bed, and will sleep there all night. Such a little love, he is 2 years old.
Lhasa Apso Mix - Stewie
by Yvette Smith
(Sedley, Virginia)
I got my Lhasa Apso mix puppy 2 months ago. He is the cutest little puppy I have ever seen. Loves to play all the time. He also knows if he has done something wrong like an indoor accident, he goes directly to his crate or hides. We are just getting ready to start to teach him not to bite and to walk on a lease. My 24 year old son says he does not look real as he is that cute.
Lhatese Mix - Snowflake
by Aarika Orosco
(Plainfield, IN)
My dog Snowflake is a Maltese mixed with Lhasa Apso also called a Lhatese mix. I got her about a year ago for my 18th birthday and she is the best friend I could have and ask for. She is about 1 and a half and the most active dog I know. I take her to the park everyday when I don't have to work, there is a huge hill and when we get to the bottom I let her off the leash and she sprints right up in like 2 seconds. It takes me about 5 minuets to get up so she waits and looks at me and if I am to slow she will come back down and walk with me. When we are at the top I will throw a water bottle to the bottom and she will run right after it. I think my dog has a unique personlity because when I come home from school or work she sounds like she is actually trying to talk to me about her day and about how I left her home and I didn't take her. It bothers a couple of other people that she does this when they walk in but it will never get old to me. I got Snowflake when I was living in Florida and we moved to Indiana in the winter so it was her first time seeing snow, and she loves it so much. When I moved to Indiana I lost all of my friends but I still had Snowflake and she became the greatest friend anyone could ask for and the closet thing to me and she still is. I take her with me almost everywhere I go unless it's school or work. One of the things I love the most about her is that she will not sleep anywhere else besides between my legs at night. When my boyfriend moved in she really didnt like sharing the bed with two people but she got over it and now she sleeps on both of our legs at night. If I had to guess what her favorite thing to do would be riding in the car she gets pshyco when the window is down so I have to have like almost a death grip to keep her from going so far out the window. She is very protective of the whole household and her space, when people come over that she has never met before she will yap for about 15 minuets. I live in an apartment complex so I have to take her out and she is even protective of people just walking by us. But she is not an aggresive dog she won't bite unless the people start barking back then that is really when she goes at them. I wish I had pic to upload but I dont't have one at the time. Snowflake has wavy white hair that right now is cut and ears that point straight up unless she is in trouble. She is about 12 pounds and has long skinney legs. She hates baths, but loves when i cut her hair and nails. I would not know what to do without her, if she ever gets hurt somehow it would be like loosing a child. I have raised my dog just like a human might raise a baby so loosing her would be the end of the world in my eyes.
Join in and write your own page! It's easy to do. How? Simply click here to return to Tell Us About Your Lhatese!.
Lhatese - Sophie
by Ken Loving
(Portland, Maine)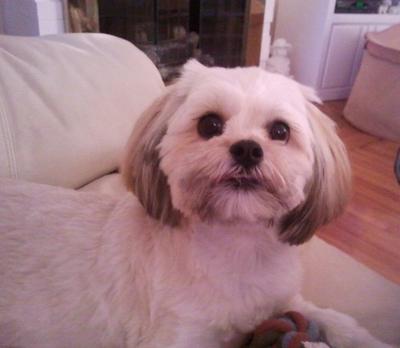 My Lhatese is named Sophie and she is full of spirit. She can chase balls for hours on end without tiring. She is very devoted and loving but is as stubborn as they come. She loves to be outdoors and inside. She is now 3 years old and is 23lbs of pure muscle!!! The breeder told me she should be about 8lbs..lol...who was she kidding.....The best part about Sophie is that I could not imagine my life without her. She was absolutely the most accidental blessing that my family could have received. Although, I have to admit she is a barker at everything from the mail man to leaves blowing in the breeze.
Join in and write your own page! It's easy to do. How? Simply click here to return to Tell Us About Your Lhatese!.
Best Dog - Patches
by Jasmine
(Victoria)
My dog Patch is now nine years old we have had him since he was 8 weeks, best dog ever! He is great around kids although they keep him on his toes and great with other dogs.

Being the only male creature in our house hold has made him think he is alpha and when he sees other dogs he seems like he is the more dominate one even though he is such a little thing.

His bark is bigger then his bite. He listens perfectly, understands emotions of people and offers his love, to anyone looking for a dog Lhatese is the best.
Questions About Lhatese - Abby
by Connie Leach
(Eugene, Or)
We have just adopted Abby(we renamed her), she is 4 1/2 months old and seems to be every smart. We were told she was potty trained, but has had two accidents so far in the house. And she seems big for her age, probably 13 to 15 lbs. We saw momma and papa, mamma was very small, full Maltese and papa is a black and white Maltese Lhasa Apasa and Abby is about his size which is bigger than the momma. How big are your Lhateses? Does this seem big to all of you? She also hates her crate, so I am going to have to work on getting her in the crate for nighttime and when we have to be gone for short periods of time. She is very sweet!
Join in and write your own page! It's easy to do. How? Simply click here to return to Tell Us About Your Lhatese!.
Are you a Maltese Maniac?

Join other Maltese Maniacs and get:
Our exclusive monthly newsletter
Discounts on great Maltese dog products
Notifications of contests and giveaways