Male Mauxie - Benji
by Hilary B
(KC,MO)
My male Mauxie Benji is a ball of fire. I have never had a dog that is so happy all the time. Benji lights up the room anytime he walks in. He is a very special dog. He is very friendly with other dogs, but he loves humans. He is very excited to see new people but when he is just with his Mom and Dad he is a cuddle bug. He loves his dog bed but would rather cuddle up in bed with you and snuggle. My Maltese Dachshund is also very mischievous. He likes to carry around dog toys that are to big for him. He loves to run around in the backyard and fetch balls. He is a very active dog and loves his toys. He has his own Zuzu pet hamster and chases it around the living room floor. Mauxie's are amazing dogs and I would recommend them to anyone with a active lifestyle. He just turned 1 years old and weighs approx. 8lbs.
Join in and write your own page! It's easy to do. How? Simply click here to return to Tell Us About Your Mauxie!.
Male Mauxie - Jack
by Robyn
(PA)
Jack is without a doubt the happiest dog EVER!! My male Mauxie is super excited to see everyone in the house when they come home, and even if you are only gone 10 minutes, he acts like he hasnt seen you in days!! His favorite things are digging, kisses, and belly rubs. Always there with a lick and a wag.... he is truly the best friend anyone could ever ask for.
Dachsund Maltese Mix - Scout
by McKenzie Scott
(Ozark, MO)
Scout is a sweet loving Dachsund Maltese mix dog. He loves attention and loves to be around people. When he meets a new person he needs a very short adjustment period but warms up quickly. He doesn't really like to be outside unless his masters are outside as well. He is a good watch dog and does bark if he hears a car in the drive or someone at the door but generally does not bark much.

He was easily trained as a pup and is still lively and playful at 10 years old.

We love our Scout!
Join in and write your own page! It's easy to do. How? Simply click here to return to Tell Us About Your Mauxie!.
Mauxie Dog - Axel
by Lisa Greene
(Gray KY )
Axel is a load of laughs... my Mauxie dog always makes me smile. loves to run and was very easy to train... he waves both paws in the air if you say bye- bye to him... very loving and loyal. Axel is the best friend I have ever had.
Join in and write your own page! It's easy to do. How? Simply click here to return to Tell Us About Your Mauxie!.
Maltese Mini Dachshund Mix - Max
by Rachel
(San Rafael, CA)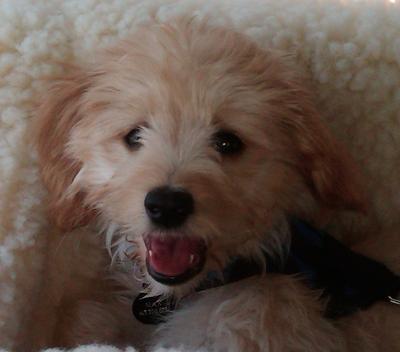 Max is a Maltese Mini Dachshund mix and is absolutely the best thing to ever happen to me!He is just over 4 months now and still growing! He weighed in at 5.5 lbs at his last vet visit and has a clean bill of health!

He goes everywhere with me. He is excited to meet everyone (human and animal). Max is sooo loving and affectionate, giving kisses brightens everyone's day. Talk about a snuggle bug! He sleeps right next to me in bed and very good watch dog too! He is great on car rides.

My Maltese Dachshund mix loves playing fetch and also loves to swim which surprised me! We started puppy classes and the trainer told me he is the smartest pup for his age he has seen in a very long time and even suggested that he would make a good service animal. That made me quite a proud mom!
Mauxie Dog - Moo Nelson
by Michelle
(NY)
My Mauxie dog, Moo, is the best dog I've ever had. He was the largest puppy in his litter, and is on the larger side of the breed. He is long haired, and white with brown spots, though some of his siblings were black or brown. Colors are always a surprise with this breed.

He can be very aggressive towards people he doesn't know, but to the family (especially me, as I raised him) he is very sweet and affectionate. My Maltese Dachshund mix loves to play fight, and he thinks he's pretty tough stuff. He makes an excellent watch dog, as he is pretty territorial. However, I have found that he is often very friendly when he is outside the house and doesn't feel that he needs to protect it.

His stubbornness may have made him difficult to train for some, but I gave him all the time and work he needed, and he is wonderfully trained now. Moo is loyal, protective, playful, and smart with a hilarious personality. I couldn't ask for anything better in a dog.
Male Mauxie - Chucky
by Sherre
(Hutchinson kansas)
I couldn't have picked a better dog, he's my daughters therapy dog. This male Mauxie (Maltese Doxie mix) is gentle, full of energy. Easy to maintain, not a single problem training him. Great with other people, very protective over my daughter. And thinks he needs to stay with her at all times, he's also a great dog if you have a schedule, he wakes her up every morning. By pulling the blankets off of her. I would suggest this Maltese mix breed to anyone who's looking to give their child a lifetime buddy(:
Join in and write your own page! It's easy to do. How? Simply click here to return to Tell Us About Your Mauxie!.
Maltese Daschund Mix Puppy - Gus
by Natasha Olsson-Seeto
(Brisbane, Queensland, Australia)
Our little Maltese Daschund mix puppy Gus is the most wonderful dog I've ever had the pleasure of having in my life.

He is almost 2 and has the most unique little personality. He is very easy to train and has a growing repitoir of tricks including sit, drop, roll, beg (this took a while because he is so long), speak (and he now talks alot!), shake and stay.

He is incredibly social with people and other dogs - and cats! He loves to have his head on a pillow and sits next to us on the couch like a person sitting up with his head resting on your arm.

When my Maltese Daschund mix was only 7 weeks he managed to get into a packet of Ibuprofen and ate 24 pills - he had a full week in intensive care and we nearly lost him. We'd bought a cross breed because the pure bred dacshunds we too expensive. $6000 at the vet soon fixed that myth! He's also had a hernia and a tumour removed off his bladder!

I'd spend it all over again for my little mate - despite all of his trials and tribulations he is the happiest of little boys and I just can't imagine life without him.

If he is indicative of the Mauxie breed then I'll take a houseful!

I think he is the cutest thing ever but then.... I'm his Mum!
Join in and write your own page! It's easy to do. How? Simply click here to return to Tell Us About Your Mauxie!.
Mauxie - Rocky Linguine
by MaryLou Profera
(New Jersey)
Our Mauxie is so funny... he loves to sleep on our pillows with us... and when we move he moves closer to us. He does not like us to be very far at all. He follows my mommy everywhere she goes. Sometimes so much that my mom almost trips over him. We don't mean to laugh but I don't know who looks more scared when that happens, mommy or the dog.

Rocky is so funny when he chases us around the refrigerator area and is smart enough to wait to see which way we are running or tricking him and he knows to run the opposite way. And the funniest is when we put him in the pool and he paddles so much it makes us laugh. Even when mom is holding him in the pool by her shoulders he is still paddling.

We just love him so much. Our Maltese Doxie mix has the cutest eyes that look at us like he understands everything. We love you Rocky Linguine because your are so good with all of us."
Join in and write your own page! It's easy to do. How? Simply click here to return to Tell Us About Your Mauxie!.
Male Mauxie - Chewy Rabassa
by Eve Rabassa
(Estill Springs, TN)
BEAUTIFUL MAXIE PUPPY! COLORS ARE RARE!
My male Mauxie puppy is 8 weeks old and the best dog we have ever had! he loves our 3 year old child and our lovable cats, and made a great addition to our family. He has a wonderful personality , and has been super easy to train as well! Loves taking walks and baths and riding in the car we can take our Mauxie just about anywhere we go and everyone wants him or complements on him and his colors, I have never seen another Mauxie puppy with as many colors and markings on him as our he was the only puppy out of a surprise litter!

The father was a AKC registered Maltese miniature and the mother was a long haired Dachshund. I can't tell you enough how wonderful his personality is and temperament! He was super easy to train and teach tricks and listens better then any small dog I have ever owned everyone that enjoys small dogs and loves a animal you can make family should get one!
Join in and write your own page! It's easy to do. How? Simply click here to return to Tell Us About Your Mauxie!.
Are you a Maltese Maniac?

Join other Maltese Maniacs and get:
Our exclusive monthly newsletter
Discounts on great Maltese dog products
Notifications of contests and giveaways