Maltese and Westie Mix Dog - Milou
by Josée
(Dartmouth, Nova Scotia, Canada)
Milou is a very happy and intelligent Maltese and Westie mix dog! It is also very obedient. I believe that he understands all that we say... no kidding! He really knows what he wants.


Milou est un garçon très enjoué et brillant! Il est très obéissant. Il aime personaliser ses toutous...je crois qu'il comprend tout ce que nous disons...sans blagues! Il sais ce qu'il veut.
Maltese and Westie Mix Dog - Phoebe
by Al Volker
(Birmingham, Al)
Phoebe is the older (6 yrs) of our two Maltese and Westie Mix dogs. Phoebe is quiet, but very affectionate. As a pup she loved to play ball. She especially liked to play tug with Dad.

Whereas our other Maltese Westie mix is a streamlined, lightly built dog, Phoebe is strong of hip and shoulder. She loves to play tug now with our other dog because her weight and low center of gravity give her an advantage... something she doesn't have when they wrestle in the yard.

Phoebe came to our house when she was just six weeks old. She was so small we were afraid to put her in bed with us so I got out a long-forgotten Easter basket and put her blanket in it and she spent her first two weeks with us, sleeping between me and my wife in her basket. Not one accident.

Of our two dogs Phoebe likes the outdoors more. She'll spend all day in our big fenced back yard.
She loves to wash Dad's hair every evening. And makes sure Mom shares dinner. She loves to sleep under the covers where the other one likes to be on top of the covers.

They both will eat anything offered... although Phoebe DOES NOT LIKE Olives and yellow gumdrops, any other color is fine. She will pull the pimento out of stuffed olives and eat that.
Maltese and Westie Mix Dog - Tekeshi
by Jennifer Adame
(Killeen, TX USA)
Tekeshi is Japanese for "military warrior" since we are a military family we thought the name would fit perfect. She is a Maltese and Westie mix dog about 12 weeks old who was born on Valentines Day. She is very energetic and enjoys playing with my three children.

She is in the process of house trainng and doing an excellent job! She enjoys sleeping in her kennel at night and alerts us in the morning when its potty time. At times during the day she will bark when its time for potty and responds to a few commands such as "sit" and "come here," she is such an intelligent dog.

She enjoys bath time and loves to be pampered! Her sleep schedule is the same as ours and enjoys sleeping on the couch while my children are watching television. She is the best dog we ever had and is such a wonderful addition to our family.
Join in and write your own page! It's easy to do. How? Simply click here to return to Tell Us About Your Highland Maltie!.
Highland Maltie - Percy
by Esther Rokk
(New Zealand)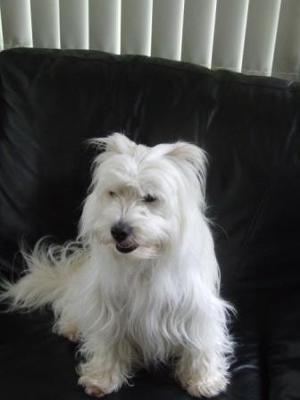 Percy is our Highland Maltie - West Highland White father with a Maltese mother. Percy is a very spirited dog and does not suffer fools gladly. There is almost nothing he is afraid of and welcomes dogs and humans alike into his life.

I notice some of you complaining that your dogs bark constantly. This is something this breed does very well, however, I have found the following helpful.

To carry out this training regime you must be firm and consistant. IT IS VERY IMPORTANT TO HAVE NO EYE CONTACT OR TALK TO HIM IN ANY WAY WHEN YOU ARE CARRYING OUT THIS TRAINING. Whenever your dog barks pick him up and put him in in a boring room ie the bathroom and shut the door. When he is quiet for 10 seconds open the door and he'll walk out. DO NOT LOOK AT HIM OR SAY ANYTHING TO HIM but just carry on as normal. He will bark again. Do the same thing as above without eye contact or voice contact until he gets the message. I have found the Highland Maltie will learn very fast. You may need to carry out this discipline every now and again as your dog will probably forget himself at times!

A Highland Maltie needs grooming several times a week and moults twice a year, in the autumn and spring. They tend to shed a little all the time.

They are not patient animals and are not suitable to be around very young children.

If you like a little dog with a big personality and lots of energy a Westie Maltese mix is for you.
Join in and write your own page! It's easy to do. How? Simply click here to return to Tell Us About Your Highland Maltie!.
Maltese and Westie Mix Dog - Buddy
by Rhochelle
(Central Point, Oregon)
Oh my goodness. My Maltese and Westie mix dog Buddy is such a character. He will bark at himself in the mirror and he actually watches TV!

He loves to chase the prisms from a wind chime which race back and forth across the carpet, he is bound and determined to "catch" it and will dig at the carpet when the prism seems to go under the couch!

He has such personality. He seems to connect with my feelings and will cuddle or play to cheer me up when I am sad.I love this dog!
Maltese Westie Cross - Daisy
by Alyssa
(Perth, WA)
Daisy is the most energetic and bubbly dog I have ever come across. She knows she is beautiful as she trots as if she knows everyone is looking at her! She is always in a playful mood! My Maltese Westie cross is also a very compulsive digger, she digs the floorboards, her water bowl and any bit of sand she can find! I think her personality is of a 'tom boy' as she loves getting dirty and hates any outfit, ribbons or collars on her (ha ha. You can never ever leave any shoes lying around either because they will be ripped to shreds in seconds. She lives with two other dogs, a maltese and german shepherd and she is always trying to jump all over them and bite them and most of the time they get annoyed with her and sort of make a groaning sound. She is just beautiful though :)
Westie Maltese Mix - Stella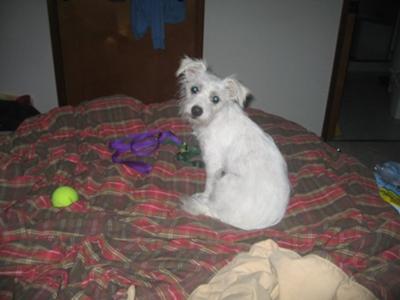 First days home
Our Maltese Westie mix Stub, as she is affectionately called, came to us via the Humane Society at 2 years old. She bloomed from a scraggly looking thing that was scared of everything to a lively dog who is thankfully pretty well-behaved. While we can't be sure of her parentage, she has a Westie coat with a smaller head, semi-prick ears and a curly tail, and weighs in at 12 lbs.

Because of the Westie coat, I started hand-stripping her. It's resulted in a pretty stain-resistant coat so that dirt just brushes out.

I'm sure someone in here can give tips on taking pictures of a white dog, since many of our shots end up blurry.

She's not a big fan of dogs that are much larger, but will mercilessly pester any smaller dogs at the park.

Our Maltese Westie is remarkably easy to train compared to the cats, and the kids at the local park get a kick out of our makeshift agility practice on the playground.
Join in and write your own page! It's easy to do. How? Simply click here to return to Tell Us About Your Highland Maltie!.
Is He a Highland Maltie - Cubby
by Ben
(Madison CT)
We bought Cubby from a rescue center. He is 5 months old. We believe he is a Highland Maltie. I'm curious to know what other owners think. Thanks.
Maltese and Westie Mix Dog - Sassy
by Denise Sitler
(Westfield, MA US)
We adopted our Maltese and Westie mix dog Sassy last year when she was about 10 months old. She came to us with absolutely no training. She was 10lbs when we got her, but now she's about 13lbs. Her name was originally "Precious". While we think that she can be precious she is definitely a Sassy little girl who Loves to bark and steal things and eats paper. Our Maltese Westie mix has come to love us very much and we just adore her. I wish she would bark less but that is part of what makes her personality. She is extremely intelligent and loves to cuddle and oh does she love to have her belly rubbed.

She likes our boat (20ft cuddy cabin not real big), we take trips on the boat where we live on it and she just has a great time on it, but does not like to swim. She wears a life preserver when on the boat.

This summer we actually shave her hair quite close because she doesn't seem to tolerate the heat really well. I think she likes it. I think that my husband actually thinks she is a baby.
Are you a Maltese Maniac?

Join other Maltese Maniacs and get:
Our exclusive monthly newsletter
Discounts on great Maltese dog products
Notifications of contests and giveaways