Maltese Dachshund Mix - Belle
by Lesli
(Colorado Springs, CO, USA)
She is a 7 month old lively Maltese Dachshund mix puppy.


She has a sweet temperament but takes a little bit of time warming up to strangers.
Maltese Dachshund Mix - Pixie Blu
by Caitie
My Maltese Dachshund mix is smart, cute, clever, curious, adorable, affectionate, sweet and my baby..... THE BEST MIXED DOG BREED EVER!!!
Join in and write your own page! It's easy to do. How? Simply click here to return to Tell Us About Your Mauxie!.
Maltese Dachshund Mix - Bella
by Judy
(Las Vegas, NV)
My Maltese Dachshund mix is soooo lovable, playful, and loves to play ball, and is a jumper... hmmmmm maybe some Jack Russel in her??

But they said her mom was a Dachshund and dad a Maltese. My Maltese Dachshund doesn't like to leave my side and is very active.
Bastian - Maltese Dachshund Mix
by Robert Buckley
(Orlando, Fl)
I brought Bastian the Maltese Dachshund mix home on Dec. 21, 2007. He is a wiry grayish spotted little guy. He has a unique little tuft of hair on his head that allows me to give him a faux hawk ;)

He is very spunky and very puppy like at the moment, since he is only 4 mos old. He already knows how to play fetch, rolls over and has a plethora of unique characteristics.

He weighs about 3.5lbs right now and will probably only grow to a max of ten pounds. Good for me since we currently dwell in an apartment. He does not cry at night(a blessing), and he only whines when he cannot see me but can hear me.

He really is the most wonderful dog I could have picked out for myself. I am very happy he came into my life....as he digs into my couch;)
Maltese Dachshund Mix - Charlie
by Jo
(Montecito, Ca.)
Charlie is very special, especially to me. He is a very smart, funny and obedient Maltese Dachshund mix (especially when bribed with food). VERY easy to train, loyal, good with all people even very young children. Charlie loves to play with other dogs... can move really fast, goes into the water, chases balls... plays with dog toys. He even "hides" and sometimes burries his "bones/treats" outside. Charlie is the most "complete" dog I have ever owned... and I have had many different types and breeds of dogs including, German Shepherd, Dobermin, Golden mixes, Terrier mixes, small, large and in between... and Charlie is the most like what people expect a dog to be. Charlie is soooooooo cute, he is even one of the featured dogs in author Andrew Grant's 2nd "Rover" book, "Woof"... he is my "celebrity doggie"... haha Everyone want's to know what kind of dog he is.
Loving Dachshund Maltese - Jenny
by katie
(Nitro, W.V. USA)
Jenny is very loving Dachshund Maltese mix who is playful, or will just sit on your lap. But she likes all attention on her, and if not she can tear things up.. She eats everything!! but cig butts. She like to play fetch or lay down and eat the sticks, She is smart, I will give her that. Not sure if this trait would stay cause I have no kids or any around but she don't like them. she will let one come in close then growl and bark to bite but hasn't. She is perfect for me, she knows she SO PRETTY.
Join in and write your own page! It's easy to do. How? Simply click here to return to Tell Us About Your Mauxie!.
Maltese Dachshund Mix - Olly
by Ben Harris
(England)
Olly is a Maltese Dachshund mix, (I'm not to sure if miniature). Olly is a playful and highly energetic dog he is a little menace running around the house and loves to steal socks and hide them in his bed.

However it is important that he is brushed everyday otherwise he starts to get knots due to his long hair.

He is loving and caring and sleeps in my bed every night and loves to lick. Olly is good with children but if they move their hands a bit fast he starts to think its a game so he nips at your fingers, I found him easy to train, he is 6 months old and has already learned sit, lie down, roll over, paw, high five, jump up and touch, however I found it hard to potty train him.

I have a cat and a rabbit and Olly gets on well with both of them however he was a bit cautious of the rabbit but now they are the best of friends.

When I am out walking Olly he likes to pull and explore lots of things, because he is so hyper and energetic it is important that he is walked everyday to get rid of the energy. When I take him to the park he stays with me and listens to my commands and whenever I through his toy he will just run and run and bring it back to me.

I would highly recommend a Maltese Dachshund mix but only for a family with children that are above the age of 8.
Join in and write your own page! It's easy to do. How? Simply click here to return to Tell Us About Your Mauxie!.
Maltese Daschund Mix - Happy
by Sam
(Buena Park, CA)
My Maltese Daschund mix is just amazing!!

Please check out my 'Happy Wake UP' video on Youtube.


Bella the Beautiful
by Judy
(Las Vegas, NV)
My Mauxie Bella is a sweet and funny dog... She is still a puppy at 5 months young and 8 pounds. She plays hard, sleeps hard and has fun with her Maltese playmate Dudley.

She was easy to train, and loves loving and comes at you with her whole body and soul, and not very gracefully, I might add...

She loves my cat too and he tolerates her very well. She too is a digger, so I have had to keep an eye on that, but no bugs stand a chance of entering the house...
Dachshund Maltese - Bailey
by Caitlin
(Clarksville, TN)
My Dachshund Maltese Bailey is just over 3 months now and weighs in at a healthy 3 pounds! (Born at the end of October 2009) Her Mommy was a pure bred Miniature Dachshund and her Daddy was a pure bred Maltese. She was one of 5 females in the litter. She loves to explore and is not afraid to bark at you for attention or if she doesn't know who you are.
Maltese Daschund Mix Puppy - Sushi
by katherine
(miramar, fl.)
My Mauxie is very active for a 9 day old puppy. She plays rolls around and is a bit quiet. She's a little clown also she'll stick her tongue out at you and curls in a little ball. I just can't wait for my Maltese Daschund mix puppy to grow up. Sushi has a variety of colors also she's tan white & black, right on her chest she has a little white strip and on her toes some are white & some are tan. You just find a new color everywere you look.
Join in and write your own page! It's easy to do. How? Simply click here to return to Tell Us About Your Mauxie!.
Maltese Dachshund Mix - Bonny
by Paulus
(Situbondo, Indonesia)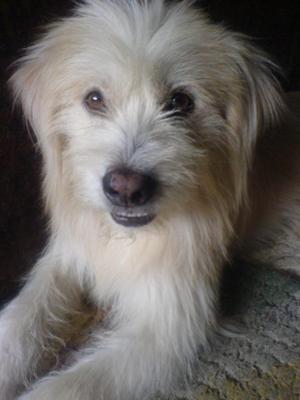 i'm bonny...
First, I'm sorry for my bad English. Okay, I will introduce my Maltese Dachshund mix dog. Yeah, his name is Bonny. We adopted him about 8 years ago from a man about ten thousand rupiahs, less $1. That man said, if this puppy fall from the car, so that man take this puppy.

I don't know about what type of breed mix he is, but after I browsed this website, I think Bonny is a type of Mauxie - Maltese Dachshund Mix (AKA: The Moxie Dog).

Bonny likes jump over the fence, which height is about 1.8 meters. Wow, he can participate the Olympic games LOL! I never teach him, but he always trains by himself since he was 2.

Since he was 7, he has been trained to shake hands. It was 1 hour trained and now he can shake hands. Wow, i think this dog is just like a human.

Yeah, I and my lil bro take study to other city so, just my Mom and Dad in my home. My parents think Bonny is their last child, LOL.

Sometimes, Bonny follows my father to karaoke-room, but Bonny makes my father surprised. Bonny tries to sing. He make sounds like a wolf. woooo...woooo... just follow the song.

Wow. I and my family very love Bonny.

Now, we are searching for the female of this Maltese mixed breed, a Mauxie, from Indonesia too. Please tell me at lord_peco@yahoo.com

Thanks for your attention, and sorry for my bad English.
Join in and write your own page! It's easy to do. How? Simply click here to return to Tell Us About Your Mauxie!.
Are you a Maltese Maniac?

Join other Maltese Maniacs and get:
Our exclusive monthly newsletter
Discounts on great Maltese dog products
Notifications of contests and giveaways