Maltese Pekingese Mix - Tipsy
by Bassem Al Masri
(Beirut. Lebanon)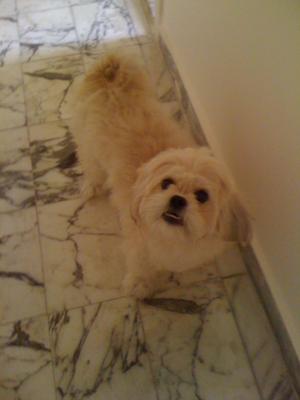 My Maltese Pekingese mix is a great dog. The best friend you can ever have. Extremely smart, active and affectionate. My Pekatese is around 1 year and half old. I had her since she was 2 months old.
Maltese Pekingese Mix - Mickey
by Mickey's Mom
(Frankfort, KY)
Mickey is a Maltese Pekingese mix. He is so loving and loyal and a good watch dog too.

He was 7 years old when this picture was taken and is 12 years old now. He is still very active and loves his pupperoni treats.
Maltese Pekingese Mix - Cody
by Amanda
(NC, USA)
I just lost my wonderful Maltese Pekingese mix (I've always called him a Maltapeke). He was 12 and developed Cushing's disease about 2 years ago. He was such a sweetie. He got along with children, dogs, and later in life even cats. He was fiercely loyal and always in the room with me wherever I moved throughout the house.

At one time, I also had his sister Abbie. Now, she was something else. She thought the world revolved around her and only who she says could come into the house were welcome.

But, Cody was different. He would always bark when someone rang the doorbell or came into the house but would quickly calm down. He would also bark if he had to be on the "wrong" side of the fence from you. They want to be right with you at all times. He was a wonderful dog and so beautiful. We miss our Maltese Pekingese mix a lot.
Maltese Pekingese Mix - Jordan
by Suzanne
(MA)
Our Maltese Pekingese mix is smart like her mother. So loving and likes to cuddle. We mated her with a pure bred Maltese she's half Maltese half Peke. She had three puppies, one girl two boys. They are 4 days old. She's a good mom. So much fun.
Maltese Pekingese Mix - Mazda Rose Sanchez
by Sarie Sanchez
(Huntington Beach, CA)
She is an 8 week old Maltese Pekingese mix adopted Friday, March 5,2010, for our twins 7th birthday.

Our beloved 14-year-old daughter, Natalie, passed away following a year of cancer treatment for Ewing's Sarcoma, one of the rarest of all pediatric bone cancers, due to a lung infection. She cancer free at the time of her death, but died following a 7 week battle with an unknown lung infection which eventually destroyed her lungs, and her life. She was only two treatments away from completing her chemotherapy regimen. The autopsy could not reveal a cause, but for sure they said she was cancer free.

Last March, before Natalie had her surgery to remove the originally infected bone (which must always come out) which involved her left pelvis, her entire hip, and her femoral ball head, Natalie had an outing with me and the twins, who were about to turn 6. Natalie had only 2 public outings in one year, as her case was so serious and she was so fragile, so this was special.

We were driving down the road to Target, and Natalie said "You know, when this is all over, I want to get a puppy and name it Mazda". We joked about other names like Miata, Toyota, etc., but for some reason she really liked the name Mazda. And it had nothing to do with the car (actually, when she turned 16 she wanted a convertible bug...)

So this past week, the 6 month marker following her death, my husband and I decided to get a puppy, and stumbled upon this adorable Maltese Pekingese. And we all hit it of instantly. In the one day we have had her, she has brought a bit of joy, and new life, to a family, our family, though nothing can replace Natalie, we feel like this is her puppy, her gift to us. Mazda is the greatest, and is a wonderful, kind, funny puppy with an amazing personality and is a quick learner. We love her to pieces already!
Maltese Pekingese Mix - Mickey
by Mickey's Mom
(Kentucky)
Mickey 14 yrs. old
Mickey our Maltese Pekingese mix had his 14th birthday Sept. 20, 2010. As I have said before he has a heart murmur and gets out of breath easily. That causes him to cough. Otherwise he is doing well.

This breed of dog is very loving and adapts well to the household routine, also a good watch dog.

I think all the Maltese and Maltese mix dogs are so cute.
Join in and write your own page! It's easy to do. How? Simply click here to return to Tell Us About Your Pek-A-Tese!.
Maltese Pekingese Mix - Charlie
by Jenna
(Fargo, ND)
Charlie will be 2 in July. Our Maltese Pekingese mix is the most loyal dog I have ever met. He would rather be by your side then get a treat or play. He absolutely loves kids and other dogs. He was raised around a golden so he just runs up to any big dog and expects to play.

He was hard to train as a pup but very worth it. Charlie is a very interesting mix. He doesn't look like other breeds necessarily and is three fourths Maltese and one fourth Peke. I absolutely love Charlie and he has quite the personality. Loves to lay upside down in my bed and cuddle. He loves to play with stuffed animals and cuddle. He is also a very social dog and loves going to the park and seeing his friends.

He is the most loyal dog I have ever owned and a great companion. Not much phases him and he is relatively calm. I would definitely recommend Pekingese Maltese mix dogs!
Join in and write your own page! It's easy to do. How? Simply click here to return to Tell Us About Your Pek-A-Tese!.
Maltese Pekingese Mix - Biscuit
by Michelle
(Monroe, WA)
Biscuit is a silly clown Maltese Pekingese Mix. He weighs 8 lbs and is 11 months old. He is white with black undercoat on his ears, with shades of brown on his back. He has somewhat curly hair and a pretty poofy white tail.

He loves to snuggle and gives hugs when I hold him up to my shoulder like a baby. He also likes to play chase with my cats and 8 year old boy. When Biscuit gets wound up playing chase the fun begins. The cats can be done and the boy can be winded and out of breath but Biscuit will run around the house and dart towards the others with a big smile on his face enticing them to play again! He also will walk on his hind legs, hop and turn in circles for a milk bone.

He rarely bark and makes the silliest little almost robotic purring sound for a whine. He loves his bath and loves to be brushed. He smiles and prances around after he's all clean and fluffy.

He has been hard to house train, lifting his leg on things and leaving little tootsie rolls here and there. I take him out up to 8 times a day but he rarely poops outside. I can have him out for 15 minutes where he will sniff and mark here and there but comes back in the house to poop!

My former experience was always with big dogs, Rottweilers and Labs. My Pekingese Maltese mix Biscuit is far more personable than the big dogs, having a friendlier more "human" personality but the big dogs were far far easier to potty train!
Join in and write your own page! It's easy to do. How? Simply click here to return to Tell Us About Your Pek-A-Tese!.
Maltese Pekingese Mix - Dusty
by Jessica
(Donalsonville, GA, USA)
Dusty is the sweetest dog that I have ever owned. He is a Maltese Pekingese mix and the first small breed that I have ever owned, but I was in a pet shop and every time I would walk by him he would bark at me. Of course that got my attention. I bought him and have never regretted it once.

He is the king of this house. He loves his toys but he doesn't mind sharing with other dogs. At night he sleeps with my boys and if for some reason he is left out of their room he will sit at their door and cry until they give in. We can't refuse him anything.

He is very loyal and loving... everyone should have a Pek-A-Tese at some point in their life!!!
Maltese Pekingese Mix - Mickey
by Mickey's Mom
(Frankfort, KY)
This is an updated picture of Mickey. He was 12 years old in this picture. He will be 13 in Sept. 2009. He is a Maltese Pekingese mix. We got him from a couple who could no longer care for him 8 years ago.

My Maltese Pekingese is a good watch dog and is so devoted and loving. He has always been well-mannered without jumping up on people that visit. He tells me he wants a Pupperoni treat or his food by staring at me with big eyes. He is our baby boy.

All these mixed Maltese dogs are so cute and I enjoy seeing them.
Maltese Pekingese Mix - Muffin
by Janet Lawerence
(Bradenton, FL)
The people we got her from told us she was a teacup Maltese Pekingese mix. I was delighted to get her as a companion dog for our Boston Terrier. This little teacup grew and grew.

She is now nearly one year old and weighs approximately 12lb. No way is she a teacup but we love her anyway. Our Pekingese mix just loves our Boston, and she has a really nice nature, also gets on with our two cats. She is a sweet little girl.
Are you a Maltese Maniac?

Join other Maltese Maniacs and get:
Our exclusive monthly newsletter
Discounts on great Maltese dog products
Notifications of contests and giveaways