Maltese Pekingese Puppy - Sweet Pea
by Elizabeth
(Newark, Ohio)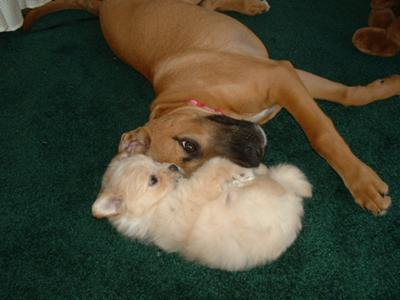 Sweet Pea and Remi
This is how we ended up with our wonderful Maltese Pekingese puppy. Back in April of this year we lost our long time family pet, a cat named Hobo Moe. I was devastated and the kids were too so I decided it was a good time to finally add that puppy to our household the kids had been begging me for. We ended up with a rare Ridgeback by accident who we named Rememberance, AKA Remi.


Remi is a fabulous dog but we fostered her littermate for several months and when we finally found her a home, Remi was extremely lonely and depressed. She started showing signs of separation anxiety and I realized she just wasn't going to be happy as an only dog. Since she was already housebroken and learning commands, I felt comfortable getting another young puppy to grow up with her that could be her companion.
So I went back to the internet and started looking for a puppy that would jump out at me like she had and two days later I found an ad for Sweet Pea, listed as a purebred Pekingese. I debated and begged my husband and even had internal battles about buying him because the person selling him was a breeder and I prefer to buy from the pound to save a life at the same time. But a trip to the local pound where no dog really fit with us and a lowered adoption fee for the puppy I was staring at decided it for us and we agreed to get the purebred.
I wish I could say adopting Sweet Pea was a pleasant and happy experience for us, but it wasn't. We drove for over three hours to pick him up and when we got there we discovered that while the house was clean and nice, the puppies were not. Sweet Pea was filthy, covered in fleas and feces and dirt, his nails had grown into the pads of his feet, his eyes were crusted and filthy. The owner claimed to be a middle man but the barking and smell from the backyard made it clear she was in fact the breeder as well. She swore Sweet Pea had shots and had been frontlined, but she had 'lost' his papers and all evidence to back up her claim. We quickly paid her and got him out of there, not wanting to encourage her to continue to breed and sell but not willing to leave him there either. We got him home and started cleaning him up, finding scabs and cuts all over
his body, cuts on his feet, and worms so bad you could see them hanging from his body.
After about a week he seemed to start feeling better, but then he got drastically worse. We rushed him to our vet to find out that he was 1) a Pekatese, and 2) had developed a vicious bacteria infection in his intestines from prolonged exposure to decaying feces. According to the vet, it was highly unlikely he had ever been out of a cage until we brought him home. He was only 1 pound 7 ounces and was so sick he had to be on IVs and kept over night. We took him back home, hopeful he was better, only to rush him back to the emergency vet twenty four hours later when he started having seizures and almost died from dehydration and low blood sugar. Another round of IVs combined with medication and special diet and we finally beat his infection and got him back to healthy!
Our Maltese Pekingese puppy Sweet Pea now is about 2 1/2 pounds and is healthy, UTD on shots and very very spoiled. He loves his fuzzy little bed in his kennel, where he goes to have some peace and chew on his favorite chicken flavored bone. He loves to play hide-n-seek with his sister Remi where he climbs under the couch and pops out at random places and barks before running back under where she can't reach him. He runs outside in the yard, always bringing back some kind of neat little prize he finds like a branch or a flower, always something bigger than him. He gets really excited and runs faster than his legs can keep up so he ends up running sideways! He is the biggest cuddle bug, constantly licking and giving kisses and always happy to see you. Housebreaking is... if-y at times! He is crate trained but he still thinks running behind a chair where you can't see him is an acceptable bathroom break when playing hard. He has so much personality and love in such a tiny package he makes me laugh every day!
We don't regret getting Sweet Pea, even though the breeder was the worst kind of seller I have come across. If anything getting him has made me even more passionate about animal rescue. He is a TERRIFIC fit for our family and we couldn't be happier with his personality, appearance, or spunk! I would recommend a Pekatese to anyone looking for a new doggie addition and I know I will spoil mine for the rest of his life!
Maltese Pekingese Puppy - Skreany
by Randy Jett
(O'Fallon, MO)
My Maltese Pekingese puppy Skreany was brought home at 14 weeks from a pet store. There was no intent to purchase a pet, just making a girlfriend happy. A second trip to the store and Skreany was jumping at the glass as we approached... and it was over, she came home.

She is very smart and learned several tricks in a very short time, or trained us that she was smart for doing regular dog things (barking, sitting, laying down) but my Maltese Pekingese will also find specific toys, fetch, dance (walk in a circle) and my girlfriend says "sit pretty" (I call this the beg). Potty training is close, but not perfect.
Maltese Pekingese Puppy - Maddie
by Riley
(Long Island, NY)
A Maltese Pekingese puppy was my first dog. I absolutely love, love, love her! She has been nothing but a joy. She's great with kids, meeting new people and other small dogs. She was easy to train and very easy to get along with. She loves to play with her toys and my small children.

My Maltese Pekingese puppies five months and weighs 7lbs. She is all white with brown and black eye spots that you just can't help but fall in love with. I would definitely recommend anyone to getting a Maltese Pekingese mix. She is perfect!