Maltese Pomeranian - Gizmo
by Carrie
(Ripley, Ms, USA)
We have had our Maltese Pomeranian Gizmo since he was 8wks old, he will be 3yrs on dec 31, 2010, He was all white when we got him, but developed tan on his ears later on. Gizmo is around 12.5 lbs, but he thinks he weighs 100 lbs, he is a big dog in a little body. His body is longer and his legs are shorter, so he is shaped like a wienny dog. Our Maltese Pomeranian sheds like crazy, I take part of him with me everywhere I go. We love Gizmo very much.
Maltese Pomeranian - Jenna
by Matt & Tonette
(Boone, NC, USA)
Our Maltese Pomeranian Jenna is the perfect companion. As our first pet together, my husband and I certainly couldn't ask for a better one. She is very energetic, but loves to cuddle, loves to go for walks, but also likes to explore on her own (to our disliking, haha). She is very well-behaved, and knows so many tricks. We were pleased with how quickly she learned and how easy it was to train her.

She is a great mixture between the Pomeranian and Maltese, and fits the description well. Never having known about this mixed breed prior, we are so thankful we stumbled upon her in the family pet store. She goes everywhere with us, and is great to travel with. We have had our Maltese Pomeranian for only one wonderful year so far, and are looking forward to many more with her.
Join in and write your own page! It's easy to do. How? Simply click here to return to Tell Us About Your Maltipom!.
Maltese Mix Pomeranian - Eevee
by Missie
(Jackson, NJ)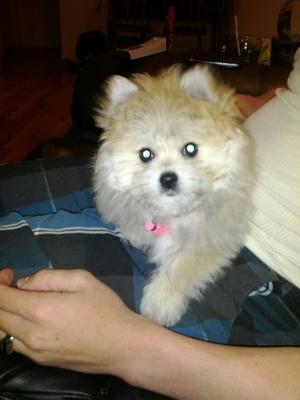 Eevee as a pup
Eevee is my little fur-baby. My Maltese Pomeranian mix is a little love bug who enjoys sitting on mommy's lap and going into her toy chest to pick her toy of the day out of her many many toys. Eevee stepped up her guard dog game when daddy went away with the army so she makes sure she tells mommy whenever there is anyone at the door or near the house.

My Maltese mix Pomeranian friendly and loves people but dont take her size for granted, that bark is a scary one! Eevee loves to do tricks to impress(and get a treat) such as dance, hind leg jumps (she can go for minutes!!) and simple commands. Eevee is the best form of company mommy could ever ask for :)
Join in and write your own page! It's easy to do. How? Simply click here to return to Tell Us About Your Maltipom!.
Maltese Pomeranian - Teddy
by Gus
(Mckinney Texas)
Our Maltese Pomeranian is about 10lbs, looks like a little teddy bear hence the name! He's the best little Maltipom dog and the perfect companion to our Shih Tzu.
Join in and write your own page! It's easy to do. How? Simply click here to return to Tell Us About Your Maltipom!.
Maltese Pomeranian - Toby
by Judy
(St. Petersburg, FL USA)
Meet Toby, the Maltese Pomeranian, what a lover boy he is! He thinks he is the center of attention, but you hear that from his brother, Tucker the feline. Toby is two years old and is a jealous little man. I am his mama and he stays with or near me everywhere I go. He sleeps by the bed, sits by me while I eat, watches me while I cook and sits on the bed while I put on my make-up.

My favorite is, as I pull out of the driveway every day, my Maltese Pomeranian mix sits in the window watching until he cannot see me anymore. My husband says he begins to wait in the window again for me to get home around 5 and sometimes I don't get home until 5 or 6 (it really makes me feel bad). Toby loves his walks and his squeaky toys and has the loudest bark you will ever hear from a little 10 lb dog. He turns his head sideways alot making for a lot of cute photos.

My Maltese Pomeranian has a great personality and is loved by the whole family. I am looking for someone to give him a summer haircut, but absolutely need to find the right groomer, so he is not cut too short. I would recommend this loyal mixed breed anyone!
Maltese Mix Pomeranian - Angel
by Loree & Stuart Selbst
(Mesa, AZ)
Our Maltese mix Pomeranian Angel is 9 years old. Her mommy was a Pomeranian and her daddy was a Maltese. She is the most loving and fun little girl ever! She loves her squeaky toys and enjoys it when we throw them for her so she can retrieve them over and over.

Her very favorite thing to do though is to sit on our chest while we watch TV. She isn't a lap dog, she's a chest dog. She snuggles her little muzzle under our neck and goes to sleep. Her papa has even trained her to lay on her back in his arms like a baby.

She's the queen bee but is sweet to her big sister Spirit and never fights with her. They play very well together. We love our special little girl and her sister so much. They are our children.
Maltese Pomeranian - Bella
by Cara
(Santa Maria, CA)
We adopted our Maltese Pomeranian Bella as a puppy three years ago, and she has been a wonderful companion!

Very well mannered and friendly, she LOVES people and would gladly lick them to death! She is definitely a lap dog, as the first thing she does when I sit down is jump on my lap and fall asleep.We have no children, or any other dogs, so I don't know how she would be around them, but she is normally very well behaved.

She is also extremely intelligent, and I have officially run out of things to teach her!
She also isn't much of a barker. She doesn't 'yip' like a lot of other small dogs.

Her fur I keep in a puppy cut, as she greatly resembles a Maltese, and can grow to the ground if I let it! It is very fine, and can mat if I don't keep up on it. I groom her myself, since there isn't a reputable groomer around here.
All in all, we love our dog, and she continues to surprise us with her human-like qualities.

The only thing I will say negatively is that it took about 6 months of consistent potty training to get her over 2 years with zero accidents.
So don't give up if you have this problem! And do not use the paper training method.

The only thing that will work with these dogs is crate training. And it's not cruel if you do it right, in fact, our Maltese Pomeranian LOVES her crate, its her own special place!

Hope this helps!
Feel free to email with any questions!
Cklippel06@yahoo.com
Join in and write your own page! It's easy to do. How? Simply click here to return to Tell Us About Your Maltipom!.
Maltese Pomeranian - Sparky
by Carla
(Ohio)
Sparky is 4 lbs of love! I adopted my Maltese Pomeranian and he is 2 years old. His father was as white Pomeranian and his mother the Maltese. He loves to fetch and cannot be without a tennis ball for very long. He is my lil loverboy!
Maltese Pomeranian - Molly
by Angie Dillard
(Hendersonville, TN)
My Maltese Pomeranian is a four legged angel. I got the privilege of getting her after she had been givin away twice. I feel like the luckiest and blessed dog owner on earth!!! She is such a sweet loving little girl. When I get home I feel like royality with the fanfare she gives me!!! My Maltipom jumps, twrills,and makes the most precious little sounds. I said sounds but really she is saying "you are the most important person in my doggy world and you are beautiful and I love your company" who could ask for anything more!! She has to sleep at the foot of my bed and she does not make a sound the entire night but around 5am she stands quietly and I let her out to do her business then she runs back in jumps back on the bed as if to say come on it is not time to get up yet!!where ever I am sitting she is by my side and when I get up she is right on my heals most of the time jumping to be held!!! I know about the leash laws and we do use one, but we really do not need to because she never runs away!! Did I tell you I am the most blessed dog owner on this earth!!!!

And wait that's not all, my Maltese Pomeranian is 5lbs of pure watchdog!! Not one creep or quiver gets by her!! She sounds the alarm and is ready to defend her home!!! I love my little angel!
Join in and write your own page! It's easy to do. How? Simply click here to return to Tell Us About Your Maltipom!.
Maltese Pomeranian - Chewy
by Richard Kainer
(Tipton, Indiana)
We purchased our Maltese Pomeranian dog with papers and they claimed its a new breed called a Malti-pom. They are sold here in the U.S. as full blooded new breed of dog. This dog cost us 1500 dollars? Did this pet store lie to us? If so how did they give us papers registering him as full blooded? He is smart as can be but he barks at everything and has small dog syndrome cause he thinks he is a Rotwieller or something cause he is mean to anyone but us. Also he has jaws like a Pit Bull. You can play with him with a toy an he grabs the toy an you can pick him up and sling him around and he won't let go. He has even attacked several full size dogs and beat them including a boxer. a full size lab. And a pitbull mix and ran them off. He is one tough dog. However we also have a Shih Tzu and they are best friends. In fact we tried separating them and they both went into bad depression. Also our Shih Tzu is the alpha dog between the two but I don't know why because Chewy (the Malti-pom) is stronger and could easily beat our Shih Tzu but he won't? Odd huh?
Join in and write your own page! It's easy to do. How? Simply click here to return to Tell Us About Your Maltipom!.
Are you a Maltese Maniac?

Join other Maltese Maniacs and get:
Our exclusive monthly newsletter
Discounts on great Maltese dog products
Notifications of contests and giveaways