Maltese Westie Dog - Duke
by Sarah
(Chicago)
I adopted my Maltese Westie dog Duke when he was 8 months old from a Westie breeder. He had ZERO training, he wasn't housebroken and he had never been a crate, or walked on a lease. We live in high-rise in Chicago, so coming "home" was quite a change for him. I also have a hectic schedule, but Duke just rolls with the schedule changes and is very adaptable. Somedays he's at home by himself, somedays he goes to doggie day care, some day's he gets tons of exercise, and some days (usually because of the weather), he doesn't get as much exercise. Duke is very social and gets along with 99.9% all dogs. However there is one dog that he does not like in the building and becomes dog-aggressive when Lucy is around, but she is our only real problem. We do not have children so it's o.k., but I wouldn't want a child around if Duke and Lucy were in the same room. My Maltese Westie dog is very territorial and used to barks at everyone who passed by our apartment. Now because of constant correction, he usually only barks with his "inside" bark, unless his friends Pixie or Ginger are right out side his door! He is very smart and easy to train. I highly recommend training classes for this mixed breed. Duke went through 3 classes and loved them all, he is a better behaved dog since he completed his classes. He also did better in the apartment once he was crate trained. He is now 2 1/2 years old and still stays in his crate when we leave the apartment. He needs daily brushing and needs to be groomed every 8-12 weeks. But he doesn't shed at all, which is a huge plus. He's very independent, but sometimes just needs a good belly rub. Duke's favorite games are Keep-Away, Tug-of-War, and Chase. Duke is finally full-grown and weighs in at 13 lbs. He is curious, fun-loving, smart, protective, and sweet all at the same time. If I had known how hard it was going to be to find a second Highland Maltie, I would have adopted his brother at the same time.
Maltese Westie Dog Breed - Joey
by Julie
(Rochester, NY)
We tried to figure out what our Maltese Westie dog breed Joey was for a long time. He's just too big and has a straight tail, he can't be a Maltese! But just his personality gives it away; he's gotta have some terrier in him.

He loves walks, and absolutely loves to play, but he will sit quietly on your lap for hours. He's the only dog I know that can have a staring contest with you and not be growling. His love of strangers gets him in trouble sometimes, running off to say hello to the neighbors, but he's easily coaxed back with the shake of his treat jar.

Our Maltese Westie hates squirrels, and will never give up the chase; he also enjoys treeing cats. Everybody who meets him wants to keep him, he's a big white shaggy ball of loving!
Maltese Westie Dog - Woofen
by Celestial Sojourner
(Winslow, AZ)
Our Maltese Westie dog Woofen, Also Known As: Doggie Dog, Lamb Lamb, Love Bite, Pero Blanco, Wenckebach, and Little Piglet, who was a beautiful young white International Terrierist dog, half Westie and half Maltese, passed away peacefully on June 22, 2010, after a severe illness.

Woofen was 13 years old. He conceived puppies in his last week of life, with an Airdale bitch. Woofen is survived by his masters, Frank Moore, Celeste Sojourner, and their five children, John Roy, Jonathan Moore, Jennifer Killins, Melody Thompson, and Juliet Davidson. Woofen is also survived by his beloved cat, Meowen, and his dear Airedale companion, Tasha.

He was an exemplary dog for 13 years and lived a fine life, never harboring ill wishes against anyone and bringing joy and happiness to all who knew him. He was a service dog who had docile manners in public, a world traveler, and a pampered dog. He had excellent manners with cats, and loved and protected all cats. On command, he would jump up and give your hand little painless love bites. Our Maltese Westie could do tricks like roll over, retrieve, or sit up and beg.

He loved to chase lizards, and bite sprinkler heads when the sprinklers came on. He had a friend who was a crow and who visited him regularly to fly back and forth across the lawn while Woofen chased along beneath. He had a girlfriend named Sadie who was a terrier who lived across the street, they loved each other and often ran away to visit each other's houses. He loved bark parks, playing with other dogs, running free without his leash on wildlife preserves, hanging snoot out the car window, vacationing with his family, running in the surf, and eating shrimp and steak and chicken dinners.

He often guarded the house, and made an elaborate ritual of saying hello to his family when they came home. He loved to sleep on his masters' bed and lick the pillows. He hated his bath but loved to be brushed. He followed faithfully at his masters' feet, and was always nearby. Our Maltese Westie dog was dearly loved and will be profoundly missed.
Maltese Westie Dogs - Chloe
by Jolie
(TN)
My Maltese Westie mix is a very outstanding dog. Playing with her human brothers is her favorite thing to do.

She is very smart. Potty training mastered in one week, Fetching three tries and she had that down pat. Snuggles at night and doesn't shed.

What more could you ask for! Maltese Westie dogs are perfect for family settings.
Maltese Westie Dog Breed - Janine June
My Maltese Westie dog breed is 7 months old and more intelligent than any dog I ever owned (including the pure bred Maltese). Janine June (NeNe) is loving, cuddly and adventurous: she caught a rat at the park when she was only 5 months old.

She demands attention, was a cinch to housebreak, and loves toys. She is a walking party who gets along fine with the old Maltese and the family Cairn Terrier. A pure joy.
Maltese Westie Rescue - Bella
by Cannie
(Cheektowaga NY)
Bella is a Maltese Westie rescue dog who was found in a snowbank in Ohio. We adopted her in early February at 7 weeks and she readily took over the house. She is a frisky, energetic, inquisitive, exploring sneaky troublemaker. She loves socks and shoes. She is special because she is so loving despite what she went through at such an early age. We were told she was a Maltese/Shih Tzu mix but our vet says he believes she is a Maltese Westie mix. What do you think?
Join in and write your own page! It's easy to do. How? Simply click here to return to Tell Us About Your Highland Maltie!.
Shona
by Joy
(Sydney)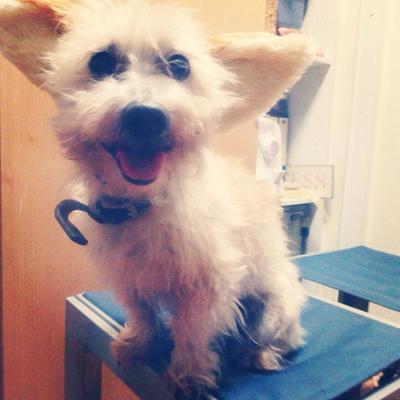 The photograph included is from Halloween this year where he wore fox ears and proudly trotted them around the house!
I adopted my Maltese Westie mix Shona from the RSPCA when he was four - I was just a little girl at the time and fell in love with him because of his seemingly limitless energy! He's stayed just as energetic and loveable through all these years - he loves everyone I introduce him to, always very friendly! He doesn't dig unless we give him a big bone to gnaw on.

He's mostly an outside dog but sleeps indoors - we have a massive hard that he much prefers to our tiny home! He's going on 17 and still as active as ever - though his midday naps are much longer! He's never had any health problems - the vet is always pleased to see him!
Join in and write your own page! It's easy to do. How? Simply click here to return to Tell Us About Your Highland Maltie!.
Maltese Westie Dog - Betsy
by Beverly
(Mechanicsburg, PA)
My Maltese Westie dog is very lovable, but she has her moments. She likes to have your attention and will wine or bark until you pay attention to her. She is a rescue dog which we adopted from a shelter in Philadelphia. We got her a nice dog bed; she doesn't sleep in it, she tears the stuffing out. We tried putting the stuffing back and sewing it up, but she just tears it out again. She loves to chase rabbits and bird in the back yard. She saw a bird fly on top of the shed in the back yard and she stood there and barked at it like it was supposed to come down to her so she could chase it. She sleeps with us at night, sometimes between us and sometimes at the bottom of the bed. She loves to go in the car and barks at all kinds of things on the way.

She has a favorite toy: a pink plus bone. She carries it around everywhere. She lays on her back and plays with her toys in her paws like they are hands. She likes to throw her toys up in the air and chase them around the room.

I could go on and on, but I think you get an idea. Our Westie Maltese dog is just the love of our lives. We are older people and we certainly have spoiled her.
Are you a Maltese Maniac?

Join other Maltese Maniacs and get:
Our exclusive monthly newsletter
Discounts on great Maltese dog products
Notifications of contests and giveaways