Maltese Westie Rescue - Kotter
by Mary Stutsman
(Tulsa, OK, USA)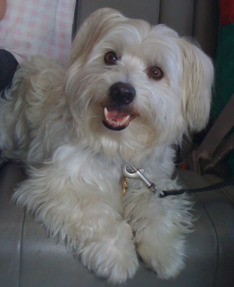 Going on a road trip (before haircut)
Our Maltese Westie dog is a rescue about 2 years old. He doesn't like men at first, but when he gets to know you, he's great. He is very protective of his home. Our Highland Maltie loves to tease you with toys or bones and loves, loves, loves to be chased. But at any and every chance, he will bolt! Plays well with others (his brother, an Austrailian Labradoodle). We just love Kotter to pieces!
Maltese Westie - Jasper
by Mary Loomer
(Wisconsin)
My Maltese Westie mix Jasper was about 3 years old when I adopted him 6 months ago. He's the opposite in almost every way of the Minischnauz who owned me for 13 years, and we're still adapting to each other. He is the quietest, friendliest dog I've ever known, always eager to make new friends, whether canine or human, particularly the latter. My Maltese Westie dogs attitude toward strangers is "a new friend! someone who wants to pet me!" I'm his 4th mom, and he's afraid I'll vanish; almost the only time he barks is when I vanish--including when he's in the car and I get out without him 8-)
Join in and write your own page! It's easy to do. How? Simply click here to return to Tell Us About Your Highland Maltie!.
Highland Maltie - Sammy
by Monika
(SLOVENIA)
This is Sammy! We live in Europe Slovenia, and I got him from the local shelter at an approximately age of 3 years. We don't know anything about his past , but by his look we assume he could be a Highland Maltie. Some of the characteristics fit , other don't. He is a very scared dog what is likely a result of being a y dog too long. We are trying our best to give him some self confidence and getting him socialized... step by step
Maltese Westie Rescue - Molly
by Debbie
(San Diego)
We got our Maltese Westie rescue dog Molly just over 2 years ago now. She is about 8 years old. She is a very easy and great dog. We call her our barkless dog as she hardly ever barks. Our Maltese Westie mix is very easy, likes her walks and to travel with us. She is a very good dog. Doesn't beg and just loves to hang with us. Definately a lap dog. Loves to chase rabbits in the yard!!!
Join in and write your own page! It's easy to do. How? Simply click here to return to Tell Us About Your Highland Maltie!.
Murphy
by Marie
(Shingle Springs, Ca, US)
Murphy is about 4yo. He is loyal, loving, and adventurous. He loves hikes, swimming in the American River, and rolls in mud. His fur is always puppy soft, his eyes are expressive and careful to study everything I do, and his tail is always wagging. He adores children and women but is very reserved and straightforward with men. He is not a dog that likes to be pushed around or jumped on by other dogs, he enjoys manners and gentle interactions.

He is very loyal and is always asleep at my feet wherever I go. He seems tireless outside on walks--and potty training him has been a daily effort. He expects a small celebration for each poop outside which can be tiring. He loves to watch movies but is particular, if he sees a monster or bad guy he will leave the room and come back when the scene is over. He never plays fetch or plays with toys, a habit his original owner did not encourage. He has a low prey drive and is not destructive when left alone. A very sturdy body--he does not care for being carried around. I love him =)
Join in and write your own page! It's easy to do. How? Simply click here to return to Tell Us About Your Highland Maltie!.
Maltese Mixed Breed - Lola
by Peggy Waskowiak
(Applegate, Ca)
Lola is a spunky 2 1/2 year old Westie Maltese mixed breed sweetie. She sleeps flat on her back with arms and kegs sticking straight out. Her best friend is our 5yr old Golden. She is rough and tough and can run 100 miles an hour, (I swear). When you tell her bedtime she runs to her kennel and does everything except lock herself in. Lola us very smart and sweet and was the perfect fix for a broken heart 2yrs ago when my 17yr old Maltese passed. I love this Maltese mixed breed and will always seek them out from now on. She lives on an acre and a half and has explored every inch of it. So good with my 4year old grandson. I love her dearly.
Join in and write your own page! It's easy to do. How? Simply click here to return to Tell Us About Your Highland Maltie!.
Maltese Westie Mix - ViVa
by Victor and Samantha Alarcon
(Houston, TX)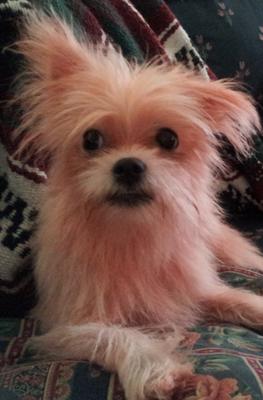 ViVa Las Vegas Alarcon
Viva Las Vegas Alarcon is the best dog in the world! My Maltese Westie mix thrives on socks, ties, and chasing the cat. She is extremely intelligent, loves other animals, but is weary of strangers. She is independent, yet likes to be involved in ALL family activities. She has a very calming, yet cheerful aura around her... bring joy to everyone. She is a happy little dog who enjoys going through drive throughs, going to the local events at the dog park and Petsmart, barking at strangers, going for rides in the car, sleeping/cuddling, walking the track, and playing fetch.

Viva is a delightful companion who takes more after the Maltese side. She weighs only 5.5 pounds and her coat is semi-soft and her snout is short like a Maltese. Her father was the Maltese and her mother a Westie! She likes to show off her latest fashion statements with her bright pink fur, designer shirts and coats, and flashy collars.
Highland Maltie - Hannah
by Deb
(New Jersey)
Hannah is a six YO rescue and near as we can tell she is a Highland Maltie. Her tail is curly and her ears try hard to stand but flop over. She's been through some bad times, but now that she's here we're going to fatten her up and get her coat shining!

Hannah is a VERY sweet girl. She doesn't bark much - only when she's playing with our westie. seh likes to follow us around and see if we're having a snack. She's also always up for a nap in the sunshine.

This endeavor started out as an effort to help out a dog that had been cast away, but she's really brought a lot to our household in the short time she's been here. Looking forward to a lot more fun with her!
Join in and write your own page! It's easy to do. How? Simply click here to return to Tell Us About Your Highland Maltie!.
Westie Maltese - Oliver
by Maverduc
(Parrish FL)
Oliver is a ver y friendly and active Westie Maltese. 1 year old. Very energetic and playful. He like his morning walks early in the am (7am) and a nice evening walk after dad comes from work. He wants to be playing almost all day, although sleeping is always pleasant: he does take many naps throughout the day. The best dog ever
Are you a Maltese Maniac?

Join other Maltese Maniacs and get:
Our exclusive monthly newsletter
Discounts on great Maltese dog products
Notifications of contests and giveaways