Mauxie Puppy - Simba
by Victoria
(Dearborn, Michigan)
My Mauxie puppy is hyper and so affectionate! He is crazy attached to me and freaks out whenever I leave his sight for a moment.


He is very protective and the teeny tiniest little watch dog! Loves getting his belly rubbed now (he is 5 months old) and destroys every little toy I give him within moments. He plays fetch without me even teaching him he just knows what to do! Sits like a pro and I'm working on paw ;) I'm hopeful.
He is a big baby who won't go potty outside in the snow so he is puppy pad trained and goes potty on the pad all on his own (finally!) My Mauxie is longer now and weighs about 5 pounds.
Return to Tell Us About Your Mauxie!.
Mauxie Puppy - Ally
by Monique
(New Orleans, LA USA)
Our Mauxie puppy Ally is very active and always getting into stuff she is also very friendly and affectionate. We absolutely love our little Mauxie and think this is the best Maltese mix ever!
Puppy Mauxie - Chuck
by Patricia Patou
(QUEBEC, CANADA)
I just adopted a lil puppy Mauxie. Mom is long hair Dachshund and dad is Maltese. My lil boy is white & cream, very soft & long hair but not like the Maltese and I actually don't know what he will look like. He is very good mix lol. He have the paw of the Dachshund very small lenght but big big strong paw.

he is 8weeks old and already know his name.
he know the words * come * very calm when u carry him... very lovely... it's a sweet smart lil boy!!! Very inteligent dog !!!!

Can't wait to see my puppy Mauxie grow up :)

*On the picture it's my 3 year old son's feet... with my lil boy Chuck at 8weeks old.
Return to Tell Us About Your Mauxie!.
Maltese Dachshund Puppy - Snookie
by Reagan Cain
(Vassalboro, Maine)
Snookie is about 5 months old and the newest pet to our family. Our Maltese Dachshund puppy is always the "main event" in our household and every night we can't help but laugh at her silly behavior. She certainly has a will of her own and plenty of courage. :)
Return to Tell Us About Your Mauxie!.
Mauxie Puppy - Chica
by Lenore
(Minnesota, USA)
My Mauxie puppy is only 9 weeks old. She is very quickly catching on to pad training and is a delightful mix of mischief and affection. She appears to be heading easily toward kennel training, which is very necessary because we have an enormous black cat who thinks she is vermin! Needless to say they co-exist in separate parts of the house, and Chica is very carefully supervised. She is already going on walks in the house on a tiny leash, and responds well to that. Her coloring is caramel with a black face and tail. I love the way she tips her head to one side when listening to me. She is responding to "come" and her name. Very intelligent, she is already avoiding the cat's food dish. It took very little effort to teach her to leave it alone. I LOVE my Mauxie puppy!
Return to Tell Us About Your Mauxie!.
Maltese Dachshund Puppy - Hercules
by Johnna
(Madill, Oklahoma)
Hercules is an extremely playful Maltese Dachshund puppy. He loves to play chase and loves to pretend to be tired then get up and run the other direction. He is also extremely lovable and is a great lapdog. He has learned that when I say it is time for "bed"... he waits in the hall until I go to my bed then he wants up in the bed. He loves to chew on things. He will either bite you to death or lick you to death if you let him. At times, we are not sure if he is part crocodile (he likes to snap at us in a playful way), part parrot (he likes to sit on our shoulders), part bunny (he hops around), or part ninja (he likes to "hide" and jump out at us). He loves to play outside and is usually good about staying in the yard. He wants to be the center of attention. My Maltese Dachshund has lots of toys and will drag them all over the house and lay and play.
Return to Tell Us About Your Mauxie!.
Daschund Maltese Puppies - Basjan
We had to have our Daschund put down after she broke her back. After about 5 months someone at work told us about a litter of crossbred Daschund Maltese puppies that were going. There was one little boy left and I went to collect him.
He is an absolute joy to have - destructive, a new toy usually lasts all of an hour - all the stuffing everywhere! He seems to have stopped digging up the garden now - he is now 13 months old and is everyone's "baby". He goes out on the boat with his "dad" for fishing and runs through the waves.
Return to Tell Us About Your Mauxie!.
Mauxie Puppy - Louie Hershey Mokah
by Keiona
(Lake Worth Florida)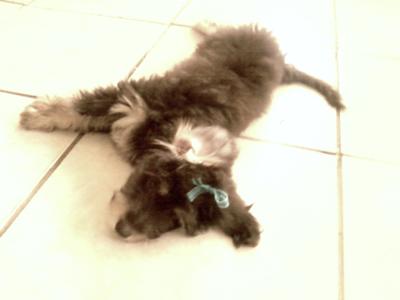 Ive had my Mauxie puppy for 8 months, and I got him from a horrible puppy mill when he was 3 months old. When I first brought Louie home he was shy at first, but he had his out going moments as well. Louie loves to play tag! He loves for someone to chase him behind the couch and when you walk away he chases you, so Louie is a little thrill seeker. As far as disciplining him, it hasn't been a problem, he knows im his owner and the Alpha dog, so when I tell him "No in a firm voice he listens automatically & thats what I love about him, he shows alot of loyalty in his personality. Once Mauxie puppies become attached to you they only want to be around, play with you, cuddle with you, etc. I think they only become attached to one person because Louie is never to friendly with my close friends or family the way he is with me. But I'm so glad to have a dog like Louie in my life because he makes me feel needed, even when I have my bad days, my Maltese Dachshund mix reminds me I have to stay strong to give him the best life.
Return to Tell Us About Your Mauxie!.