Pek-A-Tese - NELLY
by Mabel Masangkay
(Gumi, South Korea)
Name and Breed: NELLY the Pek-A-Tese


Date of Birth: January 2, 2009
Place of Birth: Bangkok, Thailand
My Pek-A-Tese is very sweet, loving and playful dog. She's also great with my children. She's smart too but what amazes me most with her small size she eats like a big dog.
Having Nelly in my life is unintentional. It was Valentine's Day 2009 when I went out with my children just to check out a Pomeranian at the weekend market then I came across this cute little puppy... it was a love at first sight. I really don't want to own a puppy that time or in the near future because of my allergies and asthma but I just can't resist her charm without second thoughts I bought her.
The seller told me that she's a pure-breed Maltese with her age and size that time, I really can't see if she's a real Maltese and with the seller's assurance and papers I believe her but after a few weeks her features changed so I've decided to consult two veterinarians about her breed, they told me that the seller cheated me about her breed and that she is a Pek-A-Tese or Maltese Pekingese mix.
Am I disappointed? NO, I'M NOT because I just simply love her and no matter what kind of breed she got, I don't care because we've already got a connection even one of my acquaintance wants to buy her from me and they will triple the amount that I bought her but I refused because there's no amount of money can replace Nelly in my life. :)
Peke-a-tese - Pika
by Lisa Seliskar
(Lakeville, MN USA)
Our Peke-a-tese is so great that EVERYONE wants her... or one just like her. She is now my mother's "Grandpuppy" and is commonly called "Ragdoll Dog" (like the cat). She regularly just falls asleep and is relaxed and limp in just about any situation or position... even hanging from your hands. She is the most trusting dog, even to SMALL children! The only time we ever saw any aggression in her even once was when we gave her a REAL meat bone, and then tried to take it away from her because it was so messy. She gets along with our cats & even cuddles with them, even though the cats came a few years after Pika did. When we got her she came already potty trained... she was trained with wood shavings!

We bought her from a breeder who only had 2 litters of Peke-a-tese. We had to be on a waiting list for 6+ months and then had to drive 4 hours to get her. Her mother was a fawn & black purebred Pekingese and her father was a purebred Maltese. Pika is completely white with light cream spots here & there. Her litter mates were all white & cream as well. She is currently 4.5 years old and weighs just under 10 lbs. Her hair/fur is an even mix of Peke & Maltese... silky & straight on her head, ears, tail & underside & chest, and wavy with some wiry hairs along her back & sides. We keep her in a shaggy 'do and brush and comb her often. Her face can best be described as an even mix of Peke & Maltese as well. Her nose is not too long, not too short... although she does grunt & snore a little. She has big beautiful brown eyes. She does have a slight underbite and one crooked tooth, but it just adds to her character. You only see her teeth about 50% of the time, and even then only 3 show. She does have runny eyes at times, but we keep the tear stain areas trimmed. We did have extra eyelashes removed by our vet as well. Aside from tooth & eye problems she is a very healthy dog. She doesn't get an upset stomach if she eats something she's not supposed to, and LOVES to ride in the car (without getting sick). She is all muscle and very sturdy! She is longer than she is tall, but not by much. Her back is "flat" like a Peke's, and she has the feathery Peke feet. She does not waddle like a Pekingese at all, though and is quite fast.

We just love her to pieces & everyone who's ever met her says there will never be another Pika!!! I've tried to find another... one for me & one for my mother, but to no avail. My mother kept pedigreed Bichons all her life, and just lost one a couple months ago, and now is looking for a Peke-a-tese just like Pika. I joke and say that if we could afford it, we should have her cloned so that there WILL be another Pika. I wish more people would mix these two breeds, because in my opinion they are the cutest & sweetest dogs around! Of course, that could all be due to her upbringing I suppose.
Peke-a-tese - Daisy
by Christy
(Indiana )
Daisy is a Peke-a-tese and is the best puppy. She is very loyal, and loves to play hard. We have 3 teenage girls in our home, and they love to make over her.

She loves her daddy, and he plays all the time with her. She likes to be hand fed. I am not sure if this is a breed specific thing, or if I am creating a Malt a Monster!
Pek-A-Tese - Fifi
by MB
(Troy, Michigan)
Fifi is a three-year-old Pek-A-Tese born on Valentine's day. She is affectionate and playful, bossy, but also shy.

She's a great fetcher and is fiercely protective of her treats. What really makes her fun is that she loves to take showers, baths and splash in puddles.
Peke-a-tese - Baby
by Jennifer
(California)
Looking through all these paragraphs about their Peke-a-tese's I feel so alike! Peke-a-tese's are truly lovely and one of a kind. Baby is the best. When my kids, go to their dad's house on the weekends she always comes with them! On Friday's when its time to go she'll be exceptionally nice to me, because she knows all be lonely when the kids leave. When I fall asleep on the couch, she'll come lick my face as a remider to go to bed. Baby is now nine years old, but everyone says she doesn't look a day over two. Baby is most lovable, and everyone who meets her almost instantly falls in love. We originally got her as a favor to look over her till' my friend came back, but when my friend didn't come back, we adopted her! And now she's the light in our lives. :D
Join in and write your own page! It's easy to do. How? Simply click here to return to Tell Us About Your Pek-A-Tese!.
Playful Peke-A-Tese - Caine
by Jason
(Chino Hills, CA)
My Peke-a-Tese is a smart playful and a monster. His mom was a Maltese and his dad was a Peke-A-Tese. He was really easy to potty train and is a quick learner. But just can't stand being alone. Trying to get him used to being alone but no one can resist his charm.
Peke-a-tese - Cinnamon
by Tracey
(Michigan)
We love our Peke-a-tese named Cinnamon and she just loves everyone especially children. She is almost a year old now is very lovable and loves to give kisses. She has a very out-going personality and gets along well with other dogs. She has helped our 7 year old daughter get over her fear of dogs. Now they are best buddies and my daughter carries her around like a baby. She is a great addition to our family!
Join in and write your own page! It's easy to do. How? Simply click here to return to Tell Us About Your Pek-A-Tese!.
Peke-A-Tese - Molly
by Devonne Profitt
(Villa Rica, GA USA)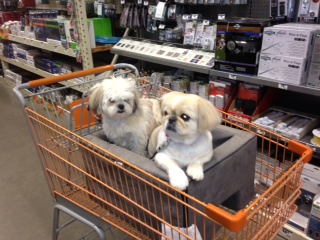 Molly and Sandy
We bought our Peke-A-Tese in Sept. 2012. We drove 500 miles to get her as we couldn't find a breeder close to us in Atlanta. Her name is Molly and she is now 15 months old. She is the best dog we have ever owned (other than our purebred pekingese, Sandy, lol!) We got Molly to be a companion to Sandy. Molly is so well behaved, her temperament is excellent, not aggressive in any way and looks forward to treats after her trips outside. She doesn't shed at all. It did take us longer to potty train her than it did for Sandy. I wish her fur had stayed the color it was when she was born, but the brown is now a faint beige and the brown ears are now a gray. She is still beautiful though!

Molly and Sandy get along wonderfully and it's the best thing we ever did for Sandy! Molly is smaller, only 12 lbs. but she is stronger than Sandy who is 20 lbs. She can pull Sandy off the sofa if they are playing tug of war over a toy. She sleeps in her crate every night, but she loves to cuddle and loves to sleep with you as well. She's the first dog we have owned that likes to sleep on her back with all fours up in the air! She is a cutie and looks more like her mother, who was a purebred Maltese. Her dad was a purebred pekingese.

She comes to the side of my recliner for me to pick her up. She will lay anywhere she can find a spot! The only cons I have seen is her stomach itches, so we think she is possibly allergic to grass and she is very sensitive to light. She loves to run and is very fast! She enjoys her exercise. Sandy cannot keep up with her. It's a joy every night to watch them run and play. Her hearing is excellent. She can hear the doorbell when no one else does. She definitely alerts us if someone walks upon the porch.

This is a picture of Molly and Sandy on one of their many trips to Home Depot. Molly is on the left, Sandy is in front. We would highly recommend this cross breed, and are currently looking for a breeder in Georgia to get another one!
Join in and write your own page! It's easy to do. How? Simply click here to return to Tell Us About Your Pek-A-Tese!.
Puppy Dog - Winnie
by Dan
(Minnesota)
My wife and I got Winnie a couple months ago, and she has brought nothing, but joy to our lives! Winnie was born on 12/20/2014. She is a little piggy and is always looking for food and treats. She loves to nip at our shoes and woof at us if we're not giving her enough attention. She is very affectionate and playful.

Unlike a lot of small dogs we've come across in the past, she rarely barks. She just sits and stares when other dogs walk by our house, and just wants to go meet them. She attended her first puppy training class this past Saturday, and the trainer commented on how she was such a social butterfly, and how cute she was with her little underbite.

Winnie is a picky eater, so we have to mix her dry food with some canned cuisine for her to eat. We love her so much that we do not mind spoiling her at all. She has moments where she's naughty, but hopefully the training will improve her behavior as she gets older. She's still a little puppy, so it's expected? She is our first furbaby, so it's a fun learning experience for the both of us.
Maltese Pekingese Puppy - Bella
by Mari van Dyk
(Pretoria, South Africa)
My Maltese Pekingese puppy is a bundle of joy and lovable. At 7weeks she is very intelligent and cry when she wants to go outside to do her business. Loyal and trainable. One word to describe Bella is LOVE.
Maltese Peke Mix - Zoey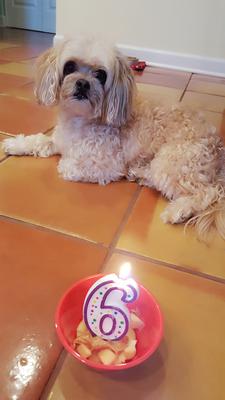 My Zoey is 6 years old. I've had her since she was a newborn pup, just a couple months old. Her dad was brown & mom was pure white color. My Maltese Peke mix is the perfect companion & true protector . She's great with the children but can care less when people come to visit. 😊 extremely intelligent & stubborn at times so she fits right in lol. High energy & extremely playful. I would be lost without her!
Calvin
by Ardit
(Albania)
Waiting for me at the building stairs
Calvin is 3 months old. He was born on May 17th, 2016. Calvin loves running in parks and playing with foreign people, but doesnt like to walk with a leash :)
Playful Pup - Braxton
by La'Keisha
(PA)
He's hyper when left in the cage while were gone, and he doesn't listen sometimes. He even potties inside if he isn't on schedule. He loves the kids, even letting them pull and sit on him even though I don't really want that so I'm quick to act if they get too rough. Sometimes if he's happy excited, or scared he will pee. He's a great guard dog and barks when there's a stranger, but he'll get use to you. He hasn't ever bit me, or anyone else ever. He was born on December 23 so he's almost a Christmas pup! He's a year old now, and he's so cuddly. We love him so much!
Cheech and Chong
by Jessica
(Puyallup,Washington,U.S.A)
I have two Pek-a-teses, Cheech and Chong. They are two boys, one like to sleep all the time and one likes to play.They came from the same litter a year ago and are brothers, I take naps and play with them and they are so loving and loyal, when I take them outside and let there leash go ,they run away and come right back. They also protect me by barking thinking they are the biggest dogs in the world:). If are looking for a good mixed dog breed, to me, this is the best one you can get. :) Thanks for reading my story. I love Cheech and Chong
Are you a Maltese Maniac?

Join other Maltese Maniacs and get:
Our exclusive monthly newsletter
Discounts on great Maltese dog products
Notifications of contests and giveaways