Pekingese Maltese - Gracie
by Tim Webster
(Pioneer, OH)
This is Gracie, she is a one year old Pekingese Maltese and my baby. She is a sweet little girl. Loyal to her master and very, very smart and very clever. She is half Pekingese and half Maltese.


I have been searching for a male Pekatese or a male Pekingese with no luck. Can you help me? Would like to have 1 litter, as I have people who can`t find this hybrid. Any suggestions?
Pekingese Maltese - Lacey
by Ashley
(Cleveland,TN, USA)
I have the most adorable Pekingese Maltese puppy ever!! Her name is Lacey, and she is such an angel.

She's very rambunctious and playful. One of her favorite games is fetch. You can throw anything and she will jot after it and return it to you. She can be a little feisty at times, but what puppy isn't.

If you are looking for a good family dog, a Maltese Pekingese mix is a great choice!!
Pekingese Maltese Puppy - Bear
Our Pekingese Maltese puppy Bear lets us live with him in Minnesota. He loves the snow, but his belly seems to be a little low as sometimes he gets stuck!

He is a lively, loving, happy little guy who rules the house and the neighborhood. We have a park behind our house, and he loves to go for walks there so he can chase the tree-rodents.

If you do not have a Pek-A-Tese in your life, you are missing one of the most rewarding things possible. Go look at one, but be careful, cause they will steal your heart. He did mine!
Pekingese Maltese - Zoe Belle
by Angela
(Texas)
Her dad is Pekingese and her mom is Maltese. Her mother almost died when she was born due to calcium deficiency and was hand raised by my friend whom I got her from from a week on. We love her to pieces and she may be a bit spoiled. She gets along with her brother great he is a Pekingese Shih Tzu mix. She has the softest fur I have ever touched and she hops like a rabbit as well. She doesn't have much of the Pekingese in her except her feet maybe. Right now she weighs 5.7 lbs and is 4 mos. old (born 6-17-09), she will probably not get very much bigger.

She is a feisty little girl but very loving and loyal. She does have some potty training issues which we are working on and chewing and some separation anxiety issues as well. But they are not very bad and she is young so she is learning. She is super smart and can sit, stay, get the toy, learned how to use steps to get on the couch and understands "bad girl". She is so tiny but eats alot. She is okay when you bathe/groom her and doesn't have very much of the eye staining like some and likes to go ride in the car. I have never had house dogs before and they are both great breeds. She prances on her back feet alot to get attention or treats. I can't even stay mad at her for long once I look in her eyes. She is my baby. And I have 3 kids even.

I would recommend a Pekingese Maltese to anyone who wants a small dog, even though she is a little high maintenance/spoiled. (:
Pekingese Maltese - Mia
by Val B
(Ferdinand, IN USA)
My Pekingese Maltese mix, or Peke-A-Tese, just got her pics taken with Santa, this is so cute.
Pekingese Maltese Mix - Dipsie
by Stella de Kok
(Johannesburg South Africa)
My Pek-A-Tese or Pekingese Maltese mix is about 6 years old and very cute but also very much protective of me in particular. From the day we bought her, she has taken on to me and no-one else in the family.

She was the last one left in the little cage at the pet shop and was just sitting there, her head down and looking very sad. We were actually looking for another breed but I just couldn't leave her there looking so sad and forlorn. Her possessiveness over me can be a problem because she tends to be very aggressive towards other people when they come near me (especially when I'm in my bedroom or in the bath!) and she has bitten my children on several occasions. I must admit that one of out boys did tease her a lot when she was a puppy.

Otherwise she is very intelligent and will obey me instantly at most times. She tends to look more to the Maltese side but the snoring definitely comes from the Pekingese side. She is not a barker and will only bark if there is someone at the door or a cat in the garden. I don't know if she is just lazy but she likes to do her things on the bedroom carpet and I have tried everything to get that out of her. She knows very well where the lawn is and that she is supposed to do it there but especially on rainy days she just refuses and if caught out, she will do it on the doormat.

I am a dog lover and will rather try to correct behavior than punish. I loathe people who beat dogs and treat them badly. The picture of her was taken when she was very overdue for a haircut but still she is the cutest thing on earth to me.
Join in and write your own page! It's easy to do. How? Simply click here to return to Tell Us About Your Pek-A-Tese!.
Pekingese Maltese - Mia
by Valery Brahm
(Ferdinand, IN USA)
Mia is a year and a half old Pekingese Maltese mix. I don't see much Pekingese in her, so I think of her as a Maltese, her hair is getting long.

We've had her for six months and her previous owners kept her hair short. Shes very lively and sweet.
Pekingese Maltese - Lexy
by Alicia Carr
(Glrndale, AZ)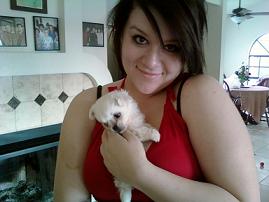 4 months old..
This is Lexy my Pekingese Maltese, I rescued her she was only 4 weeks. when I got her she was a mess, she had mites n all she did was scratch herself raw. I tried everything and spent thousand's of dollars on shampoos, medicine and vet bills. I found this website, the guy was from India and it was peroxide and borax (the detergent) WOW did it ever work.... it was a miracle the vets medicine n shots didn't even work, the remedy worked in 3 days she stopped scratching snd her hair grew back... I made clothes for her while she had mites. I made her little onesies so she wldnt scratch herself raw, it really made me bond with her n I loved her even more n I got mites myself not knowing what it was but after using the p n b remedy n disinfecting my whole house n washing all clothes n linens 3 x's each we were cured...she is everything to me n I would do it all over again for her... I would love to get another mix like her but they are hard to find,she is so smart n listens so well n was sooo easy to train... everyone everywhere I go knows who she is n they just love her because of how well behaved she is... sorry so long I just could go on on abt her... please if anyone knows anyone who has a Pekingese Maltese I sure would love to get her a playmate. Comment here if you want to get together.
Join in and write your own page! It's easy to do. How? Simply click here to return to Tell Us About Your Pek-A-Tese!.
Pekingese Maltese - Bella
by Norma Guthro
(Nova Scotia)
My Pekingese Maltese is very affectionate, loves to cuddle and get her belly rubbed. She is not to sure of strangers though. My Pekingese Maltese also loves to go for drives in the car and maybe a trip to McDonald's for a penny icecream... Yum! She loves to play with my two cat also.
Join in and write your own page! It's easy to do. How? Simply click here to return to Tell Us About Your Pek-A-Tese!.
Pekingese Maltese - Gidget
by Jennifer
(Bryant, AR )
I've only had my Pekingese Maltese or Pek-A-Tese for 2 weeks and i absolutly LOVE HER!!! She is already learning potty trained... of course she whines alot at night but she is a GREAT dog.

I can't wait for her to grow with me and see what she looks like. She is 8 weeks now but i don't think i've ever made a better choice on a new puppy as I did with my Pekingese Maltese!!
Join in and write your own page! It's easy to do. How? Simply click here to return to Tell Us About Your Pek-A-Tese!.
Pekingese Maltese - Jacky
by Yessy
(Alajuela, Costa Rica)
In my country my dog is called a Pekingese Maltese, in fact, I find that it is a Maltese cross with Pekingese. Here he was considered a breed but I do not know if there is, for me it is a cross.

Jacky is a dog of 1 year and 1 month. He is very playful and loves to go outside and get dirty... likes to play when it rains, sometimes behaves a bit badly... But no matter, since he is very affectionate, and cute. Lie with me, is a pampered.

En mi pais se les llama "Pequinés-maltés", de hecho, cuesta mucho conseguilos... a mi me parece que es un cruce de maltés con pequinés, aquí se le considera "de raza", pero no sé bien si existe, para mí es un cruce.

Jacky es una perrita de 1 año y 1 mes. Es muy juguetona, le encanta salir al patio y ensuciarse... le gusta jugar cuando llueve, a veces se porta un poco mal... Pero no importa, ya que es MUY CARIÑOSA, y linda. Duerme conmigo, es una mimada.
Join in and write your own page! It's easy to do. How? Simply click here to return to Tell Us About Your Pek-A-Tese!.
Pekingese Maltese - Kody
by Retta
(Fayetteville, NC, USA)
Our Pekingese Maltese Kody is 6 years old and he we have spoiled him, however, he is such a great boy that he deserves to be spoiled rotten.

He is a genuine lap dog and goes with us every where we go or we don't go. We buy his own airline ticket so he can go with us in the cabin. He knows the ladies in our bank and they love him so much that he tries to talk with them because he knows they have a "toy" for him. He does not like the treats so they buy him toys.

He does not shed nor does he have pet dander but he does need a groom and hair cut about every six weeks.
Pekingese Maltese Puppy - Carmen
by Ed McCauley
(Fuquay-Varina, NC)
Carmen is our 12 weeks old Pekingese Maltese puppy and has stolen all our hearts! She can look at you and you can't help but fall in love! Potty training is an ongoing effort .... usually one "oops" a day. She definitely has "sit" and "come" down, but has trouble with "Stay"! ;-D

The cats (a Persian and a Siamese who are 8 years old) are having somewhat of a difficult time adjusting to our little Pekingese Maltese puppy living in their house! So far … no blood! ;-D)
Pekingese Maltese - Sarah
by Mae
(Marengo, Ohio North America)
My Pekingese Maltese dog, Sarah, is a very curious or nosy,always wanting to eat things like crayons, pencils, anything small. As she's gotten older,she's eating more and more things. She is also very loyal, always by my side. She loves to play with her yellow ball which she's lost many times. She loves to run around the house and go crazy. Sometimes she'll get loose and she runs around the house, her tail flying behind her and her tongue sticking out. Her record of eating her food is 18 seconds. She will do anything for dinner. In the morning, she's begging to get out of her cage and go outside. Sarah hates baths and going to the groomer. She is so cute when we go to dry off her fur, lilac smell filling the air. Her absolute favorite thing to do is barking. I love my loyal and curious Pekingese Maltese puppy, Sarah, and always will. And I know that she feels the same.
Are you a Maltese Maniac?

Join other Maltese Maniacs and get:
Our exclusive monthly newsletter
Discounts on great Maltese dog products
Notifications of contests and giveaways