Pekingese Mix - Susha
by Susy Hendy
(South Australia)
I got my first dog at 39 and he was a Pek-A-tese or Maltese Pekingese mix.


He was the most loving, faithful little boy and just wanted to please. He had the mind of a baby and loved everyone and everything.
I'll never forget the guinea pigs I had, They were inside in a cage like a palace. The cage was raised of the floor and three tiered and I would leave the door open. Susha wore a bell on his collar and one day he was running around the house, and the guineas door was left open and they started squeaking and would hang out of the door from their waist watching Susha. He noticed them and would go straight up to them and start giving them kisses. They loved it! So I started feeding them both carrots at the same time and then slowly brought them out of their cage and Susha was so gentle running around then snuggling up to them and licking them. Oh how he loved them. He did so many tricks. I would show him something once or twice and he would repeat it. He would pick things up for me that I dropped, even the mobile phone.
Sadly my Maltese Pekingese passed away Feb. 2009 aged 6 years and one month to the day, I took him to have his teeth cleaned and died under sedation. People since have told me they have stopped breeding them due to sudden deaths. I was ands still am devastated. U knows when u get that very extraordinary special little dog that just understands you. I would recommend them to anyone. They are very loyal, intelligent and loving. Sadly I live in South Australia (Australia) and have been unable to find another breeder to this date. If anyone knows of a breeder here please contact me.
Here is a letter I wrote to my Maltese Pekingese mix Susha in his memory:
Dear Susha Death of a Friend
"It's only been a short time. I wasn't sure if I would ever be able to do this. I really wanted to because you deserve to always be remembered. You were amazing and so special!
I hurt deep inside. It's a feeling of real darkness and sorrow. I miss you. I miss your smell, your softness, and your presence. I felt like we were one. That if you weren't with me then how can I be me?
I have lost my best friend in his own little fur coat and my only company for the last 6 years.
How can I never see you again? How can I live with this possibility and remain happy. It's hard to imagine. Maybe one day it will happen.
I don't know if it's like loosing a child because I have never lost one that I could hold and love so much. You were never above me or below me you were always beside me. Please don't ever let me have taken you for granted.
I feel pain deep in my heart; I think it is because of the lump that comes every time I think of you. I know that I can't live like this forever. I just want to think about you and remember you, and not hurt at the same time. I want to stop feeling so desperate to see and cuddle you.
If you were here I wouldn't need to feel this way.
I can feel your soft fur and that little pink belly you loved rubbed. I have my some of my socks still on
the floor in the lounge. Remember how I use to tuck the socks into a ball for you to catch, and you would gently shake them until they were flat ready to fold. How you hated them in a ball! How you were so silent, never barking and if you did it was to only warn me, or a little bark of pleasure that someone was at the door. Telling you, "its ok" when it was bad weather out, or if you were unsure of something, and you would always settle after those two words. You were always so trusting of me, and I of you. You loved everyone and everything that you met. You would just sit and let out little noises of pleasure and love and comfort. The little piece at the base of your ear was like velvet. Please never let me forget that. Or the way you would comfort me when I was sick or upset, like I am now. Or the way you would let me tuck my feet underneath your belly. How you would let me do it because you knew it kept me warm. My little boy, you were always one to try and please everyone. So patience, when the kids would dress you up and put all your coats on, just sitting there until they were finished, how I would ask you to wait a minute if you wanted something. Picking up things that I would drop or could not reach. You would find things fallen on the floor and bring them to me. All the tricks you learned and some that were just you! I miss your gentle kisses on my ear, how you loved that.
Please never let me forget how we would lay on the couch, you on your back nestled under my right arm and fall asleep. How you always had to be so comfortable and close. How you had to lean on me or touch me or put your head on my shoulder of a night- time. How you loved going to see the Girls at the vets for your fortnightly wash. I would tell you the night before you are gong to see the girls tomorrow for a wash and you were so excited. How you loved them.
I will never feel as safe as you made me feel. I have lost my sense of security without you in my life.
Your bed is still here. Your treats are still in the cupboard. Your toys all over the house and some in your toy basket still. I am so sorry you are not here. I feel guilty that you aren't here. I want to know you are safe and warm. I don't want you to be lonely or to miss me too much. I wish I could see where you are. I want to make sure you are ok.
You need to know, I still love you as much as I always have. That you are my little man and you always will be.
Did I care for you enough? Were you sick? Did you know you were sick? Is there anything I could have done to keep you? Why did you have to go? I just want one more cuddle. Just to see you one more time. Just to hold you and have you sit up on your bottom and clap to get my attention kiss you and smell biscuits. I have to go now, but I haven't finished. There is still so much more to say.
I love you! Your Mum xxx"
Pekingese Mix - YA-YA
by The Johnson Family
(New Orleans, LA)
YA-YA is not just a Maltese Pekingese mix dog, she's apart of our family. She was a Christmas (2008) present for my son.

We bring her everywhere we go, when she hear the keys, she run to the door. As soon as we open the door she run out and into the car.

Ya-Ya is very spoiled, she hate to be left alone. She even have her own room and personal bath tub.

We love our Maltese Pekingese Ya-Ya very much, if anything would ever happen to her, we would be so heart-broken.
Join in and write your own page! It's easy to do. How? Simply click here to return to Tell Us About Your Pek-A-Tese!.
Pekingese Mix - Princess
Our little Pekingese mix "Princess" is very active! She loves to fetch, run and jump. She runs like a rabbit - hop, hop, hop!

She is quite jealous of our other dog and any attention we give her. She is a very fast eater. She is a bit yappy and barks a lot at other dogs.

We have a Maltese Shih Tsu also. Princess is definitely the livelier of the two. It must be the Pekingese in her!
Join in and write your own page! It's easy to do. How? Simply click here to return to Tell Us About Your Pek-A-Tese!.
Pekingese Mix - Bugsy Malone-Smith
by Colleen
(Clarion, PA)
Bugsy is my 8 year old Maltese Pekingese mix and the love of my life. My husband says Bugsy thinks he is a German Shepherd and we don't have the heart to tell him he's not. He is very protective of me and even growls when my husband comes near, yet would never bite or hurt anyone but he thinks he is fearsome.

He loves to go for walks and holds his head high, tail up and thinks everyone he meets should say Hi to him. To get attention he will sneeze and if that doesn't work he will stand up on his back feet and prance. He loves baby carrots for a treat!

He is white and was the smallest of the litter so is only 7 lbs. Most people think my Pekingese mix is still a puppy and he def acts like one.

He is a character, loves his family and loves life!
Pekingese Mix - OLA
by Hanna
(Farmington Hills, MI)
Ola, a Maltese Pekingese mix, is a very fun dog. She likes to play a lot and every time we ask her "where is dad?" she runs to him and starts to play. We love our little Maltese Pekingese mix.
Join in and write your own page! It's easy to do. How? Simply click here to return to Tell Us About Your Pek-A-Tese!.
Special Pekingese Mix - Jesse
Jesse has just turned 5 on March 22. My special Pekingese mix is the reason that I get out out of bed every morning. I am 39 yrs old and I found an add for him in our local newspaper.

I had just been diagnosed with agoraphobia and I also have panic attacks, anxiety disorders and clinical depression. So finding my little lamb ended up being so much more than him rescuing me.

When I met with the man who I got my Maltese Pekingese mix Jesse from, he came in a pick up truck and he had 7 or 8 other little pups in his truck. My little guy is white with some tan and unfortunately this meant that we could see that he is covered in much more than fleas. I held him back to Goshen, NY and brought him straight to the vet where he received great care. I never did pay that puppy mill owner his $450.00. The vet told me that had I been a week later, he may not have made it. He was so dehydrated and just wanted to sit with me. That 45 minute ride from hell to home really bonded us to each other. Now it's more of a "who rescued who"? in our house every minute. The local ASPCA was informed of this man's whereabouts considering he wouldn't allow me to meet him at his home... RED FLAG!

So today, my Maltese Pekingese Jesse is perfect, wonderful, healthy, adored, appreciated, loved more than I can put into words. I have service dog tags for him, but a lot of stores still kick me out. So we still spend a lot of days inside.
Pekingese Mix - Dewey
by Terry
(Dubuque, IA)
Dewey is a nearly ten year old Maltese Pekingese mix. He's been a great dog. He's cute, smart and affectionate. I think he understands about a hundred words. I would definitely have another just like him. Even though he's almost ten, he's in good shape and is very playful. He still has a lot of puppy in him. I would definitely recommend a Maltese Pekingese mix to anyone who's considering getting a dog.
Join in and write your own page! It's easy to do. How? Simply click here to return to Tell Us About Your Pek-A-Tese!.
Loyal Pekingese Mix - Carter
by Rebecca
(Chesterfield, VA)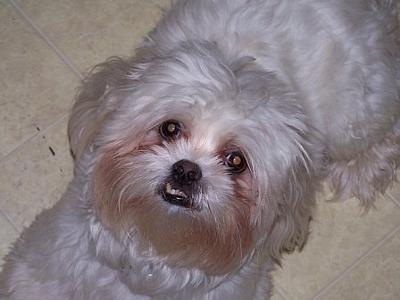 Carter
Carter is a fiercely loyal Maltese Pekingese mix - to his family - especially me. We have one 9 year old son, and we got Carter from a Breeder in Lovingston, VA when my son was 5 years old.

He loves his stuffed animals, and we constantly replace them when they are torn up. He's been fixed since he was a puppy, but does have a special "love" for his stuffed lamb. He loves to be in the middle of "play" with the kids - but is also content to sleep the day away on the couch. He's highly trainable, but you do need to establish who is "boss" as he tries to be the alpha dog in the house over the humans.

He likes other dogs that he knows well, but hates strange dogs. He is a great watchdog, and I always know when there's someone in yard (meter reading man, cable guy, etc.).

He's the small dog (14 lbs.) with the BIG DOG personality. We love him dearly and he can do many tricks.

Here's an update on Carter, from Chesterfield, VA. He's still as adorable, friendly, and cute, 8 years later, after my original post.
Pekingese Mix - April
by Arianeth
(Orlando FL)
My Maltese Pekingese mix is a great dog, and everyday I find something new about her. She is really sweet and affectionate. I love my Maltese Pekingese!
Pekingese Mix - Chiquito
by Melissa
(Central Islip, NY USA)
My Maltese Pekingese mix dog Chiquito is the sweetest dog I have ever had. He is very nice and perfect for families. He loves to run and play and likes kids. He is a color black and gray and has white paws. Everytime he hears dogs barking he barks too. My uncle has a black Labrador Pitbull mix and he is very big compared to little precious Maltese Pekingese mix, but my dog wants to be brave and is always barking at him and my uncles dog doesn't do anything to him and my dog even bites him but just playing!! And thats all about my sweetie pie... Chiquito!!<3
Join in and write your own page! It's easy to do. How? Simply click here to return to Tell Us About Your Pek-A-Tese!.
Pekingese Mix - Me Me
I got my Maltese Pekingese mix for me and she's in Love with my Husband. She Loves her time alone and no matter how many beds I buy her or make her she wants to go under the Sofa or the Bed during the Day and sleeps with us at Night. She is very loving and Loves to be picked up and carried like a Baby, she is very scared of the Dark... My Maltese Pekingese dog has a tumor on her throat and is on medicine most of the time her Dr. tried removing them (two) and she almost bleed to Death so were just kind a waiting to see what's next, but she is such a Joy!
Are you a Maltese Maniac?

Join other Maltese Maniacs and get:
Our exclusive monthly newsletter
Discounts on great Maltese dog products
Notifications of contests and giveaways