Pepper - Mauxie
by Erin Harris
(Nashua NH)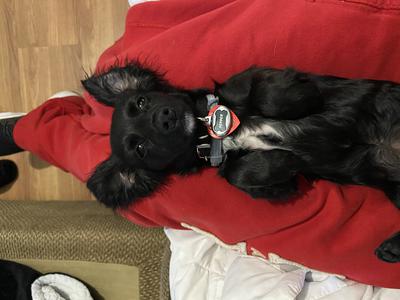 Sleepy Pepperoni
Pepper is a 4 month old beautiful little girl weighing in at 5lbs. She is incredibly intelligent but pretends/prefers us hoomans don't recognize that quality.


She has learned "sit" "paw" & "down" each in 1 training session. She also knows "spin" (does a circle) but that one took some extra training time... stubborn dachshund kicked in :)
This little girl is SO beautiful she literally stops people in their tracks (and also in their cars) so they can say hello and ask about her. She is equally as excited and happy to say hello to any hooman or fellow canine that wishes to pet her or give her a belly rub.
She is my therapist and I can't imagine my life without her.
Join in and write your own page! It's easy to do. How? Simply click here to return to Tell Us About Your Mauxie!.
Are you a Maltese Maniac?

Join other Maltese Maniacs and get:
Our exclusive monthly newsletter
Discounts on great Maltese dog products
Notifications of contests and giveaways