Pet Memorial - Munchkin
by Vonceal Dunning
(Greensboro, NC)
Munchkin was my little white angel for 17 years. She went too heaven to be with our Lord Jesus on March 19, 2012. She was like my only child, and it is very hard living day to day life without her, because she went with me everywhere. I think about her everyday, and know that we will one day be together again in heaven, and that she is still Mommy's beautiful angel, she just has a temporary Master in God. Knowing that she can run, jump, and see again helps me control my grief, but I still miss her tiny face looking up too me as if to say Mommy I love you. Munchkin you were the joy and light of my life, and nothing could ever replace you. I shall never 4-get you.


Love u 4-ever,
Your Mommy Vonceal
Join in and write your own page! It's easy to do. How? Simply click here to return to Maltese Dog Memorial.
Pet Memorial - Shimo and Jamie
by Elaine
(USA)
We lost Shimo and Jamie, ages 18 and 14, at the same time several years ago. Jamie, a Maltese Poodle mix, was Shimo's son. When he developed kidney disease the vet at the time said that at his advanced age (14 years) he probably would not survive surgery. His father, Shimo (age 18) was blind and deaf and totally lost without his son whom he used as a canine guide dog.

It was a tough decision but we decided to have both dogs put to sleep together.

Shimo, whose name means frost in Japanese, was one of the most intelligent dogs I've ever known. He also loved to have his picture taken and would pose as long as needed.

Jamie, who was named after my father, was what we liked to call "a surfer dude."

It's never easy losing any pet but remember the good times. And, remember that they have no fear of death and are happily running around heaven waiting for you and getting re-aquainted with ones that passed before they did. It's good to do something such as making a memory book, or donating to a local shelter or to a canine health organization in the dog's name.
Join in and write your own page! It's easy to do. How? Simply click here to return to Maltese Dog Memorial.
Dog Memorial for Buffy
We had the joy of Buffy letting us live with her for 16 years. She crossed the rainbow bridge on July 31, 2010. She was a true love right up until she died in my husbands arms at home. We were extremely lucky that we did not have to "help" her along and she did not suffer. I miss her every second of every day. We now have another malt, but there is no replacing our sweet Buffy. We had her cremated and her urn is here with us. To me, this his comforting.
Dog Memorial to Eddy
by Mary
(Fort Myers, FL)
Here is my dog memorial: I was 68 years old when Eddy, a Maltese, came to live with us. I never had a dog before. It was total love. He took me walking every day. In fact "walk" was his favorite word. He enchanted everyone he ever met. I had him a little over a year when he was hit by a car. I was there and I carried him home and he knew I was there.

Our vet said that when I was ready for another dog to come and see her. In 24 hrs I was ready. The house was so empty without Eddy. I knew another dog would be his or her own self and not Eddy. That is when we met Mandy, a Maltese, Yorky, Papillon mix. She is the most laid back mellow loving little girl you could imagine. She is a belly rub lover.

Eddy is now the beautiful memory he was meant to be.
Join in and write your own page! It's easy to do. How? Simply click here to return to Maltese Dog Memorial.
Missing KANDI JNR
by Evelyn
(Bredon, Glos, UK)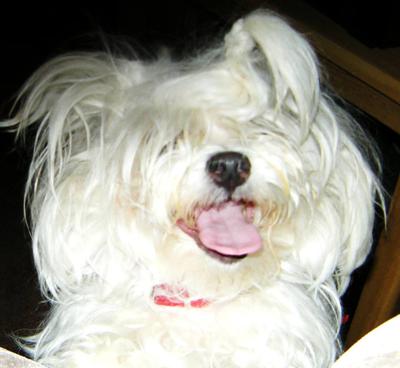 She was game for anything ,lively and bright
My Maltese dog Kandi was born in Taunton and was a beautiful loyal and affectionate pet whom I am missing terribly, even though at sixteen years she was part of our family a long time.

At the end she was blind and deaf, but still happy, eating and drinking well, but in the last week she went rapidly downhill.

This breed are simply wonderful for loyalty and affection and I will miss my little girl very much. God Bless Kandi.
Join in and write your own page! It's easy to do. How? Simply click here to return to Maltese Dog Memorial.
Dog Memorial for Lexi
by Suzanne
(Maui, HI)
Lexi passed on March 5, 2012. Our Maltese lived for 9 1/2 years. Although she struggled with various ailments; liver failure, pancreatitis and bad back/disc problems she lived a happy life and bounced back each time to her adorable little self. However, the lastest liver ailment was just too much for Lexi to overcome. Lexi was the sweetest, most loving and compliant little girl anyone could want although, she had a mind of her own sometimes too. Lexi had the most expressive face and eyes, you just knew what she wanted. She loved doing tricks and learned them very quickly. Lexi had people she absolsutely adored but was a bit shy with strangers. Lexi loved to be held and whoever sat on the one specific end of the couch was the person to do the holding, even people she did not absolutely adore, they had to hold her.

We miss our Maltese dog Lexi terribly and remember her each and every day. We will always love you Lexi and you will forever be in our hearts!!!
Pet Memorial - Bella
by Lori
(Tennessee)
My sweet Bella was so much of my world. We lost her just yesterday. She was on a walk with my husband and he let her off her leash to run in the grass when he got back home. She darted out in the street. She has never done this before... she was killed instantly.

She had the sweetest disposition ever. Such a snuggle puppy and loved everyone. She loved having her belly scratched and being in anyone's lap that was sitting down at the moment.

She was funny, tenacious, playful and beautiful. She was the princess of this palace and we will miss her so much.

Rest in peace sweet Bella Marie.
Join in and write your own page! It's easy to do. How? Simply click here to return to Maltese Dog Memorial.
Sparky
by John M.
(West Yellowstone, Montana 59758)
My little partner of 5 years was tragically killed by a large dog while visiting Kauai Hawaii this last January to March. He was killed on March 11th and laid to rest on the island of Kauai. I returned immediately to the mainland. He was the best thing that ever graced my life. He was tiny, but had a heart bigger than the Pacific Ocean.

He will be missed by thousands the world over. I can't say if I will ever fully recover from loosing him and the image stained into my mind forever of him dying in my blood soaked arms. Hug your pups...never scold them or get angry, never let them out of your sight for even a moment...however let them be dogs. Enjoy every moment of their short lives and try to prepare for the shock of someday being without them. I found one book that may help you when you loose yours - "Cold Noses At The Pearly Gates."

You can read more about Sparky here.

- John In Montana
Maltese Passed Away - Buffy
by Carol
(New Jersey)
I had this sweet little girl for 13 years & 5 months and it was so hard to let her go. I was never a dog person until I got her and she truly brought me so much love and companionship. From the first day I got her she came to work with me every day and all the girls in the office loved her and she would go to each one and get a treat and when we had a bad day she made us all feel better.

She was such a good dog I know I could never get another one like her, but I really need to find another Maltese because she has left such a void in my life and she has only been gone 8 days. I know I will never be able to replace her but I really need to find another to love.
Are you a Maltese Maniac?

Join other Maltese Maniacs and get:
Our exclusive monthly newsletter
Discounts on great Maltese dog products
Notifications of contests and giveaways