Rescued Maltipom - Beanie Wells
by Lea
(Columbus Ohio)
Beanie is a year and a half old Maltipom that was beaten and neglected. From the moment he was rescued he has been the most loving dog and is very clingy to me, which I'm sure stems from his past. He freaked out the first time I put him in a fenced in yard and didn't stay out with him, because when he was mistreated he was left in a backyard all the time regardless of the weather.


I've never seen a dog jump so high, he can jump right into my arms when I'm standing. He learned that he can't sit in my lap when I'm using the laptop so he taught himself to lay on the back of my couch across my shoulders, it's adorable. He is an amazing dog and I don't understand how anyone could beat him.
Rescued Maltipom - PD
by Katie
(Michigan)
I rescued my Maltipom PD when he was about 3 months old. I was working at a veterinary clinic when this 1.5 pound dog came into the clinic, already climbing the stairway to heaven. I was there to witness his long recovery from an illness that none of the vets could quite figure out. He wasn't metabolizing his proteins (his name is short for "Protein Deficient") and eventually, the pet store that he came from decided that he was costing them too much money and they wanted to stop treatment. I jumped on the chance to take the little fuzzball home (although because of his protein problem, he wasn't very fuzzy at all).

The vets and technicians at the clinic weren't sure if PD would live 2 more days, let alone 2 years, but I decided that for however long he would live, the tiny baby deserved a good home. I took him home and over 2 years later, he is a perfectly healthy, rambunctious, affectionate and playful little guy who loves nothing more than laying right next to me on the couch. My Maltese Pomeranian is very smart and knows that he gets attention by doing every trick he knows in quick succession (sit-laydown-shake-dance-crawl!). He wins the hearts of the most stubborn small-dog-haters and tough guys with a single perk of the ears. My Maltipom rescue loves to play with my 14 pound cat, as well as my mom's 55 pound Lab mix, and he outsmarts all of his friends by squeezing under the couch or in small spaces between furniture.
Adopted Maltipom - Bisket
I adopted my Maltipom puppy Bisket when she was 7 months old. I adopted her when my Granny couldn't take care of her anymore because she had to work and Bisket was alone all day. When I first brought her home she didn't know how to any tricks, she wasn't potty trained, she barked a lot, and just did not listen. She would always beg for human food and would not eat her regular food. She was very feisty, but I was determined to train her, because I was researching a ton on training tips, and they really do work! It's all about persistence! That proves how a Maltipom can be without training. Now I have been training her and she listens to me very well. In just a month she has learned come, sit, stay, lay down, beg/dance, quiet, and roll over. She is still working on her potty training though, but I don't expect her to be fully potty trained until a few months. She is getting there though. We have been crate training her and that is an excellent way to train her, it seems to be working. We also have a lab named Ellie, and she gets along great with her!

I'm not sure is all Malti-pom puppies are this way, but Bisket loves the outdoors and the backyard and would stay out there all day if I would let her. All and all, I would love to get another Maltipom and they are great pets to have! Just have persistent and time to train and teach them!

Maltipom Rescue - Leyla
by LisaGenoa Kiser
(Sidney Ohio)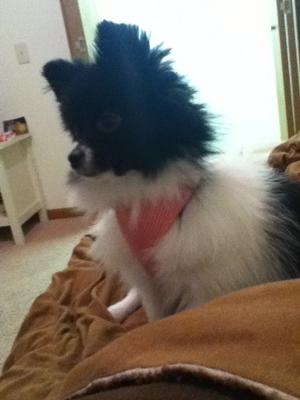 Who took my toy?
Leyla was a Maltipom rescue at 5 months from the Oregon Coast. I was told she would not get to 6 pounds, Though I am glad she now weighs 6 pounds and vet says this is as big as she will get. She will be a year old or should I say 7? in July. She has a very sweet disposition. She is Back and white. Most people think she is a Pomeranian.Looks mostly like a Pomeranian , Though coat is not as thick around face and very little shedding. Loves baths and to be brushed. Very good with the groomer.

She has a very sensitive tummy . Tried 4 good quality grain free foods before finding best one for her. Only gets her high quality kibble and Dingos She has been a challenge to train to go potty outside,(she wants to play!) Though she is excellent about using her Piddle pads. Though first thing in the morning and before bed goes piddle outside well. Very good about being in her crate & Traveling. Affectionate and will lay in Moms lap, Though prefers to sleep in her bed or crate. Can be high strung at times and gets bored easily and very strong teeth to be so small. Lots of different toys and small chew ropes.

Learns tricks easily. She has a high pitched bark and sometimes a cute Wee-woo! Thinks she is a guard dog and very adamant about it, Have to be firm and tell her No sometimes with this. Loves her play time with her various toys & playing with her older sister a Lhasa Apso. She gets along well with other dogs and thinks all should be her play buddy. Loves being outside snow or sunny days. She is definitely Mom's girl, Though loves playtime with dad. Leary and shy with strangers. Though makes new friends easily. She is 6 pounds of pure energy & joy... So glad we have her. This is the first Maltipom we have had. She is a delightful addition to our family. Will be interesting to see how she does as she ages.

Would love to hear from others who have Maltipoms and continue to learn about this wonderful breed.
Join in and write your own page! It's easy to do. How? Simply click here to return to Tell Us About Your Maltipom!.
Rescue Pomeranian Mix - Gunner
by Katie Rae
(Munice, In)
Gunner is a rescue puppy Pomeranian mix! He was so timid when I first got him. Now he is a little ball of fire. My parents were not hip on a little dog at first but now he has stolen our hearts.

He is about 8 weeks old and right at a pound. I don't know any thing about his parents but I'm hoping he is small. He is the best behaved puppy I have ever had!
Join in and write your own page! It's easy to do. How? Simply click here to return to Tell Us About Your Maltipom!.
Rescued Maltipom - Dusty
by Karrin
(West Virginia)
I have never heard them called Maltipoms. We have always called them Pomatese. My Dusty is a complete LOVE. He is a puppy mill rescue and I paid only $65.00 for him. He got the name because when I picked him up the first time and patted him, the dust flew everywhere. Everyone says he looks like a dust mop, too.

He is totally black, with just a few white hairs on his chest, like someone painted 2 narrow white strips on him. I was told the Pomeranian parent was black. His fur was in such bad condition, that it looked like cotton candy, and would break off in clumps when you brushed him. I put an additive on his food, like I do my Maltese and Lhasa Apso, and it has really improved.

He loves to be held and cuddled, and sleeps on the foot of my bed, with the other 2, until I go to sleep. By morning, I am encased by dogs! He gets along well with the others, as well as the dogs of my upstairs neighbor, who has Dachshund puppies.

He is just a total love, and I wouldn't give up his 6.5 pounds for the world. I hope the last 15 months have made up for his first year of life in a cage. My Maltipom is playful, happy, and the gentlest dog I have ever known.
Are you a Maltese Maniac?

Join other Maltese Maniacs and get:
Our exclusive monthly newsletter
Discounts on great Maltese dog products
Notifications of contests and giveaways